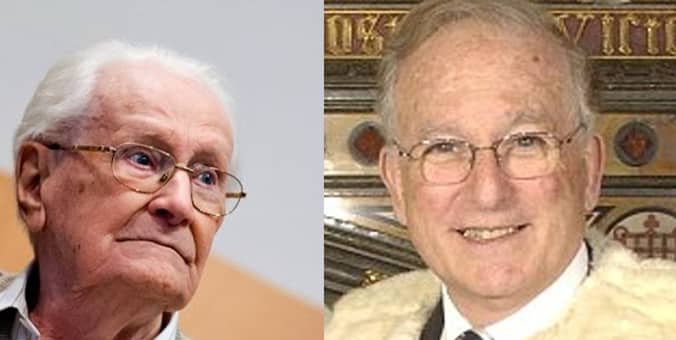 Allison Pearson wrote in The Telegraph two days ago, "As Oskar Groening, the so-called Accountant of Auschwitz, goes on trial at the age of 93 for his complicity in war crimes, the 86-year-old Labour peer Greville Janner is excused prosecution for 22 alleged sexual offences against nine boys in his Leicestershire constituency, from the 1960s to the 1980s, because he is suffering from 'severe dementia'."
Pearson is spot on. While Groening is merely a Goy and a German, Lord Janner is a Jew and not just an ordinary Jew, but a quite prominent one. From 1978 to 1984 Lord Janner was the chairman of the Board of Deputies of British Jews, an institution that claims to "represent British Jews."  Lord Janner is also dominant in the field of holocaust education. He is clearly concerned with Jewish suffering but apparently dismissive of the shoah he is accused of inflicting on minor boys at the same time he represented British Jews.
Apparently there has been long and ongoing massive whitewash operation for Lord Janner, allowing him to conceal his alleged egregious sex crimes. The BBC revealed recently that as early as "1989 a detective sergeant was told not to arrest Mr Janner or search his home."
Unlike German elder Oskar Groening who stands trial for being an 'instrument in a mass murder,' whatever that means; Lord Greville Janner is not going to be arrested or charged. Lord Janner is free and he has not wasted his freedom. Apparently the elder Lord who suffers 'severe dementia,' has been active in transferring and concealing his wealth, presumably in case a few of his alleged victims decide they deserve compensation for the shoah he inflicted on them.
The Daily Mail reports that: "Lord Janner gave his children deeds to his £2m home at height of abuse… the move could slash potential payouts…The transfer happened after police raided his office in the House of Lords"
This British farce knows no end. Alison Saunders, the director of public prosecutions, decided this week not to prosecute Lord Janner. Ms Saunders told the BBC that Lord Janner's dementia was so severe that he could "play no part in a trial."  Bizarre: previously, Ms Saunders said that there was enough evidence to prosecute the 86-year-old peer for 22 sex offences but that he was too sick to stand trial and that she had determined that there was "no ongoing risk to the public."
Alison Saunders is correct. Lord Janner is probably too old to rape young boys. Perhaps he can't 'get it up' while chasing minors at his stage in life. But shouldn't the same rule apply to Oskar Groening? It is likely that the 93 year old German is also too old to serve as an 'instrument,' in a new Jewish holocaust.
Gilad Atzmon is an Israeli-born British jazz saxophonist, novelist, political activist and writer.

Atzmon's album Exile was BBC jazz album of the year in 2003. Playing over 100 dates a year,[4] he has been called "surely the hardest-gigging man in British jazz." His albums, of which he has recorded nine to date, often explore the music of the Middle East and political themes. He has described himself as a "devoted political artist." He supports the Palestinian right of return and the one-state solution in the Israeli-Palestinian conflict.
His criticisms of Zionism, Jewish identity, and Judaism, as well as his controversial views on The Holocaust and Jewish history have led to allegations of antisemitism from both Zionists and anti-Zionists. A profile in The Guardian in 2009 which described Atzmon as "one of London's finest saxophonists" stated: "It is Atzmon's blunt anti-Zionism rather than his music that has given him an international profile, particularly in the Arab world, where his essays are widely read."
His new book The Wandering Who? is now availble at Amazon.com
ATTENTION READERS
Due to the nature of independent content, VT cannot guarantee content validity.
We ask you to
Read Our Content Policy
so a clear comprehension of VT's independent non-censored media is understood and given its proper place in the world of news, opinion and media.
All content is owned by author exclusively. Expressed opinions are NOT necessarily the views of VT, other authors, affiliates, advertisers, sponsors, partners or technicians. Some content may be satirical in nature. All images within are full responsibility of author and NOT VT.
About VT
-
Read Full Policy Notice
-
Comment Policy