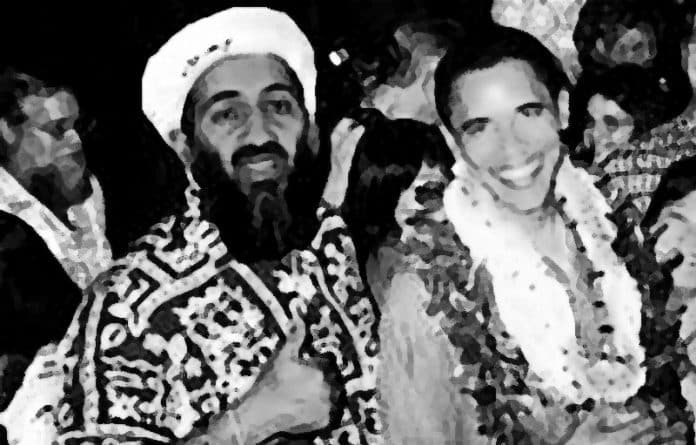 by Ralph C. Cinque
It was 4 years ago this month (May) that Osama bin laden was reportedly killed in a US raid in Pakistan.
Many have challenged the claim based on reports that Osama bin laden had reportedly died in 2001.
Pakistani President Pervez Musharraf, Pakistani populist leader Benazir Bhutto, Afghani President Hamid Karzai, FBI Counterterrorism head Dale Watson, and DoD consultant Steven R. Pieczenik were among the many who reported that bin laden died in 2001. His death was reported in many foreign and particularly Arabic papers at the time.
It was even reported by Fox News the day after Christmas in 2001.
But, let's look at it from the medical perspective. OBL had kidney failure in 2001. How likely is it that a man on dialysis could survive 10 years?
First, note that that spin machine went into action right away trying to deny that OBL ever had failed kidneys and the need for dialysis.
However, OBL's visit to the American University Hospital in Dubai the summer of 2001 for treatment of kidney failure was reported by the French daily newspaper Le Figaro, which is considered the French newspaper of record since 1826.
They even named his doctor there, a kidney specialist, Canadian-trained Dr. Terry Calloway.
The British newspaper The Guardian considered the Le Figaro story credible enough to republish. Their article contained details, such as that bin laden flew to Dubai on July 4, 2001 on a private plane from Quetta, Pakistan. That's the kind of detail that could easily be disproven if it were false.
But, here is another telling thing: when the Le Figaro story came out, US officials denied it- that OBL went to the American University Hospital in Dubai and was visited by CIA agents.
However, they did NOT deny, at the time, that he had kidney failure. That denial didn't come until after the May 2011 raid.
So, how long can a person survive on kidney dialysis? Fortunately, there is hard data available. The most commonly cited figure for average survival is 5 years.
There are so many problems and complications inherent to dialysis that it is NEVER easy. To say that it's not a perfect system is a gross understatement. Dialysis patients face anemia, renal bone disease, infections, blood electrolyte disorders, cardiovascular complications, and also, invariably, malnutrition.
Realize that your body is constantly breaking down (catabolism), but it is also constantly building back up (anabolism), and if the two processes of catabolism and anabolism remain in balance, you remain stable.
However, aging, by itself, shifts the balance more towards catabolism, where people are breaking down more than they are building up. The result is atrophy of vital tissues.
Age-induced atrophy is very common. It's universal. What do you think osteoporosis is? It's atrophy of bone.
And, it's not just the bones that atrophy; the muscles atrophy as well. That's called sarcopenia, and it occurs alongside osteoporosis. And sarcopenia starts early in life too. For example, I have often had people complain about developing flat buttocks. They want to know how and why their butt got flat because it didn't used to be that way, and I tell them: it's muscle atrophy.
So, with age, we all undergo atrophy, and aging guarantees it. However, when you are on kidney dialysis, that atrophy is accelerated: vastly accelerated.
So, how did Osama bin laden age over 10 years? Incredibly well, it turns out.
They said he dyed his hair, but how did he get the fullness in his face? And worse than that, how did he get so thick and brawny? On the right, he's got the build of a wrestler. That thick trapezius muscle at the top of his shoulders that we're seeing on the right is something that OBL didn't have even as a young man.
So, how did he get it as an older man? What, did he take up weight-lifting in his old age? This is ridiculous.
There is no way that the younger, more robust looking man on the right is the same man as on the left. It isn't physically possible, and it isn't medically possible.
It's as though having kidney failure and going on dialysis was an elixir for him, and we should all hope it happens to us.
It takes a lot of people and a lot of stuff to support a person on dialysis: equipment, supplies, drugs, frequent blood testing, etc. And there would be records of it all, so no way was that going on for him in Pakistan. And that's exactly why they had to rewrite the story and say that that he never had kidney failure but only kidney stones.
But, he did have kidney failure, and it is well documented. And that's not all OBL had. He also reportedly had Marfan's Syndrome, (a congenital connective tissue disorder with a constellation of symptoms and problems including cardiovascular) insulin-dependent diabetes, Hepatitis C, osteoporosis, and more.
But, even if you deny all that- every single bit of it- you know that this progression can't be true. People don't go from old and withered to young and vigorous over 10 years time.
And that's true no matter who they are. They want to tell us that the guy on the right is the same guy as on the left except ten years older? So, he went from age 44 to age 54 and that's how he changed? That's how time affected him? That's how the ravages of aging affected his body? He would have had to have been a real-life Benjamin Button.
A man ages backwards with bizarre consequences
But, the same people are also telling us that these two, below, who were photographed on the same day, are not the same man even though they look identical and are dressed exactly the same.
Why do people accept these absurdities? I believe it comes down to what George Orwell called Crimestop.
The first and simplest stage of discipline, which can be taught even to young children, is called in Newspeak, Crimestop. Crimestop means the faculty of stopping short, as though by instinct, at the threshold of any dangerous thought. It includes the power of not grasping analogies, of failing to perceive logical errors, of misunderstanding the simplest arguments if they are inimical to Ingsoc, and of being bored or repelled by any train of thought which is capable of leading in a heretical direction. Crimestop, in short, means protective stupidity.
George Orwell, 1984
Fact: Osama bin laden was long-dead by 2011. I don't know who they killed in the Islamabad, Pakistan raid, but it wasn't him. And Lee Harvey Oswald was standing in the doorway when President Kennedy got shot. Neither of those things are in doubt. And also not in doubt is the fact that we are living in a bizarre, Orwellian world. To paraphrase Willie Nelson, "It ain't no good world, but it's our world."
ATTENTION READERS
Due to the nature of independent content, VT cannot guarantee content validity.
We ask you to
Read Our Content Policy
so a clear comprehension of VT's independent non-censored media is understood and given its proper place in the world of news, opinion and media.
All content is owned by author exclusively. Expressed opinions are NOT necessarily the views of VT, other authors, affiliates, advertisers, sponsors, partners or technicians. Some content may be satirical in nature. All images within are full responsibility of author and NOT VT.
About VT
-
Read Full Policy Notice
-
Comment Policy