… from Russia Today,  Moscow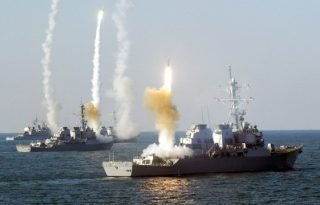 [ Editor's Note:  Nothing is surprising below, as potential opponents maneuver for what advantage they can get in treaty interpretations. This historically has been limited to marginal advantages. But we are seeing a trend now in the West where this is being pushed way past those limits, into a constant morphing of the treaty to suit them.
Psychological operations have always been a part of military planning and foreign policy. But it is quite a different thing when one's foreign policy BECOMES a psyops. It makes one's signature on a treaty less than worthless, as it can be assumed to lull an opponent into thinking you are really going accept its restrictions.
VT readers have been following our coverage of the US moves to encircle Russia and China, as was the policy in the first Cold War. No valid threat was ever put on the table to substantiate the need, as then it could not become a target for being shred to ribbons.
One major tip off that proves this shift was the decline of using the term "our national security interests", into… "our interests". Mass media never picked up on this, but I sure did. It caught my attention when General Dempsey used it, so I knew it was not a slip of the tongue. All of his statements are carefully vetted.
As to the US crying wolf on missile treaty obligations, left out of those crocodile tears are its advantage in vast deployment of strategic weapons on our much larger navy. The strategic nuke business now is all about high speed solid fuel cruise missiles, as the ABMs with their long and high trajectory allow a lot of time for interception.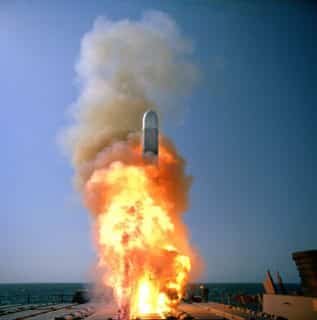 The catch with the cruise missiles is you have to get as close as you can to your targets due to their distance limitation. But a swarm of cruise missile with smaller mini nukes would take out an opponent's perimeter defenses and would be the first part of a preemptive attack, which is the foundation of US defense policy.
We have claimed the right to attack anyone, at any time, for any reason we choose, something we learned from the Israelis.

The public has never been briefed on why this is necessary, as on its face it creates a hair-trigger situation, where potential targets have to invest not only in more first-strike defense, but also the "mutually assured destruction" option. Our current policy has thrown away all the security advantages gained from the end of the first Cold War.
This was not of course done by accident. Someone wanted to go back to the major and eternal confrontation days. And they are "the usual suspects". America's military has been converted into a mercenary force to serve the business interests of these special interests, and our senior commanders are all onboard with this policy.
You can tell by watching where most of them go after retirement, into "their" contracting companies, where they are getting paid on a scale that their predecessors never dreamed of, and it is all legal. In fact the brass who have actually been working for the contractors while in uniform can legally collect their "deferred compensation" via a signing bonus or a highly-inflated compensation package. This is a sad and dangerous situation… Jim W. Dean ]
_____________________________
–  First published …  June 09,  2015  –
The US is ramping up the controversy over alleged violations of a key missile ban treaty to cover up its own plans to deploy missiles in Europe, a top Russian military official said.
Deputy Defense Minister Anatoly Antonov was commenting on a reported plan by the US to deploy nuclear-capable intermediate-range cruise missiles in Europe and Asia targeting Russian territory. The plan was cited by AP, which said it was penned by the office of US General Martin Dempsey, chairman of the US Joint Chiefs of Staff and contained several contingencies for a scenario in which a key missile treaty between US and Russia fails.
The deployment may be possible after scrapping the 1987 Intermediate-Range Nuclear Forces Treaty. The Cold War agreement banned ground-based cruise and ballistic missiles with ranges between 500 km and 5,500 km.
"Apparently, the US is ramping up the issue of 'Russian violations' to justify their own ostensibly responsive military action that would be aimed at ensuring American 'leadership' in confrontation with the mythical 'Russian military threat' that Washington drums up regardless of all facts to the contrary," Antonov said.
He added that the ministry requested formal comments from the US on the AP report and that if it were true, it would lead to dangerous consequences.
"We stated our commitment to the INF treaty on many occasions. We believe that the return to Europe of American short and intermediate range missiles and their deployment in other regions, from which they would threaten Russia and other nations not following Washington directions would have a negative impact on global security and stability," Antonov said.
He added that the two parties should hold expert discussions of any differences they have, including Russia's complaints over the US part of the bargain.
The INF treaty was signed to get rid of massive arsenals of nuclear missiles that were deployed in Europe and were considered too risky to keep, because their short travel times left little margin for error. Under it almost 2,700 intermediate-range missiles were scrapped by the two sides.
However Washington and Moscow have been trading accusations of violations from the INF treaty for years. The US claims that Russia has a cruise missile launched by Iskander launcher that has a range over 500 km. Another one, called Rubezh, which is currently in development, is classified as intercontinental with a range of 6,000 km, but Washington alleges it can hit targets closer than 5,500 km.
Moscow, for its part, accuses the US of deploying intermediate-range missiles in the form of target missiles for testing of its anti-ballistic missile systems.
More recently Russia complained that the US is deploying missile launchers in Romania as part of its controversial ABM shield in Europe. The launchers are meant for SM-3 interceptors, but are capable of firing Tomahawk cruise missiles. Normally Tomahawks are launched from warships, but the launchers in Romania effectively make them ground-launched and thus violating the treaty, Moscow argues.
Some strategists in Russia are also concerned about the US drone fleet, saying that the operational ranges and pilotless nature of strike UAVs like the MQ-1 Predator essentially make them indistinguishable from short-range cruise missiles.
The latest round of the blame game between Russia and the US over the INF treaty came in April, when the US Secretary of State and Russia's top nonproliferation diplomat voiced their complaints at the UN General Assembly.
Jim W. Dean was an active editor on VT from 2010-2022.  He was involved in operations, development, and writing, plus an active schedule of TV and radio interviews.
ATTENTION READERS
Due to the nature of independent content, VT cannot guarantee content validity.
We ask you to
Read Our Content Policy
so a clear comprehension of VT's independent non-censored media is understood and given its proper place in the world of news, opinion and media.
All content is owned by author exclusively. Expressed opinions are NOT necessarily the views of VT, other authors, affiliates, advertisers, sponsors, partners or technicians. Some content may be satirical in nature. All images within are full responsibility of author and NOT VT.
About VT
-
Read Full Policy Notice
-
Comment Policy