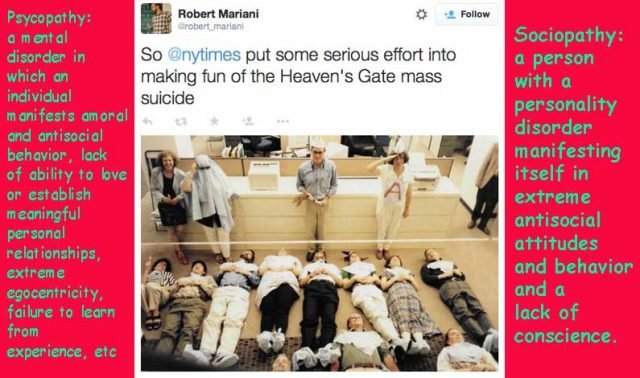 What are we to make of the news that the New York Times has been staging mass killings?
We recently learned that staff at the USA's newspaper of record have an odd habit of dressing up and having fun imitating mass slaughters.
Those of us who follow Russia Today learned it, anyway. The rest of the American people didn't. The corporate mainstream media, you see, won't report this story:
The fun they had: New York Times staff mimicked mass killings in leaked photos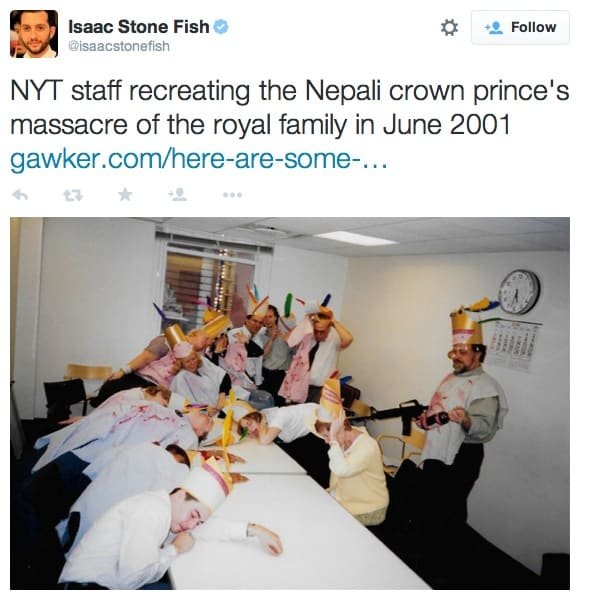 This raises interesting questions about some of the "news" we've been getting.
I'm not saying it was the New York Times that staged or orchestrated the Charleston shooting.
https://www.youtube.com/watch?v=kCRZZbo9dhE

I'm not saying the Times was behind the fake shooting of a French police officer on a sidewalk outside the Charlie Hebdo offices in Paris.
https://www.youtube.com/watch?v=6zdXj4FiZg0&bpctr=1435160195
I'm not saying that if the killings at Sandy Hook were staged or orchestrated, the New York Times was responsible.
I'm not saying that if the Boston bombings were a drill that went live, featuring crisis actors and the whole nine yards,  it must have been a New York Times operation.
https://www.youtube.com/watch?v=yAgX6cHZaQE
And I'm not even asserting that the New York Times orchestrated the explosive controlled demolitions of the three World Trade Center skyscrapers on 9/11.
But they did refuse to report the story of the century that was staring them in the face. That makes them complicit…in high treason and mass murder.
"All the News That's Fit to Print." It's a strange motto. And a newspaper whose staff dresses up and has fun imitating mass slaughters is a strange choice for "newspaper of record." Is there a link between the NY Times' "mass killing costume parties" and their failure to report honestly on false flag terror events?
I think so. That link is called "sociopathy."
Psychopathy is defined as an innate tendency of an individual to manifest an extreme lack of conscience. Sociopathy is the same phenomenon viewed from a behavioral perspective.
Experts like Hervey Cleckley and Robert Hare tell us that psychopathy is largely innate, resulting from genetic traits or occasionally from brain damage. It afflicts about 2% of the US male population.
But sociopathy – psychopathic behavior – can be learned. Lobaczewski explains in Political Ponerology that when psychopaths achieve positions of power, their psychopathy becomes contagious; sociopathic behavior spreads through the bureaucracy and becomes the norm. History is replete with examples: Hitler, Stalin, Pol Pot, Bush-Cheney, the International Banking Cabal…and American corporate journalism today, as exemplified by the New York Times.
I have argued that psychopaths in power orchestrate rituals that transform "normal" non-psychopathic individuals into functioning sociopaths. The elite secret society Skull and Bones, for example, initiates its members by having them lay naked in a coffin and masturbate while recounting their entire sexual history to the assembled group. This destroys their ability to feel shame, and forges a bond between shameless Bonesmen, who are conditioned to view fellow Bonesmen as "brothers" and everyone else as subhuman cattle for exploitation.
Skull and Bones is a prime feeder for high-IQ sociopaths destined to serve the Bush Crime Family's drug smuggling wing of the CIA. Apparently naked coffin masturbation is a prerequisite for serving in the highest echelons of the so-called intelligence community.
Other sociopathic gangs have their own variations on this kind of initiation. Some of them require a prospective member to commit murder. This annihilates the individual's soul or conscience, forges a blood bond with fellow murderers in the gang, and creates blackmail material to ensure that the newly-initiated gang member will never snitch.
The New York Times is one such gang. By having its staff dress up and stage mass murders in its corporate offices, the New York Times is initiating its employees into what might be called "sociopathic journalism." As the Times turns mass murder into fun-and-games, it destroys whatever consciences its journalists might once have possessed, enabling them to participate in the big lies and mass murders – and especially the big lies ABOUT mass murders – that are the daily fare of American mainstream reporting.
For the horrible truth is that almost all of the spectacular, iconic violence that is the bread-and-butter of the mainstream media is staged, orchestrated, pre-scripted, carefully manufactured to brainwash the public using techniques pioneered by folks like Edward Bernays and the Tavistock Institute.
Even the biggest episodes of violence – wars – are not what they appear. Both of the two World Wars of the 20th century, for example, were planned decades in advance by a cabal of international bankers. For detailed proof, read Mujahid Kamran's The International Bankers: World Wars I, II, and Beyond, or listen to my interview with Dr. Kamran.
By forcing its staff to participate in costumed re-enactments of celebrated acts of carnage, the New York Times manufactures sociopathic reporters willing to participate in the mass murders and mendacity by which the Times and other brainwashing machines condition the public to accept the anti-human policies of their New World Order overlords.
Dr. Kevin Barrett, a Ph.D. Arabist-Islamologist is one of America's best-known critics of the War on Terror.
He is the host of TRUTH JIHAD RADIO; a hard driving weekly radio show funded by listener donations at Patreon.com and FALSE FLAG WEEKLY NEWS (FFWN); an audio-video show produced by Tony Hall, Allan Reese, and Kevin himself. FFWN is funded through FundRazr.
He also has appeared many times on Fox, CNN, PBS, and other broadcast outlets, and has inspired feature stories and op-eds in the New York Times, the Christian Science Monitor, the Chicago Tribune, and other leading publications.
Dr. Barrett has taught at colleges and universities in San Francisco, Paris, and Wisconsin; where he ran for Congress in 2008. He currently works as a nonprofit organizer, author, and talk radio host.
ATTENTION READERS
Due to the nature of independent content, VT cannot guarantee content validity.
We ask you to
Read Our Content Policy
so a clear comprehension of VT's independent non-censored media is understood and given its proper place in the world of news, opinion and media.
All content is owned by author exclusively. Expressed opinions are NOT necessarily the views of VT, other authors, affiliates, advertisers, sponsors, partners or technicians. Some content may be satirical in nature. All images within are full responsibility of author and NOT VT.
About VT
-
Read Full Policy Notice
-
Comment Policy