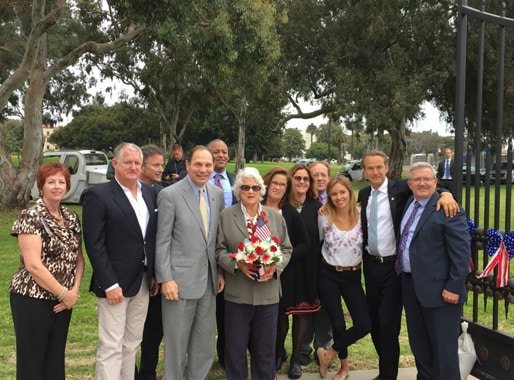 By Robert L. Rosebrock
LOS ANGELES – A fake gate-opening ceremony, a fake homeless "welcome center," and other VA fakery, lies and fraud highlighted VA Secretary Robert A. McDonald and his "homeless expert" Vince Kane's recent trip to the Los Angeles VA — and it hasn't stopped — nor has Veterans homelessness been reduced.
Mr. Kane plagiarized Veterans ideas and a request for a humanitarian crisis "Welcome Home Reception Center" to house homeless Veterans on the Grand Lawn, by implementing his own sham "welcome center" in Building 257 where he squandered taxpayer money to create a bogus photo-op featuring Secretary McDonald and Carolina Winston Barrie dedicating the ancient building.
This happened after they had already lied about a "secret and private ceremony" to open the front gates of the VA to welcome the general public onto Veterans exclusively deeded property.
A month after Mr. Kane's bogus "welcome center" was ceremoniously opened, it was unceremoniously closed.
Rest assured there will be more of Robert A. McDonald's publicity stunts and scams orchestrated on behalf of his wealthy and powerful friends that violate his entrusted stewardship to house and care for war-injured and impoverished homeless Veterans.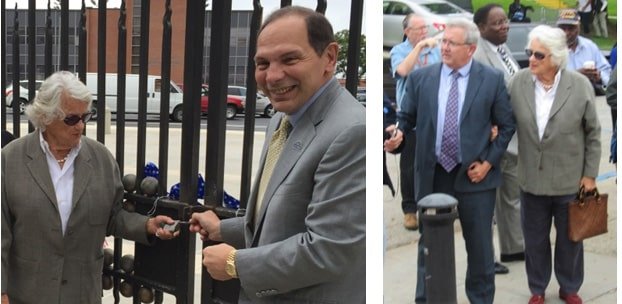 The Never-Ending Special Privileges for Non-Veterans
It's common knowledge that Veterans won a long-sought and hard-fought Federal Judgment against the Los Angeles VA for engaging in nine real estate deals that are "unauthorized by law and therefore void."
Instead of doing the legal, moral and honorable thing and evicting the nine illegal occupants from Veterans property, the VA appealed the Judgment.
Veteran advocates obtained a unanimous vote of support from the Los Angeles Neighborhood Council Coalition representing 96 neighborhood communities and then obtained a 5-0 vote from the Los Angeles County Board of Supervisors representing 10,000,000 residents, all in support of the Federal Judgment and opposing the VA's appeal of it.
A combined Petition representing this unified government-support base along with American Legion District 29 and other Veterans Service Organizations, was hand-delivered to VA Secretary McDonald in Washington, D.C., requesting that he withdraw the VA's appeal of the Judgment.
In brazen arrogance and defiance and in complete opposition to this highly respected and vast alliance, Secretary McDonald called upon two (2) of his personal friends – Bobby Shriver and Ron Olson — both rich and influential attorneys, and conspired through a secret back-room deal to abort the Federal Judgment and give aid and comfort to the illegal non-Veteran occupants on Veterans property.
The same back-room conspiracy and shenanigans didn't end there. Equally as bad, Secretary McDonald and Vince Kane met with Carolina Winston Barrie, aka Mrs. George Barrie IV, who is currently listed as a major donor to Veterans Park Conservancy (VPC), a wealthy and powerful homeowner group and one of the nine non-Veteran entities listed in the Federal Judgment.
With the same arrogance and defiance, Secretary McDonald separated the VA's mission to fulfill Veterans "needs" from the "wants" of his wealthy and powerful friends and personally gave Mrs. Barrie carte blanche to dominate and restore five historic buildings on VA property, which is consistent with VPC's own mission. (Attached is McDonald's personal letter to Mrs. Barrie IV).
Secretary McDonald's shameless arrogance and defiance was then used in reverse as he refused to approve and support a basic plea by Dick Southern, Region 9 Director of Vietnam Veterans of America, who submitted a letter to the VA three weeks after Mr. McDonald aborted the Federal Judgment and a month before he gave Mrs. Barrie her unilateral and privileged five-project real estate deal.
Mr. Southern's request was simple and benevolent as he simply asked to host a long-term "Stand Down" that would provide crisis humanitarian housing on VA property to shelter and care for thousands of disabled and destitute Veterans who are forced to live homeless and hungry in Los Angeles. (See Mr. Southern's VVA9 letter below)
Consistent with the long history of the most corrupt VA in the nation, Mr. McDonald caved into the "wants" of Mrs. Barrie and her Veterans Park Conservancy cronies by shunning the urgent "needs" of war-injured and homeless Veterans

June 4th Ribbon-cutting ceremony with Mrs. George Barrie IV and VA Secretary McDonald to honor Mr. Kane's imitation "welcome center" but it is now "closed." (Photos below). This ceremony included giving tribute to fake Styrofoam plaques with gaudy-gold paint calling this property a "National Soldiers Home," when it's a "National Veterans Home." Marines, Navy, Air Force, Coast Guard and Army Veterans are highly offended by the counterfeit and disingenuous plaques.
Vince Kane's Unwelcome "Welcome Center" Disaster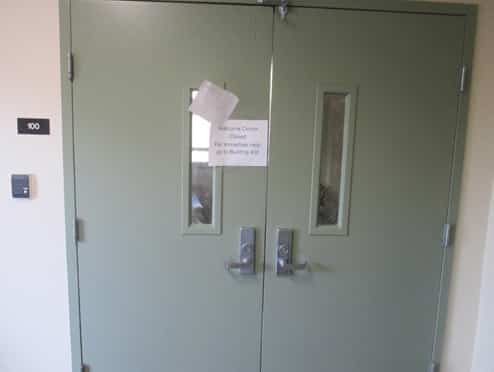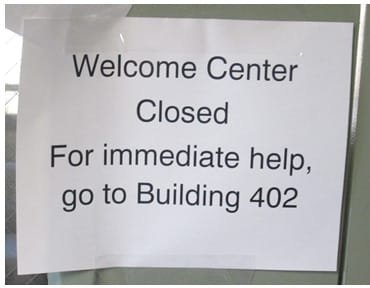 If you are homeless, it's hard enough to find Building 257, but once you've found it, Mr. Kane's sign directs you to find
Building 402, which is a prison-looking fortress a half-mile away called "Integrated Community Care." And if you
can find Building 402, there's a strong chance that it will not be open, except during banker's hours.
And there you have another dysfunctional disaster by the Secretary of the VA and his "homeless expert."
Opening the VA to the General Public
In November 2007, Sue Young announced VPC's agreement with the VA to build a 16-acre public park, rent free, that was subsequently adjudicated in Federal Court as unauthorized by law and therefore void. As a symbol of their intent to open Veterans land for a public park, they privately and ceremoniously opened the front gates for this photo-op nearly eight years ago and then it was permanently closed.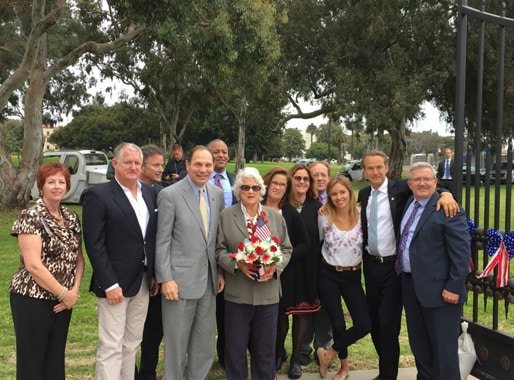 On June 4, 2015, Mrs. Barrie and her family, along with Secretary McDonald and Vince Kane, did what Sue Young and VPC's wealthy homeowner cabal could never do and that is to permanently open the VA's front gates to the general public – Mission Accomplished!
When Secretary McDonald was asked to temporarily close the front gates and approve and support a long-term crisis shelter program on the Grand Lawn with a bona fide "Welcome Home Reception Center" for our war-injured and homeless Veterans, he responded:
"Opening the gates last week was an important step to signify the change and progress that lies ahead.

Closing them again would be a significant step backwards, and send the wrong message to our fellow Veterans."
VA Secretary Robert A. McDonald
e-mail statement on June 9, 2015
At 5:00 PM every day, the front gates are locked by VA police, which is in direct contradiction to Secretary McDonald's written statement.
At least we know "what lies ahead" as verified by Secretary McDonald in his e-mail, and that is the VA lies, fraud and fakery will never end, nor will Veteran homelessness.
This is a call to action: Speak up and demand the immediate firings of VA Secretary Robert A. McDonald and Vince Kane!
God Bless America and the Veterans Revolution!
---
Vietnam Veterans of America
February 19, 2015
Charles Green
Chief, Office of Communications and External Affairs
Los Angeles VA Healthcare System
Re: License or Land Use Permit for Emergency Homeless Veteran Shelter Program
Dear Mr. Green:
As you know, the VA and the Mayor of Los Angeles have set a goal to end Veteran homelessness in Los Angeles by the end of the year. However, we do not sense any urgency and this is very troubling, particularly since nearly half of all homeless Veterans today are from the Vietnam War era.
John Rowan, National President and CEO of Vietnam Veterans of America reminds us of an even more sobering fact: " Today, there are more homeless Veterans from the Vietnam War era than were killed during the war. These Veterans are elderly, frail and in declining health and are being forced to live in deplorable circumstances. Make no mistake; VVA is fully committed to ending these inhumane living conditions by ensuring that our fellow Veterans get the quality housing and care they need and deserve."
Correspondingly, we seek to take immediate action to provide our fellow Veterans with emergency shelter instead of prodding along month after month as our fellow Veterans suffer unnecessarily.
As you also know, the VA has the authority to grant a temporary license agreement to non-federal parties and to allow such parties to enter upon VA property for lawful purposes.
In this case, we respectfully request that the VA grant Vietnam Veterans of America, Region 9, a ten-month revocable license to enable us to provide the VA with a crisis homeless-Veteran shelter program on VA grounds for the benefit of disabled and homeless veterans. We propose providing a "long-term Stand Down" similar to the "three-day Stand Down" originated by Vietnam Veterans of San Diego more than 25 years ago. See CBS – "60 Minutes" video link below.
We have the necessary Stand Down Guides and Manuals, and are currently working with local neighborhood councils and volunteer programs but need to solidify a ten-month (until the end of the year) license agreement or land use permit with the VA so that we can expedite the necessity of bringing an end to Veteran homelessness in Los Angeles, possibly before the end of the year.
Accordingly, we respectfully ask that you extend prompt and cooperative assistance so that we can work together to help ensure that Veteran homelessness in Los Angeles will cease before the end of the year.
Homeless Veterans: Stand Down – CBS 60 Minutes
Sincerely,
Dick Southern
Region 9 Director
P. O. Box 68
Tuolumne, CA 95379
ATTENTION READERS
Due to the nature of independent content, VT cannot guarantee content validity.
We ask you to
Read Our Content Policy
so a clear comprehension of VT's independent non-censored media is understood and given its proper place in the world of news, opinion and media.
All content is owned by author exclusively. Expressed opinions are NOT necessarily the views of VT, other authors, affiliates, advertisers, sponsors, partners or technicians. Some content may be satirical in nature. All images within are full responsibility of author and NOT VT.
About VT
-
Read Full Policy Notice
-
Comment Policy