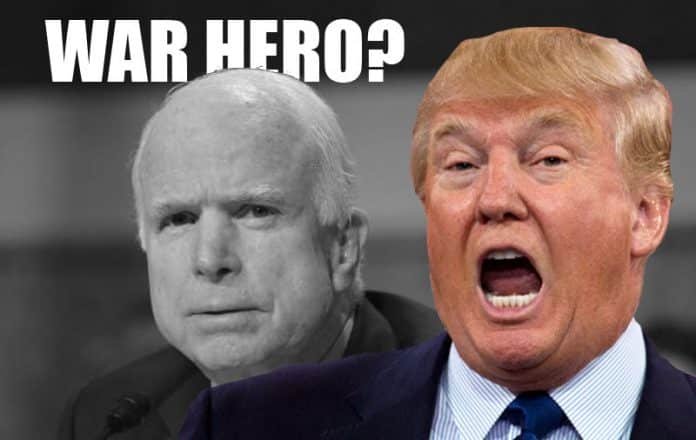 By Gordon Duff
Over the weekend, "the Donald" backed down on his attacks on McCain, calling "Hanoi John" a "war hero."
However, Donald is not going to be able to close the can of worms he opened.  Today, McCain is trying to wrap himself in the POW flag for cover.  POWs had never been rock star heroes before, quite the opposite.
These are people who surrendered to the enemy, people suspected of collaboration and worse.  With Korea, POWs became the shame of America with many "brainwashed" into following communist doctrines.
American POWs from Vietnam were the bloody flag Richard Nixon wrapped himself in, on the advice of Henry Kissinger, part of a ploy to divert attention from his endless personal failings which included his agreement with North Vietnam that let them keep and later execute hundreds of American POWs.
1205 American POWs were kept by North Vietnam according to records recovered at the end of the Cold War.  President's Clinton and Yeltsin instituted a search of Russia's gulags looking for their remains with no success.
In 1993, armed with testimony from a former high ranking Czech security official, I proposed a systematic search of archives in Prague that recorded the fate of 200 missing US POWs from Vietnam but was blocked by Senator John McCain.
33 POWs faced execution for treason after Vietnam until Nixon pardoned all POWs.  McCain was on the list of the 33, in fact at the head of it.
Here are the facts as we know them:
According to Colonel Ted Guy, John McCain's commander as a POW, McCain collaborated with the enemy.
McCain is accused of giving information that led to the downing of 60 US aircraft
McCain is accused of training North Vietnamese air defense personnel
McCain is accused of making over 30 propaganda broadcasts against the US, broadcasts he moved to have classified when he was elected to the senate
These 4 accusations are the only real and supportable accusations against McCain.  The evidence for these acts exists and is substantial.  What is stranger still is McCain's longtime war against veterans, other POWs, and their families.  When John was a bit younger and better capable of looking after himself, he was often both verbally and physically abusive to POW families, POW activists, and veterans.  We hear nothing of these brutal outbursts of McCain's though they continue to this day, now taken as the ravings of a mental defective.
The door Donald opened should be kept open.  We need to examine the POW phenomenon.  After Vietnam, we allowed Nixon to glorify POWs while abandoning hundreds.  The facts came to light during the late 1990s when tapes of conversations between Nixon and Kissinger were made public, for moments, with Kissinger admitting that American POWS held outside North Vietnam, in Laos, Cambodia and the South, were purposefully not included in the agreements, a number Kissinger put at over 200.
These tapes were cleaned from the media and are not available to even researchers, were such interested parties to exist, which they do not.
Vietnam was a useless war.  I served in Vietnam as a Marine combat infantryman and know the war well close up.
Those of us that served felt abused and exploited and suffered far worse at the hands of Nixon and subsequent leaders who backed away from those of us who served as honorably as possible while engaging in a nutty frenzy of POW worship.
Trump is right, those who surrender are generally not heroes.  Some were, however, like Ted Guy, a man taken on the ground fighting, killing 4 of his captors.
Guy, however, is only one of many thousands, many many thousands, from Vietnam that should have received some aspect of recognition in a war where many more thousands lived like gods.  Vietnam was a scam, drugs, prostitution, black market, the best food and hottest parties in the world for many who came home from the war with medals on their chests for doing nothing whatsoever.
I might add, the Saigon press club war correspondents were the worst of all, living like kings on little boys and little girls while being occasionally flown for "10 minutes of war" with a general, then back to the clubs and brothels.  They all should have been locked in FEMA camps, were such things to exist.
As for the Donald, he should demand that, minimally, the American public be able to hear McCain's broadcasts and see the records of his debriefing and read the statements made against him by other POWs, including and especially Colonel Ted Guy.
This man, if you wish to call him that, "McCain" has been allowed to destroy America's security for two generations, along with friends like "light loafer Lindsey" Graham and others.
In one instance alone, the F35, McCain has personally destroyed America's defense capabilities for 25 years.  This is his plane, his project, his monstrosity.
There hasn't been a defense scam in decades that hasn't had his hand prints on it.  Time for Trump to get serious and show some backbone.  McCain is a hard target, time for Trump to stop bashing the easy guys and take this one on.
Gordon Duff posted articles on VT from 2008 to 2022. He is a Marine combat veteran of the Vietnam War. A disabled veteran, he worked on veterans and POW issues for decades.
Gordon is an accredited diplomat and is generally accepted as one of the top global intelligence specialists. He manages the world's largest private intelligence organization and regularly consults with governments challenged by security issues.
Duff has traveled extensively, is published around the world, and is a regular guest on TV and radio in more than "several" countries. He is also a trained chef, wine enthusiast, avid motorcyclist, and gunsmith specializing in historical weapons and restoration. Business experience and interests are in energy and defense technology.
ATTENTION READERS
Due to the nature of independent content, VT cannot guarantee content validity.
We ask you to
Read Our Content Policy
so a clear comprehension of VT's independent non-censored media is understood and given its proper place in the world of news, opinion and media.
All content is owned by author exclusively. Expressed opinions are NOT necessarily the views of VT, other authors, affiliates, advertisers, sponsors, partners or technicians. Some content may be satirical in nature. All images within are full responsibility of author and NOT VT.
About VT
-
Read Full Policy Notice
-
Comment Policy