Obama marching Israel to 'door of the oven', says presidential hopeful Huckabee
… from  Russsia Today,  Moscow
"One of the saddest lessons of history is this If we've been bamboozled long enough, we tend to reject any evidence of the bamboozle. We're no longer interested in finding out the truth.  It's simply too painful to acknowledge, even to ourselves, that we've been taken." …Carl Sagan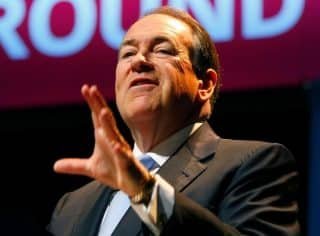 [ Editor's Note:  Gosh, just when you think American politics cannot sink any lower, it's like someone presses the buffoon reset button to prove you wrong. Mike Huckabee, drowning in his 1% poll ratings, threw a Hail Mary pass with his "playing the gas oven card" to generate some attention.
And it sure did, which will hopefully end his political career to make room for the next fool to take his place. Obama was quick to cut him off at the knees, calling his comments "ridiculous and sad".
But Huckabee decided to double down to protect his 1% rating with:
"What's 'ridiculous and sad' is that President Obama does not take Iran's repeated threats seriously. For decades, Iranian leaders have pledged to 'destroy,' 'annihilate,' and 'wipe Israel off the map' with a 'big Holocaust,'" Huckabee said in a statement Monday, just hours after Obama spoke. "Never again" will be the policy of my administration, and I will stand with our ally Israel to prevent the terrorists in Tehran from achieving their own stated goal of another Holocaust." (CNN)
You just can't make this stuff up, folks. The Zionists must be his sole funder. But not all American Jews were with him. Debbie Wasserman Schultz, DNC chairwoman, also cut him off at the knees, saying his remarks had no place in American politics and urged him to apologize to the Jewish community and the American people for his grossly irresponsible statement.
Dear Debbie, how about an apology to the Iranian people? The Iran wanting to wipe out Israel was an old Cold War style, purposeful mistranslation scam. The correct translation was referring to the Zionist regime "disappearing into the sands of time", something our own CIA predicted a few years ago would happen within 20 years.
Jeb Bush distanced himself, but Rick Santorum, another one-percenter, decided to go down on the Huckabee gas-ovens ship with guns ablazing.
"Look, this is the same type of dehumanization of Jews, the same type of recreating history that we saw in Nazi Germany. So no, I see this regime as equally virulent in its hatred of Jews," Santorum said. "In my opinion there really can't be strong enough arguments again — strong enough language against this proposal."
I promise I will never say again that our US political class has sunk to it lowest level ever. I cross my heart and hope to die. But I must say that seeing people this pitiful man actually running for president is beyond embarrassing. I think Obama should issue an executive order for free depression trauma counseling all through the Republican primaries… Jim W. Dean ]
________________________
By endorsing an "idiotic" nuclear deal with Tehran, President Obama is essentially marching Israelis "to the door of the oven," said Republican presidential candidate Mike Huckabee, bringing Holocaust references to the chorus of Iran critics among US politicians.
"It is so naive that [Obama] would trust the Iranians," the Republican presidential candidate and former governor of Arkansas Mike Huckabee told Breitbart News on Saturday.
"By doing so, he will take the Israelis and march them to the door of the oven. This is the most idiotic thing, this Iran deal. It should be rejected by both Democrats and Republicans in Congress and by the American people."
"This president's foreign policy is the most feckless in American history," Huckabee added.
The "oven doors" fragment was a clear allusion to the gas chambers and ovens of Nazi deaths camps, in which, during the Holocaust, hundreds of thousands of Jews had been slaughtered and their bodies burnt.
The remark sparked a torrent of criticism both online and among the US politicians. The chairwoman of the Democratic National Committee, Debbie Wasserman Schultz, said that such rhetoric "has no place in American politics," and urged Huckabee to "apologize to the Jewish community and to the American people for this grossly irresponsible statement."
The agreement between Iran and six world powers was reached in Vienna earlier this month. The announcement of the deal's details triggered furious responses among senior Israeli diplomats, as well criticism from US Republican congressmen.
While the lawmakers criticizing the Obama administration's nuclear deal with Iran are looking for "some sort of unicorn arrangement involving Iran's complete capitulation," as Secretary of State John Kerry put it, the US Congress has a deadline to vote on the deal on September 17.
___________________________________
Author Details
Jim W. Dean is Managing Editor of Veterans Today involved in operations, development, and writing, plus an active schedule of TV and radio interviews. He broke into television work doing Atlanta Public TV programs for variety of American heritage, historical,military, veterans and Intel topics and organizations since 2000. Jim's only film appearance was in the PBS Looking for Lincoln documentary with Prof. Henry Lewis Gates, and he has guest lectured at the Army Command and General Staff School at Fort Gordon, GA.
He is working to find time now to database his extensive video archive of Americana and interviews filmed during his public TV days so individual topic segments can be key word searched to quickly use in future multi-media projects.
Read Full Complete Bio >>>
Jim's Latest Posts
ATTENTION READERS
Due to the nature of independent content, VT cannot guarantee content validity.
We ask you to
Read Our Content Policy
so a clear comprehension of VT's independent non-censored media is understood and given its proper place in the world of news, opinion and media.
All content is owned by author exclusively. Expressed opinions are NOT necessarily the views of VT, other authors, affiliates, advertisers, sponsors, partners or technicians. Some content may be satirical in nature. All images within are full responsibility of author and NOT VT.
About VT
-
Read Full Policy Notice
-
Comment Policy