… from  Press TV,  Tehran
[ Editor's Note: The blame game for the loss of Mosul debacle has been long in coming, and the illegitimate child that no one wants is being tossed around like a live hand grenade. Responsibility seems to lie at all levels.
The Iraqi high command was warned of an attack out of Syria, that they have to be ready to intercept and destroy it while exposed in hundreds of kilometers of open desert. They failed, and miserably.
Iraq had tons of 155mm howitzers, and all that was needed was constant close aerial monitoring of the Syrian border areas and prepositioned firepower and ammunition.  The range on the howitzers is around 50km, and the fire from a four-gun battery is devastating for what it can to in two minutes. They were offered balloons and all the equipment needed, and of course night vision, a piece of cake these days.
But they did not listen. The army was being looted for every dime that could be taken out of it; and spending on real defense was considered a theft of funds that the corrupt officer gang would not be able to steal, as with their phantom soldiers scam, and the mountains of weapons the US left behind that seem to have disappeared.
Tribal loyalties and padding undermined any viable Iraqi army, described as a "paycheck" army by professionals, with people only in it for the money and totally undependable when a fight comes. Mosul showed what years of rot can do. So now we will watch them play "pin the tail on the donkey", as someone has to be the fall guy. Maliki conveniently picks the Kurds, so as to not tee off the political allies he needs long term, but there is plenty of blame for all… Jim W. Dean ]
_____________________________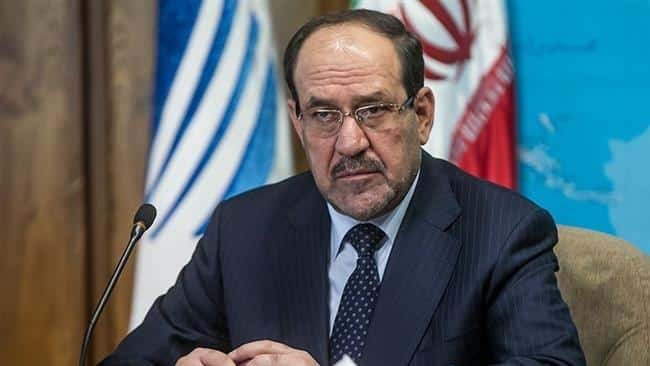 Former Iraqi prime minister, Nouri al-Maliki, has rejected allegations that he was responsible for the fall of Iraq's second city Mosul to Daesh Takfiri militants last year.
Speaking in a press conference in the Iranian capital Tehran on Monday, Maliki called into question the integrity of a recent report by an Iraqi parliamentary investigative committee, which held him and a number of other senior Iraqi officials accountable for the setback.
Instead, Maliki blamed Turkey and Iraq's semi-autonomous Kurdistan Regional Government (KRG) for the fall of Mosul, saying Daesh's takeover took place after the KRG ordered Kurdish fighters to retreat from the conflict zone.
Maliki, who is currently serving as Iraq's vice president, further stated that the Iraqi army and police also withdrew from the capital of Nineveh province, leaving Shia fighters alone in their battle against Takfiris. Lawmakers affiliated with Maliki's party in the Iraqi parliament threatened to resign if the committee refuses to remove the name of the country's former premier from its report.
Mosul file to be referred to judiciary  
Maliki's remarks came hours after Iraqi lawmakers voted to refer the parliamentary report to the judiciary.
"None of the names mentioned in this report were deleted, and all of them will be sent to the judiciary. An investigation and follow up and accounting of all those who caused the fall of Mosul will be carried out," Iraqi speaker of parliament Salim al-Juburi said.
The report is the first official document citing top political figures and military commanders, allegedly responsible for the fall of Mosul.
Other former senior figures include acting defense minister Saadun al-Dulaimi, army chief of staff Babaker Zebari and his deputy Aboud Qanbar, ground forces commander Ali Ghaidan, Nineveh operations command chief Mahdi al-Gharawi and the province's governor, Atheel al-Nujaifi.
Last summer, Daesh militants attacked Iraq from eastern Syria, spreading their realm of terror over large swathes of territory and towns in the west and north of the country, Mosul included.
Iraqi military divisions were overpowered by the Takfiri militants during the initial assault, and in some instances fled the battle scene, abandoning their weapons and other equipment which fell into the hands of the Takfiri militants.
Meantime, the militants have been committing gruesome crimes against the people of ethnic and religious groups in Iraq, including both Shia and Sunni Muslims, as well as Christians and Kurds.
Jim W. Dean was an active editor on VT from 2010-2022.  He was involved in operations, development, and writing, plus an active schedule of TV and radio interviews.
ATTENTION READERS
Due to the nature of independent content, VT cannot guarantee content validity.
We ask you to
Read Our Content Policy
so a clear comprehension of VT's independent non-censored media is understood and given its proper place in the world of news, opinion and media.
All content is owned by author exclusively. Expressed opinions are NOT necessarily the views of VT, other authors, affiliates, advertisers, sponsors, partners or technicians. Some content may be satirical in nature. All images within are full responsibility of author and NOT VT.
About VT
-
Read Full Policy Notice
-
Comment Policy