by Ian Greenhalgh, Britain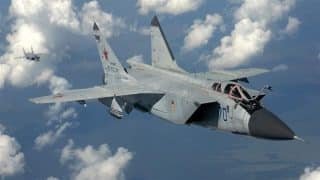 [ Editor' Note:  This is a reprint of an April 22nd event to remind everyone that Israel aggression is supported by the Western community via its silence. Much of this is due to the Israelis having temendous blackmail files on everyone that can be a help or a threat to them.
And then there are all the countries that Israel shares its industrial scale espionage haul with, for cash, for dependable UN votes, and things like the Germana giving them huge discounts on the Dolphin submarines. If you don't think Germany is doig this in exchange for Israel assisting them in tactical nuclear weapons acquisition. Germany was secretly funding Israel's nuclear program early on.
We also had today a denial from Russia that they had delivered some new, but older model figthers,
On Friday, the head of the Russian MiG Corporation rejected Turkish media reports that Russia had delivered six supersonic interceptor jets [Mig31s] to Syria as part of a contract inked between the two sides in 2007. "We have not delivered this [type of] aircraft to Syria and are not going to supply them there," Sergei Korotkov said.
Turkey's BGN News had made the charge on August, 16th…more of the tidal waves of bogus news reports that flood the internet as part of a long running smoke and mirrors psyops to neutralize public opinion by making sure they don't know which end is up… Jim W. Dean ]
___________________________
Today the Iranian FARS News Agency reported the shoot down of an Israeli F-16 by the Syrian armed forces. In case you had forgotten, Israel is not at war with Syria and has no 'official' role in the Syrian internal conflict. However, a smoking pile of wreckage on Syrian soil is proof positive that Israel is involving itself directly in the Syrian conflict. Furthermore, this incursion into Syrian airspace is just the latest in a long series of Israeli attacks both by aircraft and missiles.  
The latest series of air attacks were against Syrian Army bases that were under siege by al-Nusra; thus making it clear that Israel is not targeting ISIS or any of the rebel groups but is directly attacking the Syrian government, it's armed forces and by extension, the Syrian people themselves.
It will be interesting to see the reaction of Russia to this latest Israeli crime, especially in the aftermath of the furious dressing-down President Putin dished out to Turkey earlier this week – will the Israeli ambassador be summoned to the Kremlin to face the wrath of Vlad?
Perhaps this latest Israeli air attack will only hasten the arrival of the new S-300 missiles from Russia?
---
FARS News Agency, Tehran, Saturday, 22nd April:
The Israeli fighter jet was targeted over the city of Al-Quneitra on Friday. Israel regularly violates the Syrian airspace and it launches missile attacks against the Arab country.
On Friday, the Israeli Air Force resumed airstrikes on Western Syria, targeting Brigade 68 Base in Khan Al-Sheih in Damascus province and Brigade 90 Base in the al-Quneitra province after a six hour halt in attacks that followed their multiple air raids over the Golan Heights.
The Brigade 68 Base has no heavy weaponry that can reach Israel's borders and the soldiers inside its parameters have been under siege by the al-Qaeda-linked group of  al-Nusra Front and their allies from Ajnad al-Sham and Jeish al-Islam.
According to a military source in Damascus, the Israeli aircraft were identified as helicopters that crossed into the Syrian Golan Heights before midnight on Thursday night.
In mid-July, Israel launched missile attacks against an army base in Syria's Southeastern Suweida province.
The Syrian dissidents were quoted by Qassioun news website as claiming that Israel fired several missiles at the base of the Syrian army's division 150 in Suweida in which the SAM-5 anti-aircraft missiles are stocked up and is 20km away from Khalkhala airport.
Qassioun claimed that it was a deterrence measure to prevent the access of armed groups to the long-range missiles with high destructive power.
"These claims are raised as Israel is everyday increasing its assistance and supports for the terrorist groups in Syria and the terrorists have not even once attacked Israel and its interests in the region," political analyst Seyed Mostafa Khoshcheshm said.
Reports in January said that Israeli hospitals continue admitting the terrorists who are wounded in Syria.
The terrorists wounded in fierce clashes with the Syrian army are currently undergoing treatment in the Israeli hospitals, according to the Israeli media outlets.
The admittance of a growing number of Syrian militants in the Israeli medical facilities is a clear indication of the continuing support being offered by the Tel Aviv to the terrorists who are fighting against the government of Syrian President Bashar al-Assad.
About 465 terrorists, who were wounded in Syria, have received treatment only at the Israeli Nahariya hospital in Galilee, according to reports published by the Israeli Walla website.
In December, a terrorist who had been wounded in the military operations in Syria was admitted to the Israeli Poriya hospital in Tiberias in Israel.
The Walla website reported that the injured terrorist, who had been admitted to the Poriya hospital, was 37 and had a leg wound, noting that Poriya Hospital has so far treated up to 130 wounded terrorists.
Israeli forces have already moved hundreds of terrorists who were wounded while fighting the Syrian army and people, in clear violation of the UN and Security Council resolutions.
Giving medical treatment to wounded terrorists is only one aspect of the Israeli unlimited support provided to the terrorist organizations fighting the Syrian army and attacking civilians.
This support has amounted to no less than Israeli warplanes launching attacks against sites inside the Syrian territory, proving Israel's undoubted involvement in the internationally-devised terrorist war still raging in Syria since 2011.
Ian Greenhalgh is a photographer and historian with a particular interest in military history and the real causes of conflicts.
His studies in history and background in the media industry have given him a keen insight into the use of mass media as a creator of conflict in the modern world.
His favored areas of study include state sponsored terrorism, media manufactured reality and the role of intelligence services in manipulation of populations and the perception of events.
ATTENTION READERS
We See The World From All Sides and Want YOU To Be Fully Informed
In fact, intentional disinformation is a disgraceful scourge in media today. So to assuage any possible errant incorrect information posted herein, we strongly encourage you to seek corroboration from other non-VT sources before forming an educated opinion.
About VT
-
Policies & Disclosures
-
Comment Policy
Due to the nature of uncensored content posted by VT's fully independent international writers, VT cannot guarantee absolute validity. All content is owned by the author exclusively. Expressed opinions are NOT necessarily the views of VT, other authors, affiliates, advertisers, sponsors, partners, or technicians. Some content may be satirical in nature. All images are the full responsibility of the article author and NOT VT.