…by  Gordon Duff, Senior Editor
Of what has become the "Hoax Week" of all time, our second of 3, so far, offerings, we present "David Cenciotti," the Pentagon's prime expert on military aviation.  Problem is, after a background check, we find this guy, a sockpuppet internet rumor monger.
I have no idea how to deal with this, whether to laugh or cry.  This is the top aviation expert in the world according to the Pentagon and we can't find proof he has ever even ridden on an airplane.  I am still trying to get over the haircut.
I think he is a hairdresser.  You do realize, of course, this is the "Tony Montana" hair style from the the film Scarface?
The story he is peddling has been debunked by Russia, by US and by even some of the world's media that was taken in.  This is a "triple dip," an attempt to peddle the same hoax a third time.  God save us from these idiots.
Where do we begin?  The photos are things that they received from Twitter, "alleged" photographs.
When I questioned (yelled at) Pentagon idiots yesterday, they admitted that they knew all along that Russia only has people who defend their naval base and that there are no others, no troops, no planes, nothing.
Here is what happened, when this hoax came out, sent to the Pentagon like this has been, criminal idiots at the Pentagon sent this to members of congress to try to suppress backing for the Iran nuclear deal, using a known lie.
This is treason.  This is the Pentagon involved in American politics.  I want everyone involved thrown out of the military as law requires.  This is a court martial offense that mandates prison time.
Worse still, when the Pentagon sent out wild allegation now proven totally false, they gave them substantiation by telling members of congress they got them from a highly classified CIA report and not from internet alternative media websites.
Read this trash below and realize that it was sent to me by the Pentagon.  Where is Jim Fetzer when I need him.
---
These photos suggest Russian Air Force jets and drones are already operating against ISIS in Syria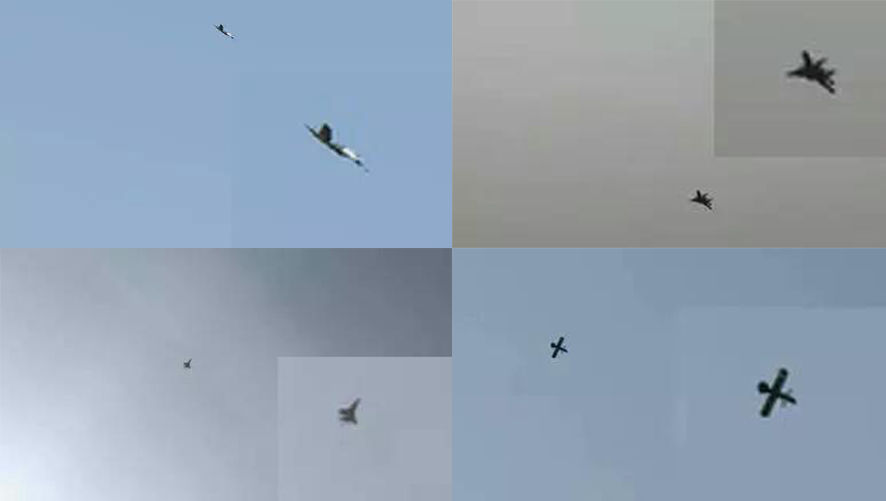 Photos allegedly taken over Idlib seem to prove Russian Migs, Sukhois and drones are currently operating against ISIS in Syria Pictures allegedly shot over Idlib and posted on Twitter seem to suggest Sukhoi Su-27 (or derivative) Flanker, Mig-29 Fulcrum, Su-34 Fullback jets and Pchela-1T drone are operating in Syria.
During the past days, Flightradar24.com has exposed several flights of a Russian Air Force (even though the registration shown by FR24 is Syrian – there has been a bit of confusion around this plane since if was first logged in Sept. 2014) Il-76 airlifter (caught by means of its Mode-S transponder) flying to and from Damascus using radio callsign "Manny 6", most probably supporting the deployment of a Russian expeditionary force.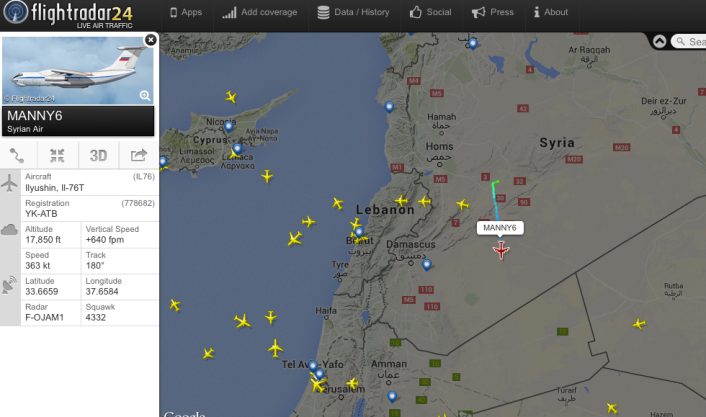 Recent reports claimed Russia was in talks to sell Damascus some MiG-29s but the rumors were refuted by MiG CEO Sergei Korotkov.
If the pictures are real, the current makeup of the Russian detachment would include attack planes (Su-34), as well as some air-superiority ones (MiG-29 and Su-27) and UAVs (Pchela 1T – a drone with a of range 60 km).
[ Note: See how he covers himself with the if. This is done so all those who pass this around have cover. They will just say the "if" was put in there. But for a Pentagon publication to pass garbage like this around is grounds for turning the Early Bird upside down and see who has subverted them into a two bit psyops rag, on the taxpayer tab… Jim W. Dean ]
Whether the Russian Air Force operations against ISIS in Syria are coordinated with the U.S.-led coalition that daily conducts air strikes in the country is unclear. Let's hope they talk each other, otherwise one of the next days the Su-27s may make a close encounter with a stealthy US F-22 providing kinetic situational awareness to other coalition combat planes.
In the meanwhile the Kremlin denies the participation of Russia in the anti-ISIS airstrikes….
We will update you as soon as more details confirming or refuting the deployment emerge.
Image credit: FR24.com and @green_lemonnn
Provided the pictures are genuine and taken in Syria in the last couple of days, they would really prove a Russian expeditionary force has already arrived in the country and started flying from an Assad-controlled airbase near Damascus as reported by some Israeli media outlets.
ATTENTION READERS
Due to the nature of independent content, VT cannot guarantee content validity.
We ask you to
Read Our Content Policy
so a clear comprehension of VT's independent non-censored media is understood and given its proper place in the world of news, opinion and media.
All content is owned by author exclusively. Expressed opinions are NOT necessarily the views of VT, other authors, affiliates, advertisers, sponsors, partners or technicians. Some content may be satirical in nature. All images within are full responsibility of author and NOT VT.
About VT
-
Read Full Policy Notice
-
Comment Policy