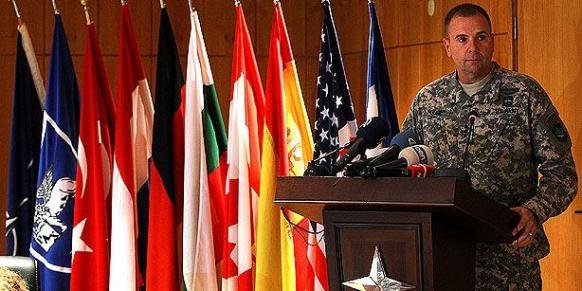 Pentagon: We Need Better Systems to Fight Off Imaginary Russian Menace
… from Sputnik,  Moscow
[ Editor's Note: You just can't make this stuff up. Just as we are getting over our American NATO General Breedlove's too many claims of Russia being prepared to sweep through Ukraine all the way into Moldova, we now have a new fear porn general.
The US top Army commander General Ben Hodges has joined in the competition as to who can blow up the Russian bear balloon the biggest. Frightening the public to get increases in military spending is as American as mom and apple pie. But in peacetime, against potential adversaries with limited force projection, we find the military brass will just make threats up.
The Bush (43) coup regime actually formalized this campaign by setting up specific units to come up with good material to bamboozle the public into supporting whatever the White House wanted. And it did not care whether it was true or not, only that it worked.
We have the General's claim that Russia is using proxies to undermine regional security, when it is us and NATO who have been doing that. We have lots of proof. The General does not provide us any proof, which is the standard tactic — "make the charge, and move on to the next point."
Hodges then goes on to admit that in 2015 the Army is lacking integration communications ability, with all the trip wire countries that were planning to use American troops as cannon fodder in a future war. Dear General, Latvia is not defendable. The Baltics are not defendable, if we made them a threat to Russian security.
The Baltics would only become endangered through our stupid actions, which there seems to be no shortage of generals willing to fill that role. But I did love Russian Chief of Staff Sergei Ivanov's last word on this silliness:

"It is a psychological disorder to claim Russia will invade the Baltic States."
Was it a coincidence when Obama decided that the Iranian bogeyman had run its course, and that the new Russian bogeyman had to take its place so generals could make silly press statements that, after all of these years with the Baltic States in NATO, they don't have proper communication equipment? And am I to understand that the good general feels he has to trot out a Russian invasion threat to get the funding? Give me a break! …Jim W. Dean ]
_____________________
– First published  …  September 25, 2015 –
As the United States continues to promote paranoid fears of "Russian aggression," the Pentagon has called for upgraded communications systems.Washington has made no secret about its Russian suspicions.
In July, the Pentagon unveiled its new National Military Strategy, in which it named Moscow as one of its primary "state adversaries." This is based largely on the oft-repeated – though unproven – allegations of Kremlin involvement in Ukraine's civil war, something Moscow has repeatedly denied, and of which Washington has yet to produce proof.
That hasn't stopped US officials.
"Russia's military actions are undermining regional security directly through proxy forces," the report reads.
Believing Russia to be a grave threat, the Army's top commander in Europe is now calling for significant upgrades to the military's information technology.
"This is about speed, to give our political leaders options," Lt. Gen. Ben Hodges told Breaking Defense. "[If the Russians move], things are going to happen fast. We're not going to have six months to get ready…and then deploy into Latvia. It's going to be come as you are, plug and play."
According to Hodges, the Army needs three key components that it's currently missing. Secure FM radios, a shared data network to allow commanders to better coordinate with troops on the ground, and a streamlined process for launching artillery fire.
"Right now we do not have, universally, any of those three," he said. "Call for fire, calling in medevac, making sure everybody knows where everybody's at…it just makes a lot more challenging. People get killed, people get hurt, or you fail the mission."
And that equipment is desperately needed, since the specter of Russian aggression is never far away.
"The infrastructure is in place east of the Donbass for a very rapid, large buildup," Hodges added.
But the US isn't just drumming up fears about Ukraine. Hodges also expounded on the rather alarmist belief that Moscow poses a threat any neighboring regions.
"Ukraine is only a symptom of what's going on. Russia believes that they're entitled to a sphere where they can dictate what countries do.
"In order to deter a situation where they might decide to deny access, launch a snap exercise, and Little Green Men start appearing in Latvia, for example, or they start to seal off the gap between Kaliningrad and Belarus, we've got to be there," Hodges said.
While the US continues to paint Russia as a danger in order to promote its own global aims, the Kremlin has repeatedly pointed out the absurdity in such allegations.
"I find it funny to hear how Russia is being accused of military aggressiveness," Russian Chief of Staff Sergei Ivanov told the Financial Times when news of the US National Military Strategy first broke. "There is an expression, 'this is nothing but raving nonsense.'"
"It is a psychological disorder to claim Russia will invade the Baltic States," he added.
____________________
Jim Davis is the son of USMC MGySgt. Lesley Davis (Ret.) who passed away on April 24, 2006, from ALS caused by Agent Orange. His dad's mission before he passed on was to ensure all veterans, spouses, children, and widows all received the benefits, medical care and attention, and proper facilities from the VA.
Because of the promise made to his dad to carry on the mission, in May 2006 Davis began as a one-man show sending out 535 letters every single week to all members of Congress requesting and politely demanding the fulfill their promises made over the past decades to care for life those who wore the uniform and their families.
Veterans-For-Change was born in August 2006 with a very small membership of 25 people composed of veterans, spouses, widows, family members, and friends and to date continues to grow.
ATTENTION READERS
Due to the nature of independent content, VT cannot guarantee content validity.
We ask you to
Read Our Content Policy
so a clear comprehension of VT's independent non-censored media is understood and given its proper place in the world of news, opinion and media.
All content is owned by author exclusively. Expressed opinions are NOT necessarily the views of VT, other authors, affiliates, advertisers, sponsors, partners or technicians. Some content may be satirical in nature. All images within are full responsibility of author and NOT VT.
About VT
-
Read Full Policy Notice
-
Comment Policy