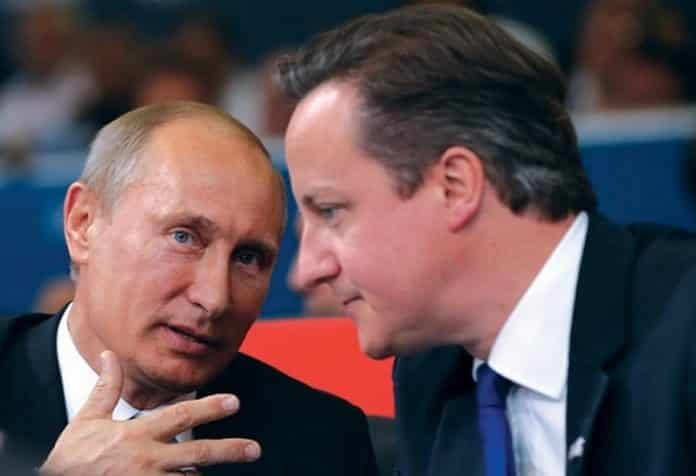 UK Telegraph
Britain is to abandon its demand that the Syrian dictator Bashar al-Assad must be removed from power to bring peace to the country. David Cameron is expected to signal the major shift in policy on a trip to the United Nations in New York this week.
It will form part of a plan to win international support, including from Russia, to defeat the terrorist forces of the Islamic State of Iraq and the Levant (Isil), which is now seen as a more urgent priority than regime change.
In a radical change, the Prime Minister – who called for air strikes against the Assad regime in 2013 – will soften his stance towards the brutal Syrian leader as a temporary measure.
However, the move risks being seen as a victory for Vladimir Putin, who has made it clear that he will back Mr Assad with military support if the West launches attacks on his regime. The US and Britain have faced a near impossible dilemma in trying to resolve the crisis in Syria in the last two years.
Since the devastating civil war began in 2011, Downing Street and the White House have demanded Mr Assad be removed, while at the same time seeking to defeat the growing threat from Isil.
Until now, Russian objections have prevented concerted international action to oust him. The Prime Minister and President Obama now appear to have decided the world's greater priority must be to defeat the terrorists.
By allowing Mr Assad to remain in power, even temporarily, Britain and the US would be meeting a key demand from the Kremlin, paving the way for cooperation between President Putin and the West in the fight against Isil.

The move raises the prospect of a unique "grand alliance" to defeat Isil, involving British, American and Russian action, even though sources in London regard Mr Putin as a potentially dangerous adversary rather than an ally. Any deal reached at the UN this week will inevitably raise questions over long-term planning for the future of Syria and relations between Russia and the West.
Speaking before Mr Cameron left for the US, a government source said the Prime Minister was open to keeping Mr Assad in post in the short term while a unity government is formed in Syria.
"The Prime Minister's view is that there is not a long-term, stable, peaceful future for Syria where Syrian people can return home with President Assad as its leader and that's what we've got to work towards."
However, asked if Mr Assad could remain during a transition period, the source made clear Mr Cameron would not demand he immediately steps down. "There has always been the idea that there would be a political transition," the source said.
World leaders gathering in New York are expected to negotiate plans to defeat Isil and secure a political solution in Syria at the UN General Assembly.
• Putin steps up campaign to reassert Assad's power in Syria
• The real reason behind Vladimir Putin's Syria intervention
The development comes two years after Mr Cameron suffered a damaging Commons defeat over proposals to launch air strikes in Syria. At the time the Prime Minister said Mr Assad had used chemical weapons against his own people and warned he would be emboldened if Britain "stands back and does nothing".
However with the emergence of Isil jihadists in the region, the international community appears to be readying a plan that could involve Mr Assad staying temporarily.
Philip Hammond, the Foreign Secretary, has told MPs "we are not saying on day one Assad and all his cronies have to go. If there was a process that was agreed, including with the Russians and the Iranians, which took a period of months and there was a transition out during that period of months we could certainly discuss that."
The softening of tone towards Mr. Assad comes as a growing consensus emerged among world leaders that his co-operation would be needed to bring about a peaceful end to the war.
Angela Merkel, the German Chancellor, has said Mr Assad should be part of any talks. "We will have to talk with many actors," Ms Merkel said after a European Union summit in Brussels. "Assad will be part of that, but also others like the US and Russia as well as important regional partners like Iran or Saudi Arabia."
John Kerry, US Secretary of State, has said Mr Assad must go but his removal would not have to be immediate:
"It doesn't have to be on day one or month one. There is a process by which all the parties have to come together and reach an understanding of how this can best be achieved."
Mr Putin will make a rare appearance at the UN on Monday to try and claim leadership in the fight against Isil, in a speech seen as an attempt to shift attention from the Ukraine crisis.
He is expected to blame the war in Syria and the refugee crisis on western support for Syrian rebels, while calling on the West to join a grand alliance – with Mr Assad's forces – against Isil.
The Telegraph understands that Mr Putin will also seek to press the point home at a subsequent face to face meeting with President Obama. However, the White House wants to use that time to challenge Mr Putin on Ukraine.
In recent weeks Russia has reinforced Mr Assad's regime with military hardware, hinting at a unilateral military campaign. President Putin sent more than 1,000 troops to bolster Syrian defences, initially from bases in Latakia in the north-west heartland of Mr Assad's beleaguered Alawite sect.
They are backed by 28 fighters including ground attack and aerial combat jets, modern T-90 tanks and personnel carriers plus tank-landing craft – while military advisers have reportedly been seen in Damascus. The hardware appears to have been accompanied by personnel to enlarge Russia's naval base at Tartous.
US attempts to support "moderate" Syrian rebels have repeatedly faltered.
__________________________
ATTENTION READERS
Due to the nature of independent content, VT cannot guarantee content validity.
We ask you to
Read Our Content Policy
so a clear comprehension of VT's independent non-censored media is understood and given its proper place in the world of news, opinion and media.
All content is owned by author exclusively. Expressed opinions are NOT necessarily the views of VT, other authors, affiliates, advertisers, sponsors, partners or technicians. Some content may be satirical in nature. All images within are full responsibility of author and NOT VT.
About VT
-
Read Full Policy Notice
-
Comment Policy