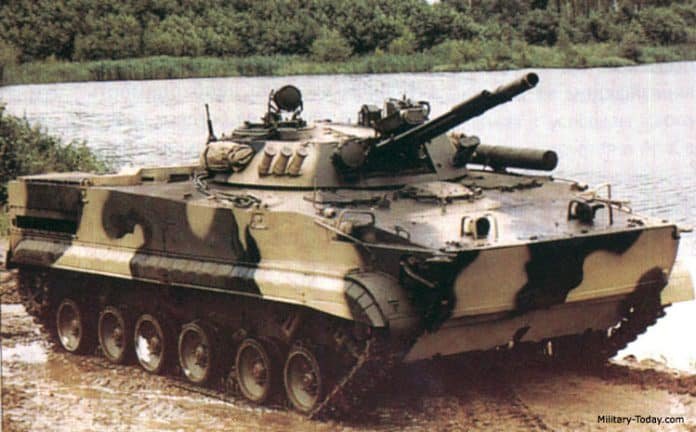 … from  TASS,  Moscow
[ Editor's Note: Weapons exports have the obvious benefit of foreign exchange earnings for the manufacturer and country, but this is just the beginning of the goodies list. The real big ticket is having large production runs, which can average down the cost of domestically needed units, and a steady flow of funding for R&D improvements.
Maintaining a production capacity beyond what you need domestically puts you in a position during a war to "borrow" production in the pipeline for foreign customers to increase armaments deployment to your own military units more quickly. You also have a larger capacity to repair damaged units quickly and return them to combat.
The Saudis opened up to the Russians after the Iran nuclear deal was going down, in an obvious hedging its bets on having all Western arm suppliers. These BMP sales are bread and butter military sales and not as sensitive as cutting edge high technology weapons like missiles, radars and then the horribly expensive aviation products.
But Russia has a big country to defend, so it needs to keep its arms industry fed with orders, competing with everyone else seeking the same advantages. The Russians certainly have a high tech weapons industry, too… but the top of the line stuff is rarely exported.
Future air wars will of course be tilted toward who has the best performing planes, but missile defense and electronic measures are just as important. And until you really are in a shooting war you never know whether you are in good or bad shape, as surprises are always revealed that have been saved for such occasions. It is the job of military intelligence to see to it that there are never any bad surprises, and you pray that your guys are better than your opponent's, say amen!… Jim W. Dean ]
______________________
– First published  …  October 06,  2025 –

Iraq plans to acquire 500 and Saudi Arabia 950 BMP-3 infantry fighting vehicles from Russia, Albert Bakov, first vice president and co-owner of the Tractor Works Concern, the manufacturer of these machines, told TASS today.
"We've got an application for 500 BMP-3s from Iraq and for 950 from Saudi Arabia," the interlocutor told the Agency.
He noted that there are no problems with orders, but a balance must be set between those for export and for the domestic market.
"In 2016 we'll start conveyor manufacturing to fulfill all the orders on time. However, the conveyor start-up calls for a lot of work in the component supply segment," Bakov added.
Previously it became known that before the end of 2017 the Russian Defense Ministry is due to receive over 200 new BMP-3s. In addition, there were reports that those combat machines might be purchased by Myanmar and Morocco planning to acquire small lots of 35 to 40 IFVs.
As per unclassified sources, the BMP-3s are in service with a number of countries, including Kuwait and the United Arab Emirates. Russia is currently fulfilling an order to upgrade 135 infantry fighting vehicles of the UAE. The work is expected to be completed early next year.
____________
Jim Davis is the son of USMC MGySgt. Lesley Davis (Ret.) who passed away on April 24, 2006, from ALS caused by Agent Orange. His dad's mission before he passed on was to ensure all veterans, spouses, children, and widows all received the benefits, medical care and attention, and proper facilities from the VA.
Because of the promise made to his dad to carry on the mission, in May 2006 Davis began as a one-man show sending out 535 letters every single week to all members of Congress requesting and politely demanding the fulfill their promises made over the past decades to care for life those who wore the uniform and their families.
Veterans-For-Change was born in August 2006 with a very small membership of 25 people composed of veterans, spouses, widows, family members, and friends and to date continues to grow.
ATTENTION READERS
Due to the nature of independent content, VT cannot guarantee content validity.
We ask you to
Read Our Content Policy
so a clear comprehension of VT's independent non-censored media is understood and given its proper place in the world of news, opinion and media.
All content is owned by author exclusively. Expressed opinions are NOT necessarily the views of VT, other authors, affiliates, advertisers, sponsors, partners or technicians. Some content may be satirical in nature. All images within are full responsibility of author and NOT VT.
About VT
-
Read Full Policy Notice
-
Comment Policy