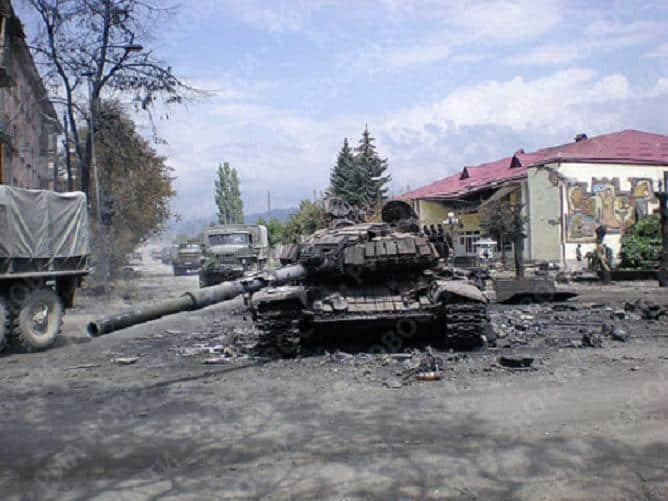 … from Russia Today,  Moscow
[Editor's Note: My, my… this certainly came out of the blue. Needless to say, the ICC is way behind the curve and totally inadequate for dealing with these war crimes cases. It needs to wrap up what it is doing and be replaced with a far more expanded effort. But the question is who would really want to do it?
By that I mean prosecutors should be collecting evidence during these conflicts, not beginning to do it ten years after. Then when the shooting stops, they can do part two with the on scene witnesses and records gathering. The cost should be borne by the countries involved, where appropriate, their region, and then the UN so more parties have some skin in the game.
Forgive me for saying, but it looks like some of these ICC prosecutors seem to only be interested in doing one or two cases in their lifetimes there. They work at a snail's pace, with a decade being the opening time investment in a case. Those guilty often have powerful sponsors, as in Georgia's case, having many levers to engage in obstruction of justice. And, withholding evidence is mere child's play.
For example, while it was nice to see them mention the wanton night time shelling of Tskhinval, they left out that commandos, mostly from a small Mid Eastern country that often does things like this with apparent immunity, went into town and took out all the Russian peacekeeper armor, and killed a few hundred of them. Then, the Georgian army went in at dawn, while the commandos flew back home and were nowhere to be seen when the doo doo hit the fan when the Russians pounced.
Russian Intel was all over the planned attack, and for PR purposes had to let the Georgians fully commit themselves before Moscow launched its counter offensive. If they had struck preemptively to foil the attack, then the US would have had its Russian aggression response cranked up the next morning.
Mikheil Saakashvili was just a chump in all this, the kind of small nation hoodlum with a few Harvard classes that America loves to deal with, to use their country like a blow up doll.
No mention by the ICC below of Georgia working with the US to have a bioweapons lab right at the airport, which had to be removed after VT exposure. Nor do we hear anything about the terrorist training camps being run by US contractors there, and Georgia being an arms transshipment hub for supporting terror operations in a number of places, including a rat line going down to Syria through Turkey, all in violation of a number of serious international laws.
That said, welcome to state-sponsored terrorism and the many gullible taxpayers who just grab a fence rail and bend over to pay for it… a bit too easily if you ask me. But maybe I am just turning into an old meanie in my senior years… Jim W. Dean ]
_______________
The International Criminal Court (ICC) is considering opening an investigation into possible war crimes committed during the 2008 South Ossetia military conflict between Georgia and Russia.
"There is a reasonable basis to believe that crimes within the jurisdiction of the Court have been committed in Georgia in the context of the armed conflict of August 2008," ICC prosecutor, Fatou Bensouda, was cited as saying by the Court's website.
On Thursday, Bensouda announced that she will "shortly" submit a request to a Pre-Trial Chamber for authorization to open the case into the 2008 events. If the three judges in the Pre-Trial Chamber decide to give the green light to the investigation, it will look into the alleged crimes committed by both sides of the conflict.
Georgia has been a member of the international Criminal Court since 2003, while Russia remains a non-member state after signing, but not ratifying the Rome Statute, which is the ICC's foundational and governing document.
Mikheil Saakashvili, who was Georgia's president in 2008, said that he would welcome an ICC probe into the South Ossetia war.
"It's important that the Georgian prosecutor's office hands over information about everything, including ethnic cleansing," Saakashvili said in a statement.
However, Russian newspaper Kommersant wrote that it's the ex-Georgian president who is himself likely to become a central figure in the ICC investigation. Elene Tevdoradze, who used to be the deputy chairman of the PACE Monitoring Committee on Georgia, told the paper that the materials on the conflict provided by Russia reveal a series of war crimes.
The documents contain enough evidence to prosecute Saakashvili for starting the conflict, which may carry a prison sentence from 30 years to life, she said. Despite being wanted in Georgia for embezzlement, abuse of power and politically-motivated attacks, Saakashvili is now working as the governor of the Odessa region of Ukraine
READ MORE: Medvedev: Russia's top priority in S.Ossetia war was to defend our citizens, interests (RT EXCLUSIVE)

When the five day war erupted in August 2008, Russia was labeled as an aggressor by the Western media. But a study by the European Commission a year later stated that the conflict started "with a massive Georgian artillery attack" on the capital of the breakaway republic of South Ossetian capital, Tskhinval.
The document labeled Tbilisi's actions as unjustified, stressing that there was no ongoing build-up or armed assault by Russia before the launch of the Georgian operation. The Georgian forces shelled Tskhinval with artillery and multiple-launch missile systems on August 8, 2008. A Russian peacekeeper base and residential districts of the city came under fire, forcing then-Russian president, Dmitry Medvedev, to order a "peace enforcement" operation against Georgia.
Over the next few days, the Russian military engaged the Georgian forces on land, air and sea, shunting the offenders far into Georgian territory. Dozens of military staff on both sides were killed, with hundreds more injured in the conflict.
Civilian casualties were much higher, with South Ossetian officials speaking of between 1,500 and 2,000 people killed.
____________
Jim Davis is the son of USMC MGySgt. Lesley Davis (Ret.) who passed away on April 24, 2006, from ALS caused by Agent Orange. His dad's mission before he passed on was to ensure all veterans, spouses, children, and widows all received the benefits, medical care and attention, and proper facilities from the VA.
Because of the promise made to his dad to carry on the mission, in May 2006 Davis began as a one-man show sending out 535 letters every single week to all members of Congress requesting and politely demanding the fulfill their promises made over the past decades to care for life those who wore the uniform and their families.
Veterans-For-Change was born in August 2006 with a very small membership of 25 people composed of veterans, spouses, widows, family members, and friends and to date continues to grow.
ATTENTION READERS
Due to the nature of independent content, VT cannot guarantee content validity.
We ask you to
Read Our Content Policy
so a clear comprehension of VT's independent non-censored media is understood and given its proper place in the world of news, opinion and media.
All content is owned by author exclusively. Expressed opinions are NOT necessarily the views of VT, other authors, affiliates, advertisers, sponsors, partners or technicians. Some content may be satirical in nature. All images within are full responsibility of author and NOT VT.
About VT
-
Read Full Policy Notice
-
Comment Policy