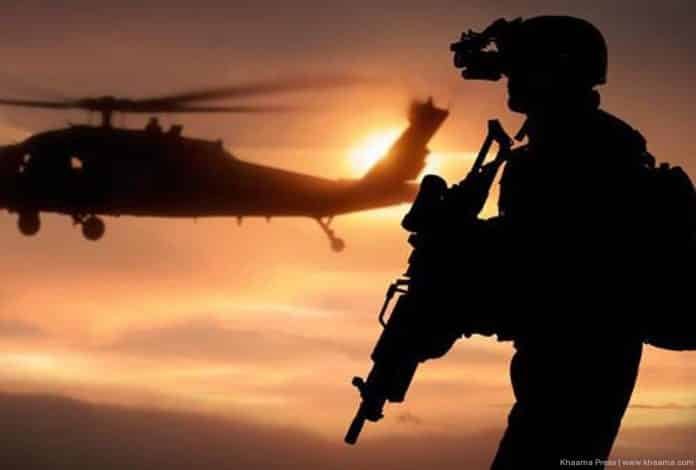 … from  Russia Today,  Moscow 
[ Editor's Note: A hostage rescue mission is a once in a lifetime opportunity for Special Ops people. The story below about being "along for the ride" as advisors is baloney of course. No special ops people would go on a mission like this without participating. There would be no way to restrain them.
If this is really the first KIA, then that is good news, as I am sure they have not been sitting around watching the show. We just hope they have not been abused by someone making them part of the ISIS support program.
"They" typically would use contractor people, ex-Special Ops people for "side work", and there are plenty of them around to hire, with the active force being at 50,000, last I saw.
I have a Sons of Confederate Veterans friend who was a SEAL in Vietnam. He got a mission to go after some POWs who were being moved north on the Ho Chi Minh trail. They were inserted ahead of the group, and correctly figured out where their night time stop would be, and set up an ambush.
They waited until the NVA guards were mostly all chowing down around the campfire for their big surprise, and killed the whole team with no casualties. The POWs were beyond ecstatic. I asked him if they ever had a ceremony later on with the SEAL team, and he said no. They never knew each other.
I thought it would be the perfect rescue reunion documentary, and said I would approach the Pentagon to get the clearances and ask for their help, but he would have none of it, saying it was all secret, and it would be against the rules, etc. He was old school, so a wonderful story never got recorded.

But that said, if he is still alive, he might feel differently about it now. But the problem would still be how many of the others are still around. Gordon can tell you about the life expectancy of Nam combat vets. It's always a bummer to look somebody up to find out they died… Jim W. Dean ]
____________
– First published  …  October 22, 2015 –
A member of a US special operations team was killed during a hostage rescue operation in northern Iraq. This is the first American killed in ground combat with Islamic State militants, officials said.
Iraqi troops and US Special Forces mounted a rescue operation Wednesday night in the area of Hawija, an Islamic State stronghold west of Kirkuk. About 70 captives held by Islamic State (previously ISIS/ISIL) were freed successfully, but one American was killed.
"It was an Iraqi operation," a US official told AFP, adding that the US military were in an "advise and assist" role. US Special Forces were dropped in by helicopter, while Kurdish fighters and Iraqi troops attacked by land, with the goal of freeing the Kurdish, Sunni and other fighters captured by Islamic State militants, Fox News reported.
"People were chained to walls," one well-placed military source told Fox News.
A number of ISIS militants were killed and five were captured in the raid, Pentagon spokesman Peter Cook said in a statement Thursday, adding that more than 20 of the freed captives were members of the Iraqi security forces. The operation was driven by information that the hostages "faced imminent mass execution," Cook said.
"In addition, the US recovered important intelligence" about IS, Cook said.
In a separate statement, Kurdish officials said the operation lasted about two hours and was led by the peshmerga with support from coalition troops. It made no mention of an imminent threat of executions, however.
More than 20 ISIS fighters were killed in the operation, and 69 hostages were freed, none of whom were Kurds, the statement added, thanking the Americans for their bravery.
A US defense official told AP that more than 10 IS militants were killed in the operation. He added that the US role in the operation involved providing intelligence, conducting airstrikes before and after the mission, transporting Iraqi soldiers aboard five US special operations helicopters and advising Iraqi and Kurdish fighters during the raid.
Other outlets reported conflicting accounts of the mission. Helicopter-borne rescuers targeted a makeshift prison in Hawija where Kurdish hostages were held, one source told Reuters, while another said that US Special Forces raided a house where senior ISIS commanders were gathered, and that gunfire and explosions could be heard for several hours.
Citing unidentified sources, NBC News reported that the rescued captives were Kurdish Peshmerga fighters, and that the operation was requested by the Iraqi government. NBC added that US forces have suffered casualties, but did not give details on the number of injured or killed.
READ MORE: US Special Forces kill senior ISIS commander in Syria raid – DoD
In addition to the air campaign launched in October 2014, US Special Forces have raided Islamic State objectives inside Iraq and Syria. One such operation in May resulted in the death of Abu Sayyaf, a senior IS leader.
___________
Jim Davis is the son of USMC MGySgt. Lesley Davis (Ret.) who passed away on April 24, 2006, from ALS caused by Agent Orange. His dad's mission before he passed on was to ensure all veterans, spouses, children, and widows all received the benefits, medical care and attention, and proper facilities from the VA.
Because of the promise made to his dad to carry on the mission, in May 2006 Davis began as a one-man show sending out 535 letters every single week to all members of Congress requesting and politely demanding the fulfill their promises made over the past decades to care for life those who wore the uniform and their families.
Veterans-For-Change was born in August 2006 with a very small membership of 25 people composed of veterans, spouses, widows, family members, and friends and to date continues to grow.
ATTENTION READERS
Due to the nature of independent content, VT cannot guarantee content validity.
We ask you to
Read Our Content Policy
so a clear comprehension of VT's independent non-censored media is understood and given its proper place in the world of news, opinion and media.
All content is owned by author exclusively. Expressed opinions are NOT necessarily the views of VT, other authors, affiliates, advertisers, sponsors, partners or technicians. Some content may be satirical in nature. All images within are full responsibility of author and NOT VT.
About VT
-
Read Full Policy Notice
-
Comment Policy