…by Gordon Duff and Jim W Dean, VT Editors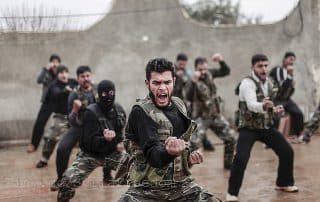 [ Editor's Note:  Once again, we have a total corporate media stand down on a huge story that is staring them in the face. The Pentagon has either been penetrated and fed bogus field reports that generated the phony maps that are plastered all over the internet showing the FSA over a large area of Northern Syria, or it set up an operation to do that itself. Someone is lying to us big time on the Syrian combat maps.
And up pop the Russian battle maps, which you think their combat strategy officers would be competent to make, that show no FSA in NW Syria at all; which just happens to be what VT has been reporting since February of this year when, what was left of the FSA – those who had not gone over to ISIL or al-Nusra – took off to Turkey in a long convoy.
We had the stories, widely published about training "new" FSA troops to fight ISIL over a three-year program, and that was closed down do to a lack of qualified recruits. And then, here comes the Russian Air Force to join the War on Terror and the US, Turkey and NATO start screaming bloody murder because the devious Rooskies are mostly bombing FSA positions. I found one FSA spokesman report claiming that 80% of the strikes had hit them.
But there was just one problem with that story. They were not there to be hit. The Pentagon and hangers-on have morphed the Free Syrian Army into "rebels" now, so the erasing of the FSA acronym begins. Have the FSA-less US coalition just contracted their former jobs out to al-Nusra, and they are now being called "rebels"?
And here we are again… only VT is bringing this up; another story that corporate media will show no interest in interviewing us about. We had no call for the Sunday talk shows today, so Gordon will lay it all out for you below, literally… JD ]
____________
Someone is telling a big lie with their situation maps
When John McCain traveled to Syria to meet freedom loving rebels and found himself having tea with the head of the Islamic State, Baghdadi, was it treason or did he simply get lost because had a bad map?
When America bombs for over a year and nothing whatsoever comes of it, were they, just perhaps, bombing the wrong people in the wrong places because they have the wrong maps?
This is something Veterans Today recently looked into and lo and behold, we found the White House, Pentagon and maybe even our "allies," Turkey, Israel and the rest of the "coalition of the morally flexible" had all been helping the bad guys and killing the good guys.
We knew there had to be a good reason for this and we found it.  They had cheap imitation maps made by a Washington think tank.
Let's look at one or two recent instances of map meltdown:
Two separate groups of American trained "rebels" were deployed to what the Pentagon believed was an FSA/rebel controlled area where they could begin fighting ISIS.  However, when they used the Pentagon map and headed into Syria, instead of finding "friendly rebels," they ran right into the middle of al Qaeda.  They must have been flabbergasted.
Only a week ago, the Pentagon or CIA or someone dropped 50 tons of supplies to "friendly rebels" based on locations represented by the Institute for the Study of War maps below.  What happened however, is that the rebels and even the Kurds who were supposed to be there simply were some place else and, lo and behold, Jabat al Nusra, the al Qaeda in Syria group was there, just like that other map we found shows.
What we are going to be doing is looking at each map below and seeing why they are so divergent.
America lost the Map Wars…
Pentagon contractor and trusted congressional source, the ISW is making a case for Russia's bombing campaign being exclusively aimed at "friendly rebels."  However, in this graphic "fib fest" of the ISW, their imagineering has thrown more than a simple monkey wrench into America's war effort as well.
The ISW map above of Northwest Syria shows a very small patch controlled by al Nusra and a huge area that the Russians have blown the holy hell out of being peaceful "moderate terrorists" that plan to deliver their form of "democracy" to the people of Syria whether they like it or not.
Here's the rub;  there was this other civil war between different rebel groups in Northwest Syria, a war that had one winner, al Nusra.  The FSA in northern Syria disbanded, leaving only their units in the Damascus suburbs and those under the protection of Israel and a coalition cabal in Jordan left.
Why then has the US kept supplying the FSA in Northwest Syria, month after month, not just one flight but truck convoys of Stingers and TOW missiles, when there are no FSA "moderate terrorists" there whatsoever?
We know, they had the wrong map.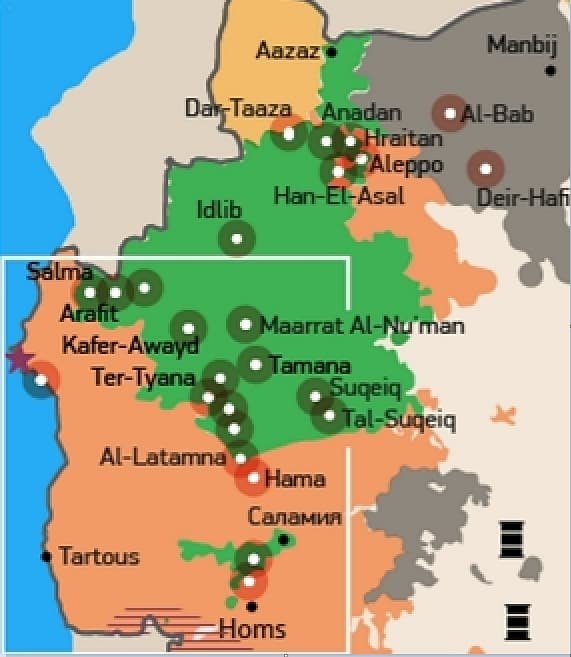 ATTENTION READERS
Due to the nature of independent content, VT cannot guarantee content validity.
We ask you to
Read Our Content Policy
so a clear comprehension of VT's independent non-censored media is understood and given its proper place in the world of news, opinion and media.
All content is owned by author exclusively. Expressed opinions are NOT necessarily the views of VT, other authors, affiliates, advertisers, sponsors, partners or technicians. Some content may be satirical in nature. All images within are full responsibility of author and NOT VT.
About VT
-
Read Full Policy Notice
-
Comment Policy