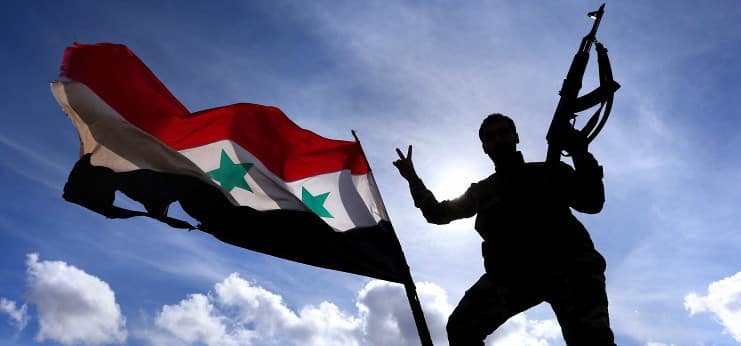 US begins consultations on military support for Kurdish militias in Syria
.. from TASS,  Moscow
[ Editor's Note: My, my… a busy day coming today, so I am starting off with a triple play. The US is publicly jumping in to support the Kurds in Northern Syria, as its main counter to what appears to be accepting that the Russians and Syrians are going to run most everybody else out of Northern Syria.
This puts the US on a collision course with Erdogan and what might be a temporary basing of US planes on the Turkish bases.
Erdogan says below, "No way, Jose", on the creation of any Kurdish autonomy in Syria, which is not his country, and therefore a violation of the UN charter, something which is becoming commonplace with those with the right military connections.
Or, we could be seeing a division of tasks, with the US propping up the Kurds under the guise of fighting ISIL, when the dismemberment of Syria is the real goal. And then Saudi Arabia and Qatar will fund propping up their Syrian terrorist formations, in what I can only assume is an effort to bog Russia down in this campaign.
Note that VT broke the story of Ukraine selling old SAMS to the Saudis to pass on to the Jihadis. This is going to be an interesting showdown, hoedown, or both of them together… JD ]
____________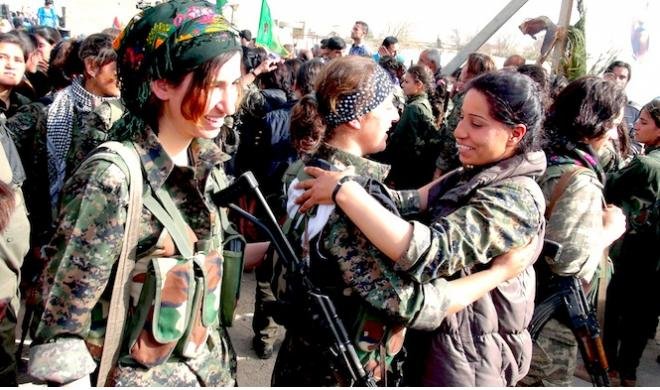 LATAKIA, October 29. Pentagon is starting consultations on all-round support for the Kurdish militias in Syria's Northern provinces, including training and delivery of weapons and military hardware, a source close to the Kurdish militias said.
"Everything is ready. The People's Defense Forces of the Syrian Kurdistan may hold their first meeting with US intelligence representatives already this week," the source clarified.
According to the source, the sides will discuss the deadlines and volumes of the military assistance and draw up a list of priority professions, in which the Kurdish militias have the greatest demand.
"If the aid program is launched successfully, it may become the first step on the way towards recognition of the Syrian Kurdistan as a free state," the source said commenting the mood among the Kurdish militias.
____________
… from Russia Today,  Moscow
Threatening continued assaults on the Kurdish militia in Syria, the Turkish president has warned he will not request anyone's permission to do whatever is necessary to prevent the spread of support for Kurdish autonomy, even if it requires bombing US-allied rebels.
In a clear message to dissuade Kurds from supporting the self-declared autonomous town of Tel Abyad near the Turkish border, President Tayyip Erdogan said that he will "do what is necessary," including using force, to eradicate the potential source of separatism along its borders.Tel Abyad, on the border with Turkey, was captured in June from Islamic State (IS, formerly ISIS/ISIL) by Kurdish People's Protection Units (YPG) fighters with the help of American-led air strikes. Last week, a local council led by the Democratic Union Party (PYD) declared it part of the system of autonomous self-government established by the Kurds. Since the conflict in Syria broke out in 2011, Syrian Kurds have declared three autonomous zones, called"cantons," across northern Syria, but deny that they are aiming to establish their own state.Alarmed by Kurdish territorial gains, Turkey fears that the latest creation of autonomous Tel Abyad canton could stir separatism among its own Kurdish minority. YPG has been a key ally of the US in the fight against Islamic State in Syria, but Erdogan's message sends out a clear sign that Turkey's national interests supersedes those of the United States and NATO.
"We are determined to [combat] anything that threatens us along the Syrian border, inside or out," Turkish President told Kanal 24 television station on Wednesday.
"If the Kurds withdraw and don't form a canton, there's no problem. But if the mindset continues, then what is necessary will be done or we face serious problems," Erdogan said.
The Turkish President also accused Washington of double standards and claimed that the PYD allegedly carried out ethnic cleansing of Arabs and Turkmen in Northern Syria, equating US support for the Kurdish militias to aiding terrorism.
"They don't even accept the PYD as a terrorist organization. What kind of nonsense is this?" he said. "The West still has the mentality of 'my terrorist is good, yours is bad,'" Erdogan said.
Turkey has for the past three decades been trying to end an insurgency by Kurdistan Workers Party (PKK) fighters. PKK is classified as a terrorist organization by the United States and European Union. Erdogan said 1,400 PKK militants were fighting alongside the YPG in Syria.
Ankara confirmed on Monday that it had already conducted two strikes on Kurdish forces in Syria as a "warning."
"This was a warning. Pull yourself together," Erdogan said. "If you try to do this elsewhere – Turkey doesn't need permission from anyone – we will do what is necessary."
____________
… from Sputnik,  Moscow
Russian Deputy Foreign Minister Mikhail Bogdanov said that Free Syrian Army does not have single commander and headquarters.
MOSCOW (Sputnik) — Russian Deputy Foreign Minister Mikhail Bogdanov confirmed Thursday that he had held meetings with persons claiming to represent the Free Syrian Army (FSA).
On Tuesday, a leader of a Syrian opposition group confirmed to Sputnik that representatives of the Free Syrian Army (FSA) had visited Moscow.
"I have met many people who say they represent the Free Syrian Army. I've met them both in Cairo, and in Moscow. They all say they represent the Free Syrian Army. But at the same time they say that there is no unified command, no single commander, no headquarters," Bogdanov told RIA Novosti.
According to Bogdanov, Moscow holds talks on a daily basis with a wide variety of Syrian opposition factions, including the National Coordination Committee for the Forces of Democratic Change, the National Coalition for Syrian Revolution and Opposition Forces and Kurdish organizations.
Syria has been mired in a civil war since 2011, with the government forces fighting a number of militant groups and radicals from organizations like the Islamic State and the Nusra Front.
Since the start of the war, the United States and its allies have supported what they refer to as the "moderate" Syrian opposition, such as the FSA, in its fight against troops loyal to Syrian President Bashar Assad.
Russia, which launched its own air operation against ISIL positions in Syria in late September upon Assad's request, has been seeking contacts with the so-called moderate opposition to combine their efforts against Islamists.
____________
Jim Davis is the son of USMC MGySgt. Lesley Davis (Ret.) who passed away on April 24, 2006, from ALS caused by Agent Orange. His dad's mission before he passed on was to ensure all veterans, spouses, children, and widows all received the benefits, medical care and attention, and proper facilities from the VA.
Because of the promise made to his dad to carry on the mission, in May 2006 Davis began as a one-man show sending out 535 letters every single week to all members of Congress requesting and politely demanding the fulfill their promises made over the past decades to care for life those who wore the uniform and their families.
Veterans-For-Change was born in August 2006 with a very small membership of 25 people composed of veterans, spouses, widows, family members, and friends and to date continues to grow.
ATTENTION READERS
Due to the nature of independent content, VT cannot guarantee content validity.
We ask you to
Read Our Content Policy
so a clear comprehension of VT's independent non-censored media is understood and given its proper place in the world of news, opinion and media.
All content is owned by author exclusively. Expressed opinions are NOT necessarily the views of VT, other authors, affiliates, advertisers, sponsors, partners or technicians. Some content may be satirical in nature. All images within are full responsibility of author and NOT VT.
About VT
-
Read Full Policy Notice
-
Comment Policy