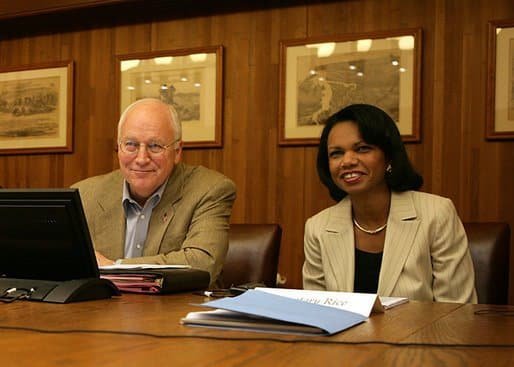 If you have been paying attention to political prostitutes and whores like Sarah Palin, Michelle Bachmann, John McCain, and Lindsey Graham for the past two years or so, then you understand why a logical person has serious problems with those people perpetuating one lie after another.
Since 2013, Vladimir Putin made it very clear that the Soviet government was "guided by false ideological considerations" and ended up liquidating millions upon millions of innocent people, including Jews, Russian Orthodox Christians, Muslims, etc.[1]
Putin has also made it explicitly clear that he is attacking the New World Order not because he wants to establish some kind of super-power entity in the Western world but because the New World Order is imposing an irrational, irresponsible, and unlivable ideology upon much of the West.
Political prostitute and whore Condoleezza Rice has recently come out and declared that Putin has a different goal in mind. She said unapologetically:
"He has decided that he will find a way to avenge what he considers the greatest tragedy of the 20th century, which is the collapse of the Soviet Union."[2]
Does this woman really want us to take her seriously? Where does she get this complete nonsense? As Jim W. Dean has put it to me:
"Why are Americans being so lazy in terms of accepting this level of disinformation from top leaders and ex-leaders where it has become an industry? Where is the pride in being an American, what kind of an example does this make for young people, to bow down in front of flagrant lies like this? That is the scab we want to keep scratching."
Furthermore, haven't we heard Rice's dumb idea from flaming Jewish Neocons before? Didn't "Mossadist philosopher" Bernard-Henri Levy declare that Putin wants to "exact revenge on those who, in his eyes, were responsible for the Soviet Union's downfall"?
In fact, Jewish Neocons have been propounding this silly idea since last year. For example, flaming Jewish Neocon Bret Stephens wrote in the Wall Street Journal:
"Vladimir Putin aims to reconstitute the Russia of the czars. He wants to avenge the historic humiliation, as he sees it, that was the collapse of the Soviet Union. He's got to do what he's got to do to stay in power, probably for life, if necessary by whipping Russians into national frenzy. And he wants to have a lot of fun while doing all of it."[3]
Stephens could never defend this position rationally. What he never told his readers is the fact that it is the Jewish Neocons who are following the ideological foundations of the former Soviet Union. As we have said in the past, Irving Kristol  proudly admitted that the "honor I most prized was the fact that I was a member in good standing of the [Trotskyist] Young People's Socialist League (Fourth International)."[4]
Kristol was not just a former Trotskyist, but a former neo-Marxist, neo-socialist, and neo-liberal.[5] Even after the birth of the neoconservative movement, many of its members such as Stephen Schwartz of the Weekly Standard and Joan Wohlstetter of the RAND Corporation still had a burning thirst for Lev Davidovich Bronstein, known as Leon Trotsky.[6]
So, if political sluts like Rice want to talk about the Soviet Union, why don't they talk about the Neoconservatives' love affair with Trotsky? Why is it that Trotsky is completely absent from their political vocabulary?
As it turned out, Rice, like other New World Order agents, built her political career on deliberate lies. She told National Public Radio in 2011 that the Bush administration had no intention of going to war. "War was for us a last resort," she shamelessly declared.[7]
The fact is that when Richard Haass, the State Department's policy planning chief, tried to articulate his reservations about invading Iraq, Condoleezza Rice told him, "Save your breath, Richard. The president has already made up his mind on Iraq."[8] Foreign Secretary Jack Straw declared,
"Military action was now seen as inevitable. Bush wanted to remove Saddam, through military action, justified by the conjunction of terrorism and WMD."[9]
The mindset was that anything, even forging evidence, was acceptable if the end result would be an Iraq without Saddam, something that actually surprised Thomas Powers of the New York Times.[10]
In short, whenever you hear Condoleezza Rice talking about foreign policy, rest assured that she is going to tell a big lie. That was why she was hired. That is why she hasn't spent some time in jail for the mess that the Bush administration has created in places like Iraq.
Perhaps this is one reason why even George H. W. Bush seems to be getting exhausted with people like Rice. Bush has recently said that Dick Cheney "was 'very hard-line' and too eager to 'use force to get our way'; Mr. Rumsfeld was an 'arrogant fellow' full of 'swagger.' He used the same phrase, "iron-ass," to describe both men."[11]
If the "iron-ass" phraseology is an apt description of Dick and Rumsfeld, what should we call those who hired them to do the job? Mr. Bush, What about the Neoconservatives?
---
[1] "Putin: First Soviet government was mostly Jewish," Jewish Telegraphic Agency, June 19, 2013.
[2] Quoted in Sangwon Yoon, "Putin Thinks He's 'Vladimir the Great,' Condoleezza Rice Says," Bloomberg, November 5, 2015.
[3] See for example Bret Stephens, "What Does Vladimir Putin Want?," Wall Street Journal, September 8, 2014.
[4] Stephen Halper and Jonathan Clarke, America Alone: The Neo-Conservatives and the Global Order (New York: Cambridge University Press, 2004), 43.
[5] Meir Soloveichik, "Irving Kristol, Edmund Burke, and the Rabbis," Jewish Review of Books, Number 6, November 2011.
[6] Craig Unger, The Fall of the House of Bush (New York: Scribner, 2007), 40-43.
[7] Quoted in Mark Memmott, "Pre-Iraq War Intelligence On WMDs Was Clear, Condoleezza Rice Says," National Public Radio, November 2, 2011.
[8] Quoted in Paul R. Pillar, Intelligence and U.S. Foreign Policy (New York: Columbia University Press, 2011), 28.
[9] Ibid., 27.
[10] Thomas Powers, "The Weapons that Were Not There," NY Times, September 30, 2011.
[11] Peter Baker, "First President George Bush Swings at Son's Aides, Rattling Clan," NY Times, November 5, 2015.
ATTENTION READERS
Due to the nature of independent content, VT cannot guarantee content validity.
We ask you to
Read Our Content Policy
so a clear comprehension of VT's independent non-censored media is understood and given its proper place in the world of news, opinion and media.
All content is owned by author exclusively. Expressed opinions are NOT necessarily the views of VT, other authors, affiliates, advertisers, sponsors, partners or technicians. Some content may be satirical in nature. All images within are full responsibility of author and NOT VT.
About VT
-
Read Full Policy Notice
-
Comment Policy