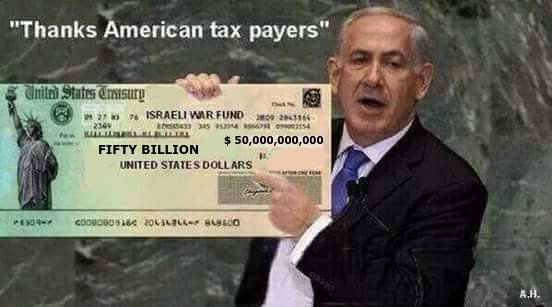 I am sure $50 billion destined to Israel as "fence mending" could do a great deal to mend fences with millions of Americans (exceeding the entire population of Israel) cheated out of their homes, cheated out of their pensions, cheated out of their jobs, cheated out of their dignity and self-respect by the White House and Congress that chose to mend fences with criminal Israel, but not with its own citizens.
I always have a hard time trying to understand this so called "special relationship" between Israel and the US. It is not strategic; it is not political; it's not moral; at best it's a special relationship between a whore and its pimp. The more the pimp beats the whore, the more money the whore gives to her pimp.
This week the White House hosted none other than Israeli Prime Minister Bibi Netanyahu, for what was termed as mending fences. It was a meeting between the pimp and its whore, the US.
Think about it. Bibi Netanyahu keep hitting and punching President Obama left and right and below the belt, and our President, the most powerful man in the world, kept taking it, adding insult to injury. Too bad Mr. Obama did not tell Bibi to go to Hell.
The last time Bibi was in the US, he was invited by Congress to deliver a speech to a joint session of Congress in an attempt to block the Iran nuclear deal. Very few members of Congress dared to skip out on the speech, and Bibi received numerous standing ovations.
Bibi came to speak to Congress to warn the US about the danger of a nuclear Iran when he, his intelligence services, and all of the intelligence services around the world knew that Iran did not have the bomb and didn't seek the bomb. Bibi knew how to make stupid fools out of Congress, when his intention all along was not the Iranian bomb, but how to fleece and blackmail America out of more money.
This week, he got what he wanted: $50 billion, in what is referred to as "mending fences" between the US and Israel, and between Obama and Netanyahu. Bibi arrived at the White House shortly after being honored by the American Enterprise Institute, the "incubator" of America's wars on behalf of Israel; wars where trillions of dollars were wasted, and where tens of thousands of our finest soldiers were injured or maimed for life or killed. Yes, Bibi deserves such an award because he is the pimp that America is afraid of.
Just imagine what $50 billion in "mending fences" can do for the people of West Virginia, Tennessee, Kentucky, Southern Ohio, Southwest Virginia, Appalachia.

Just imagine all the clean drinking water, the brand new sewage treatment plants, the medical and dental care, the technical schools and universities, the job retraining, the environmental cleanup and restoration, and decent and affordable housing. It would make that region come closer to what the people of Israel with our money enjoy.
No Sir, our Administration and Congress continue to give priority to Israel over American citizens. For the $10 million AIPAC and the American Jewish leadership contribute to political campaigns through PACs, Congress votes tens of billions of our tax dollars to Israel, without even a debate.
It makes no sense, and we need to throw out and vote out of Congress all those Israeli Firsters, who send our tax dollars to a criminal racist rogue nation like Israel.
As I look around, maybe there are a few things that bind us to Israel, such as our political bankruptcy, our illegal and criminal wars, our treatment of our own citizens of "color"; but there are other qualities that don't bind us to Israel, such as our sense of morality, our sense of justice, fairness, humanity and charity, and looking after our neighbors.
National cultural values are the landmark of the American people. Israel shares none of these value systems with us.
The so-called Judeo-Christian values do not bind us with a Zionist state whose religion is Zionism, not Judaism.
Remember next November when you go to the voting booth. Remember all those members of Congress who voted $50 billion for Israel, but who did not vote the $50 billion for you and for your neighbors and friends, nor for our citizens in Kentucky, West Virginia, Tennessee, Southern Ohio, Southwest Virginia. They deserve the money more than a nation whose GDP was $365 billion.
_________
Sami, a Palestinian-American and a US Army Veteran (66-68), recipient of the "soldier of the month award and leadership award from the 6th Army NCO Academy, is an international legal and business consultant with over 40 years of international experience, in construction, hospitality services, conservation, and defense, in the Middle East, Europe, and North Africa. Sami is a holder of BA, MPA in Public and Environmental Affairs, Jurist Doctor from Indiana University. While at IU he was elected class president, student government president and chairman of the Indiana Students Association,
Active in peace movement as a co-author of the pre-amble for the One State for All of its people and voluntary service program SalamNation. A frequent contributor on national and international affairs. He resides in the United States.
ATTENTION READERS
Due to the nature of independent content, VT cannot guarantee content validity.
We ask you to
Read Our Content Policy
so a clear comprehension of VT's independent non-censored media is understood and given its proper place in the world of news, opinion and media.
All content is owned by author exclusively. Expressed opinions are NOT necessarily the views of VT, other authors, affiliates, advertisers, sponsors, partners or technicians. Some content may be satirical in nature. All images within are full responsibility of author and NOT VT.
About VT
-
Read Full Policy Notice
-
Comment Policy