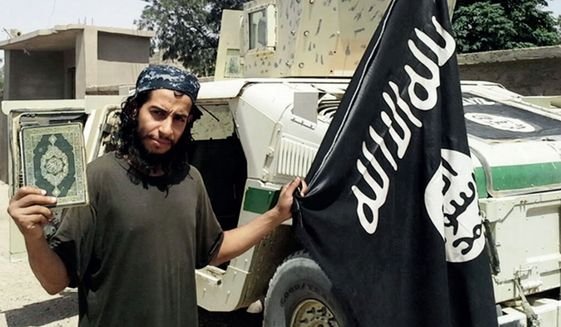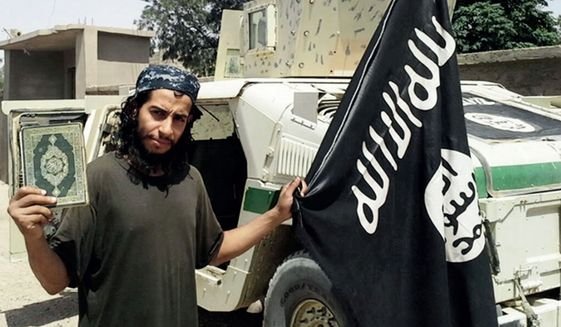 … from  Russia Today,  Moscow
[ Editor's Note: The death of Abaaoud was confirmed by fingerprints overnight. I held off publishing this, as last night's news used the term "he was not among those apprehended," a cautious term.
A seven and a half hour standoff and shoot out, with 5000 rounds of ammunition and 800 police officers, which I assume does not include the army troops, was evidence of every law enforcement agency in France wanting to get in on taking some of the credit.
I would be willing to bet that the several wounded security people were from friendly fire ordinance flying around, but fortunately none were killed. The landlord claimed the flat was empty of furniture, not even any mattresses, so one has to ask what 5000 rounds of ammo were for.
Usually snipers, gas and stun grenades are enough to disable perpetrators. If they have gas masks, they are not able to fight effectively wearing them in a smoke-filled room. Having your eardrums blown out is a problem, also. The main concern for authorities was having the place blow up from suicide explosives assumed to be there, and which was the case.
There was one report of the female suspect ending her life in a charge at security people, where she exploded her vest. This most certainly is a fairy tale from a movie script. But the real security scandal is that Abaaoud had been bragging online that he had been able to travel from France to Turkey at will without detection by French authorities.
That is a strong sign of a major state Intel agency assisting, as VT has reported many times that the movement of huge numbers of jihadis around the conflict zone was like a superhighway in terms of their ease of travel in both directions.
As a contrast, when VT went to the Damascus counter-terrorism conference on December 1, we were grilled even when entering through the Beirut airport, where our signed invitation from the Syrian Minister of Justice helped save the day so were did not miss our ground transportation run north to Damascus.
Later on the way back, while staying in a Hezbollah neighborhood in Beirut for their reputation for the best bombing protection, we got visited by one of their six-man security teams one evening, who interviewed us one by one, which they claimed was routine because we were foreigners staying in their area. By the end of the evening though Gordon was showing them his custom gun videos which blew them away, especially the low prices.

While in Damascus we were shadowed by five different Intel agencies that we could spot, and three out of four of us got the major food poisoning treatment, an old trick to keep you inside the hotel near a toilet and canceling any plans to go roaming around.
So we have always been most jealous at the ease with which these jihadis have been flying around on their Ali Baba magic carpets. We have even seen one report that one of the dead perps, despite being on a watch list, had never been interviewed by French security. You just can't make this stuff up… Jim W. Dean ]
____________
Update 10.15am EST – The alleged mastermind and sponsor of attacks in the French capital on Friday, Abdelhamid Abaaoud, was killed during an anti-terrorist operation in the Paris suburb of Saint-Denis on Wednesday, Paris prosecutor François Molins said.
His body was found under the wreckage of the building in Saint-Denis, which was stormed in Wednesday's raid.
"Abdel Hamid Abaaoud has just been formally identified and certified killed during the raid, after comparing fingerprints," the statement said. "It was the bullet-ridden body we discovered in the building," Paris persecutor François Molins said.
French Prime Minister Manuel Valls praised the elimination of one of the masterminds behind the Paris attacks.
"We salute the work of the intelligence services and the police," said Valls.
Following the deadly attacks that killed at least 129 people, reports emerged that Abaaoud, 27, an active Islamic State executioner in Syria, could be behind the massacre.
____________
–  First published  …  November 19,  2015 –
The alleged sponsor and mastermind of the November 13 massacre in Paris, Abdelhamid Abaaoud, was killed in a Wednesday raid by French forces in the Parisian suburb of Saint-Denis, a media report suggests.
The Washington Post cited two senior European intelligence officials as saying that Abaaoud, who was the primary target of the special operation, was killed.
Paris prosecutor Francois Molins told reporters on Wednesday evening the police raid in Saint-Denis eliminated a "terrorist team planning new attacks."  He did not immediately confirm or deny the reported death of Abaaoud.
The identities of the two people killed in the raid – including a female who blew herself up with a suicide vest – are yet to be determined, he added.
French special forces teams fired 5,000 rounds during the raid and had to resort to the use of powerful munitions. Only body parts were found afterwards. Investigators are using DNA analysis to determine the identities of terrorists who were killed.
Overall eight people were arrested during the siege and detained for questioning, the prosecutor said, stressing that Abaaoud was not among them.
"I can say that Abaaoud and Salah Abdeslam are not among those taken into detention," he said.
Over 800 police officers were involved in the operation, Molins said, adding that Wednesday's raid was carried out following a verified tip suggesting that Abaaoud was still in France.
"A total war arsenal," including Kalashnikovs and explosive belts, was found in the Saint-Denis apartments, the official said. "Everything leads us to believe that given their weaponry, and level of preparation, they were ready to act," he added.
Providing more details on the Friday's shocking Paris attacks, the prosecutor said three coordinated teams of commandos had carried out the shootings and bombings. The terrorists arrived in Paris in a convoy of three vehicles – all small passenger cars rented in Belgium.
A mobile phone was discovered near the Bataclan theatre that contained a sent message saying "Here we go. We are starting," Molin revealed. The investigators are now trying to discover who received that message, he added.
____________
Jim W. Dean was an active editor on VT from 2010-2022.  He was involved in operations, development, and writing, plus an active schedule of TV and radio interviews.
ATTENTION READERS
Due to the nature of independent content, VT cannot guarantee content validity.
We ask you to
Read Our Content Policy
so a clear comprehension of VT's independent non-censored media is understood and given its proper place in the world of news, opinion and media.
All content is owned by author exclusively. Expressed opinions are NOT necessarily the views of VT, other authors, affiliates, advertisers, sponsors, partners or technicians. Some content may be satirical in nature. All images within are full responsibility of author and NOT VT.
About VT
-
Read Full Policy Notice
-
Comment Policy