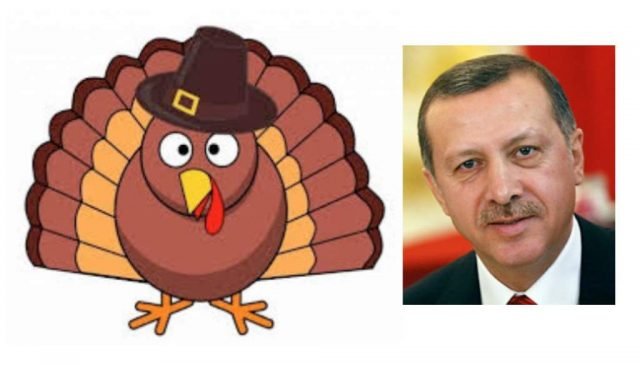 I used to admire Turkish President Recep Tayyip Erdogan.
I admired his efforts to end the secular fascist gulag state founded by the alcoholic pedophile freemason Attaturk, and turn Turkey into an Islamic democracy.
I admired him for breaking up the neocon-Zionist Ergenekon plot to overthrow Turkish democracy via a 9/11-style false flag.
I admired his management of the Turkish economy, which enjoyed near double-digit growth during most of his term in office.
I admired him for saying he was going to use the Turkish Navy to break the blockade of Gaza after the Israelis murdered ten people, including eight Turkish nationals, aboard the Mavi Marmara.
And I admired his "zero problems with neighbors" policy, under which Turkey maintained good relations with every legitimate country in the region – including Iraq, Iran, Syria, and Russia – and refused to help the Zionist-dominated USA destroy Iraq in 2003.
But in the wake of his insane decision to shoot down a Russian plane for a trivial, most likely nonexistent, border violation, Erdogan has finished tearing his own legacy to shreds. He may also have set the stage for the carving-up of Turkey, in accordance with Israel's ongoing Oded Yinon plan to balkanize the Middle East.
Erdogan's decision to join the war on Syria ended his "no problems with neighbors" policy with a vengeance. Today, there is no country on earth with more problems with its neighbors than Turkey. Russia is furious and planning revenge. Ditto Assad. Ditto Iran. Iraq too. And the Kurds are literally up in arms battling Erdogan's ISIS proxies and setting the stage for the dismemberment of Turkey.
Meanwhile, the Turkish economy is sinking, Turkish society is fragmenting, and the Ergenekon heroin-smuggling neocon creeps and Grey Wolf weirdos are howling for blood.
How in the world did Erdogan blunder into this mess?
Apparently NATO's high command informed Erdogan in 2011 that regime change in Syria was a done deal. They were going to do to Assad what they just did to Qaddafi. Nobody could stop them. Erdogan could either join the bandwagon and play the lead role running post-regime-change Syria, or he would be left behind.
Erdogan bit.
SUCKER!
It was a trap. Like Saddam Hussein, who was lured into invading Kuwait by US-ordered slant drilling, loan-calling-in, and Bush's agent April Glaspie, Erdogan was suckered into waging a disastrous war designed to destroy not only Syria, but Turkey as well.
Had Erdogan told NATO to go stuff it, as he did in 2003, Turkey would still be enjoying near-double-digit growth, and its President would be the most popular leader in Turkish history, right up there with Suleiman the Magnificent, and far ahead of scumbag Attaturk – whose legacy he could have finished shredding.
But once again, a Middle Eastern leader believed what the imperialists told him. Like Qaddafi, who thought cooperating with the West and abandoning his WMD would  be appreciated, and like Saddam Hussein, who thought that if he only waged wars the West told him to wage he would be fine, Erdogan believed NATO when they told him, in early 2011, that he would get to run Syria very very soon, just as soon as they got rid of Assad…on the condition that he join the regime change operation.
What an idiot.
Now Russia is going to declare covert war on Turkey. They are going to smash Turkey's anti-Assad proxies, not just ISIS but all the others as well, into tiny pieces. And they are going to ratchet up support to the PKK, which is now in a position to achieve its decades-old aspirations for the dismemberment of Turkey and the establishment of an independent Kurdistan.
This Thanksgiving, Turkey's total turkey of a president has set up Turkey to get stuffed, carved up, and devoured.
____________
Dr. Kevin Barrett, a Ph.D. Arabist-Islamologist is one of America's best-known critics of the War on Terror.
He is the host of TRUTH JIHAD RADIO; a hard driving weekly radio show funded by listener donations at Patreon.com and FALSE FLAG WEEKLY NEWS (FFWN); an audio-video show produced by Tony Hall, Allan Reese, and Kevin himself. FFWN is funded through FundRazr.
He also has appeared many times on Fox, CNN, PBS, and other broadcast outlets, and has inspired feature stories and op-eds in the New York Times, the Christian Science Monitor, the Chicago Tribune, and other leading publications.
Dr. Barrett has taught at colleges and universities in San Francisco, Paris, and Wisconsin; where he ran for Congress in 2008. He currently works as a nonprofit organizer, author, and talk radio host.
ATTENTION READERS
We See The World From All Sides and Want YOU To Be Fully Informed
In fact, intentional disinformation is a disgraceful scourge in media today. So to assuage any possible errant incorrect information posted herein, we strongly encourage you to seek corroboration from other non-VT sources before forming educated opinion. In addition, to get a clear comprehension of VT's independent non-censored media, please read our
Policies and Disclosures
.
Due to the nature of uncensored content posted by VT's fully independent international writers, VT cannot guarantee absolute validity. All content is owned by the author exclusively. Expressed opinions are NOT necessarily the views of VT, other authors, affiliates, advertisers, sponsors, partners, or technicians. Some content may be satirical in nature. All images are the full responsibility of the article author and NOT VT.
About VT
-
Comment Policy