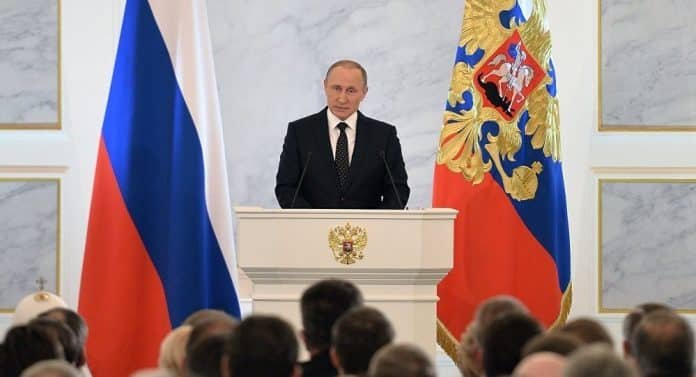 … from Russia Today,  Moscow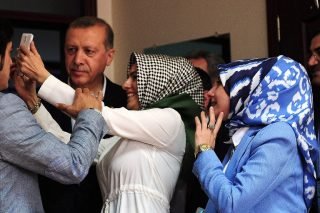 [ Editor's Note: We have another plain language address from Putin to the Federal Assembly, the Russian version of a joint session of Congress. Expect to see only a footnote about it in the Western press, as the contrast between Putin and Western leaders is too painful for them to bear. They know the contrast will eventually be evident to Western populations.
The last line below has a zinger in it. "…this leadership will not play any significant role in bilateral relations between Russia and Turkey. We will not be able to have any ties with Turkey under this leadership if it doesn't change its attitude," Konstantin Kosachev, the chair of the State Duma Committee for Foreign Relations advised.
This folks, is signaling to all the Turkish opposition that they have a friend waiting in the wings. But that said, Lavrov has already stated that any Turkish leadership issues will have to be dealt with by the Turkish people, and this is consistent with Russia's Syrian line. Moscow is careful not to do what it accuses the West of doing all the time, changing the rules of the game to suit them in each situation.
I expect to see more focus on Erdogan's corruption, with revelations on the family energy companies and the industrial scale of the corruption. By hunting down where all the "profits from terrorism" are stashed, that exposes them to being frozen in a court action, something that makes mega-thieves most unhappy.
The Erdogan family has a major Intelligence agency on their case, and Moscow can get a "two fer" out of the effort, as NATO and Obama are now going to be exposed as accessories in all the nasty revelations; everyone will know that they knew all about this.
Usually countries' Intelligence agencies do not get involved in exposing leadership corruption directly, if at all. So it seems that, as Putin says in the speech below, the light came on for Russia to not wait until all the Russian terrorists returned home to begin dealing with them. It made much better sense to kill them "over there".
He has now decided that continuing to make nice with Erdogan to avoid some short- to mid-term business reversals — losing the South Stream pipeline deal, for instance — did not make long term sense. The US and Saudis are a much tougher target to go after for their support of terrorism.
But after the SU-24 shoot down, Erdogan, the US and NATO put themselves at the top of the list. Their credibility – what they have left of it – is on thin ice, where sometimes all one has to do is wait for the ice to melt a little bit more to solve the problem… Jim W. Dean ]
_____________
– First published  …  December 03,  2015 –
Russian President Vladimir Putin lashed out at "part of the leadership in Turkey" during his annual address to the parliament, accusing Ankara of having trade ties with terrorist groups in Syria and Iraq. He also promised more sanctions for Turkey over downing of the Russian jet.
Putin said Russia still cannot comprehend why the downing of the plane happened.
"We were prepared to cooperate with Turkey on most sensitive issues and go further than their allies. Allah knows why they did it. Apparently Allah decided to punish the ruling clique in Turkey by taking their sanity," Putin said.
Putin stressed that Moscow's anger over the incident is directed at particular individuals and not at the Turkish people.
"We have many friends in Turkey," he said. "They should know that we do not equate them and part of the current Turkish leadership, which holds a direct responsibility for the deaths of our troops in Syria," he said.
He added that the killing of Russian officers would have long-term consequences for those responsible.
"We will not forget this aid to terrorists. We have always considered betrayal the worst and most shameful act. Let those in Turkey know it who shot our pilots in the back, who hypocritically tries to justify themselves and their actions and cover up the crimes of terrorists," he said.
Putin said Russia would not resort to saber-rattling to respond to the Turkish actions, but neither would it limit itself to the economic sanctions it imposed since the incident.
The incident with the Russian Su-24 bomber shot down by Turkish warplanes near the Turkish-Syrian border has greatly deteriorated relations between the two countries. Turkey insists it acted in response to a brief violation of its airspace and was justified in using lethal force. Russia insists no violation took place and has accused Turkey of supporting terrorists in Syria.
The downing of the bomber resulted in the deaths of two Russian troops, who were the first combat losses during the two month-long Syrian campaign.
The pilot of the downed plane was killed by a pro-Turkish militant group as he was parachuting to the ground. A marine was killed by militants when a helicopter dispatched to rescue the bomber crew came under fire from the ground.
Putin's address started with a minute's silence to commemorate the two troops. The widows of the dead Russians were present at the event.
Putin stressed that the Russian operation in Syria is aimed first and foremost at preventing fighters who went to the Middle East from Russia and its neighboring countries from returning home and bringing the threat of terrorist attacks to Russian soil.
Putin called on all nations that have pledged to fight terrorism to join forces and abandon the notion that terrorist groups can be used for country's own goals. He stressed that the rise of terrorism in the Middle East over the last few years was caused to a large degree by foreign meddling.
"Some countries in the Middle East and North Africa, which used to be stable and relatively prosperous – Iraq, Libya, Syria – have turned into zones of chaos and anarchy that pose a threat to entire world," Putin said.
"We know why it happened. We know who wanted to oust unwanted regimes, and rudely impose their own rules. They triggered hostilities, destroyed statehoods, set people against each other and simply washed their hands [of the situation] – giving way to radicals, extremists and terrorists."
Russia's lost thousands of lives over two decades of terrorist attacks and is still not safe from terrorist attacks, as evidenced by the bombings in Volgograd in 2014 and the bombing of a Russian passenger plane in Egypt in October, Putin reminded.
"Breaking the bandits' back took us almost 10 years," he said. "We practically pushed the terrorists out of Russia, but we are still engaged in a fierce fight against the remainder of the gangs. This evil still comes back occasionally."
Putin said the rise of jihadists in the Middle East in our time is not unlike the rise of Nazism in the mid-20th century, and that the world should learn from the mistakes of the past, when a failure to act in time resulted in the loss of millions of lives.
"We are facing a destructive barbaric ideology again and we have no right to allow those new obscurants to achieve their goals. We have to abandon all differences, create a single fist, a single anti-terrorist front, which would act in accordance with the international law and under the aegis of the United Nations," he said.
Putin was speaking on Thursday before the Federal Assembly, a joint session of the two chambers of the Russian parliament, plus regional governors and the cabinet. The annual address is a traditional key policy report of the executive, which focuses on domestic politics rather than international relations.
'Business as usual' with Turkish President Recep Tayyip Erdogan is now over, Sergey Ivanov, the head of Putin's office, confirmed to RT after the Russian president's address:
"Yes, it is definitely over. But fighting terrorism is 'business as usual', as the Russian president said," Ivanov said.
The Turkish leadership "must acknowledge that a tragic mistake was committed and to beg for [forgiveness], or this leadership will not play any significant role in bilateral relations between Russia and Turkey. We will not be able to have any ties with Turkey under this leadership if it doesn't change its attitude," Konstantin Kosachev, the chair of the State Duma Committee for Foreign Relations, told RT.
____________
Jim W. Dean was an active editor on VT from 2010-2022.  He was involved in operations, development, and writing, plus an active schedule of TV and radio interviews.
ATTENTION READERS
We See The World From All Sides and Want YOU To Be Fully Informed
In fact, intentional disinformation is a disgraceful scourge in media today. So to assuage any possible errant incorrect information posted herein, we strongly encourage you to seek corroboration from other non-VT sources before forming an educated opinion.
About VT
-
Policies & Disclosures
-
Comment Policy
Due to the nature of uncensored content posted by VT's fully independent international writers, VT cannot guarantee absolute validity. All content is owned by the author exclusively. Expressed opinions are NOT necessarily the views of VT, other authors, affiliates, advertisers, sponsors, partners, or technicians. Some content may be satirical in nature. All images are the full responsibility of the article author and NOT VT.