… from  Sputnik,  Moscow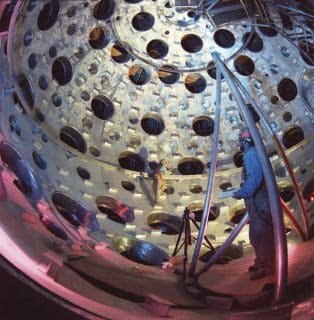 [ Editor's Note: If we have another big war, even for a short time, a new class of unsung heroes (or villains) will emerge, whose names we will never know.
They will be the countermeasure tech people who will determine whose weapons systems work and whose won't by turning them into junk, via a mass-produced chip with what I call the neo-god of war code on it… that decides who lives and who dies.
This will make future major party wars scarier, as the outcomes will be unpredictable because high tech military powers always hold back publicizing their full capability, the black-funded programs particularly.
And those now are dual track, with a huge leap in the deadliness of our weapons systems, and then our ability to jam the weapons electronics of an opponent.
VT gets briefed on some declassified, but generally unknown material, that is literally science fiction stuff, so you know the classified stuff goes much further. And yes, it makes you wonder what the other side has and will have in a few years. It makes us appreciate diplomacy more.
This should empower those who avoid unnecessary combat solutions, but we recently saw shots taken at Obama in being a Neville Chamberlain for not taking on the Russians with a no fly zone in Syria. Yes, we really do have more than a few crazy people in American government, and the Senate… maybe more than average.
Fighter drones are next on the horizon. Most missed the hints in the Russian SU-T50 promotion material that the plane "almost flies itself". That did not slip by me.
The Russians shocked the Pentagon when they purposefully released (pretended it was a slip up) the drawings for a robotic drone nuclear torpedo designed to travel great distances to take out a major port facility. And no — they are not covered by any of the existing missile treaties.
The other unsung heroes have not emerged yet, besides what we see in some of the Russian leadership, the wisdom they show in rejecting the use of military power for economic profit as nothing more than a nation-level form of Russian roulette, straight out of The Deer Hunter… Jim W Dean ]
____________
– First published  …  November 30, 2015 –
Concern Radio-Electronic Technologies (KRET), a subsidiary of the state-owned Russian corporation Rostec, has developed a new type of electronic missile jamming unit for Russia's Armed Forces, according to RIA Novosti.
"The jamming transmitter developed by KRET is a single-use device designed to be used by a plane or a helicopter. After the device is deployed via a standard countermeasure launching system, it begins emitting an aimed jamming signal. It is essentially a full-fledged electronic warfare complex compressed into a standard decoy cartridge," the company's press service told RIA Novosti.
Depending on the situation, the deployed countermeasure either imitates an aircraft, thus drawing away the incoming rocket, or emits a jamming signal powerful enough to prevent it from acquiring its target.
Last week President Vladimir Putin said that Russia might utilize electronic warfare systems to ensure the safety of its aircraft in Syria following the downing of a Su-24 bomber by Turkish forces.
KRET is the largest radio-electronic holding in Russia; it was created in 2009 and has more than 50,000 employees. It manufactures a wide range of products, including avionics, operational and tactical systems, electronic warfare and intelligence equipment, friend-or-foe identification systems, special measuring instrumentation, plugs, electric connectors, and cable products.
____________
Author Details
Jim W. Dean is Managing Editor of Veterans Today involved in operations, development, and writing, plus an active schedule of TV and radio interviews. He broke into television work doing Atlanta Public TV programs for variety of American heritage, historical,military, veterans and Intel topics and organizations since 2000. Jim's only film appearance was in the PBS Looking for Lincoln documentary with Prof. Henry Lewis Gates, and he has guest lectured at the Army Command and General Staff School at Fort Gordon, GA.
He is working to find time now to database his extensive video archive of Americana and interviews filmed during his public TV days so individual topic segments can be key word searched to quickly use in future multi-media projects.
Read Full Complete Bio >>>
Jim's Latest Posts
ATTENTION READERS
Due to the nature of independent content, VT cannot guarantee content validity.
We ask you to
Read Our Content Policy
so a clear comprehension of VT's independent non-censored media is understood and given its proper place in the world of news, opinion and media.
All content is owned by author exclusively. Expressed opinions are NOT necessarily the views of VT, other authors, affiliates, advertisers, sponsors, partners or technicians. Some content may be satirical in nature. All images within are full responsibility of author and NOT VT.
About VT
-
Read Full Policy Notice
-
Comment Policy