… from  Russia Today,  Moscow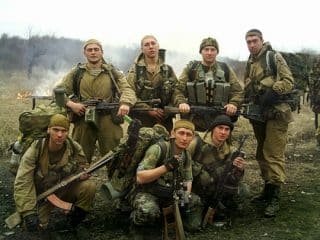 [ Editor's Note:  One has to read between the lines in this "threatening Russian forces…must be immediately destroyed" statement. Putin is sending a message to those countries that have Special Ops teams in Syria trying to kill or kidnap Russian advisors and troops, that there will be no "after the fact" discussions about the matter.
He is ordering his forces to kill them on the spot or even in the planning stage, or really…for being in Syria to kill Russian forces. Such threats are never made directly.
To all the Blackwater type contractors that we know are in Syria, this means that Russian Spetsnaz will be hunting them down pre-emptively, and with all the modern high-tech tools available to assist them, which of course they have a perfect right to do,
Usually even serving US Special ops people would be out of uniform for such work, which can make for some unfortunate incidents. Certainly some have already been killed in the over 4000 bombing sorties by the Russian anti-terror effort. For those killed some cover story has to be given to their families, as they would never be told they were killed in an anti-terrorism operation…for being terrorists.
Welcome to the nasty world we live it. But that said, there is no shortage of people, active duty or veteran contractors willing to do this kind of work, not only for the money but for polishing up their resumes for "independent work".
While there has been a lot of coverage on the threat that returning jihadis can bring to their home countries, there is no discussion of the flip side of that coin…Western, and usually Anglo special ops people… Jim W. Dean ]
____________
– First published  …  December 11,  2015 –
Jihadists in Syria pose a direct threat to Russia, Putin has told a defense meeting in Moscow, adding that any targets threatening the country's military there should be destroyed. Defense Minister Sergey Shoigu said Islamic State's influence in Syria continues to expand.
The Russian military's actions in Syria are being coordinated with Russian special services such as the FSB, who are disclosing terrorist cells, including Islamic State, Putin said.
All forces threatening Russian servicemen in Syria should be destroyed, according to the Russian president.
"Any targets threatening our [military] group or land infrastructure must be immediately destroyed," Putin said, speaking at a Defense Ministry event.
"In general, the actions of the Russian groups deserve high praise. This is a result of work by the Ministry of Defense, General Staff officers, Russian Air Force pilots and the Russian Navy," he added.
Putin also said that at the moment more 5,000 members of the Free Syrian Army as well as government troops are fighting against the terrorists.
Russian Defense Minister Sergey Shoigu added that Islamic State (IS, formerly ISIS/ISIL) controls about 70 percent of Syria's territory, adding that in Syria and Iraq there are about 60,000 militants.
"The Islamic State area of influence is expanding," he said, "There is a threat that their actions will be transferred to Central Asia and the Caucasus."
To date the Russian military has carried out about 4,000 sorties, striking around 8,000 terrorist facilities in Syria, he added.
Drones have proved a necessary part of the military operation against the terrorists, according to Shoigu. He said that Moscow has an about 1,720 drones at its disposal.
Both Putin and Shoigu took part in the Defense Ministry board meeting, which apart from the Syrian operation touched upon such issues as nuclear strategy, NATO expansion and Arctic military bases.
"Special attention should be paid to strengthening the combat potential of the strategic nuclear forces and implementing defense space programs," Putin said during the meeting.
Russia needs to "arm all the components of the nuclear triad with new armaments, raise the efficiency of the missile attack warning and aerospace defense systems," the Russian president said.
Shoigu added NATO has significantly expanded in Europe. The US has sited at least 200 [nuclear] bombs in the Netherlands, Turkey, Belgium, Italy and Germany, according to the defense minister.
[CORRECTION: An earlier copy of this story stated that more than 5,000 members of the Free Syrian Army are operating on the terrorists' side, according to Vladimir Putin. This was later corrected to Putin's actual words, in which he said that over 5,000 members of the Free Syrian Army are fighting AGAINST the terrorists. We apologize for this mistake.]
____________
Jim W. Dean was an active editor on VT from 2010-2022.  He was involved in operations, development, and writing, plus an active schedule of TV and radio interviews.
ATTENTION READERS
We See The World From All Sides and Want YOU To Be Fully Informed
In fact, intentional disinformation is a disgraceful scourge in media today. So to assuage any possible errant incorrect information posted herein, we strongly encourage you to seek corroboration from other non-VT sources before forming an educated opinion.
About VT
-
Policies & Disclosures
-
Comment Policy
Due to the nature of uncensored content posted by VT's fully independent international writers, VT cannot guarantee absolute validity. All content is owned by the author exclusively. Expressed opinions are NOT necessarily the views of VT, other authors, affiliates, advertisers, sponsors, partners, or technicians. Some content may be satirical in nature. All images are the full responsibility of the article author and NOT VT.