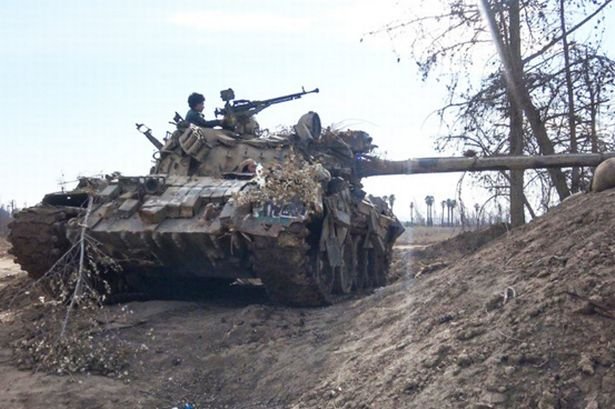 In a previous article, we ended up asking some of the most puzzling questions which out to be teased out of the political situation in Syria: Where do ISIS members get their wonderful toys? The group does have heavy tanks. Did they outsmart Putin and forge those armored vehicles in the Middle East?
Or are we dealing with a terrorist group whose military resources are to be found outside Syria? Is it possible that entities in the West, in Israel and even in Turkey are actually passing out military technologies to the terrorist group?
The answers to those questions should not be a surprise to VT readers, for we have said repeatedly that terrorist states such as Israel have been abetting ISIS from time immemorial.[1] We have also pointed out that scholars like F. William Engdahl have shown the link between ISIS and Israel.
It gets better. The Daily Mail has recently blown everything out of proportion by reporting that "elite Israeli troops" have spent millions upon millions of dollars rescuing so-called Syrian rebels and sending them to Israeli hospitals, despite the fact that "some may even be fighters for groups affiliated to Al Qaeda."[2] The Mail continued to say:
"Almost every night, Israeli troops run secret missions to save the lives of Syrian fighters, all of whom are sworn enemies of the Jewish state. Israel insists that these treacherous nightly rescues are purely humanitarian, and that it can only hope to 'win hearts and minds' in Syria. But analysts suggest the Jewish state has in fact struck a deadly 'deal with the devil' – offering support to the Sunni militants who fight the Syrian ruler Assad in the hope of containing its arch enemies Hezbollah and Iran.
"There is no doubt about the danger involved. Many of the casualties rescued by Israel belong to Salafist groups who harbour a deep-seated hatred of the Jewish State. It has also been reported that some may be members of Jabhat al-Nusra, a Syrian group affiliated to Al Qaeda that has kidnapped scores of UN peacekeeping troops in this area, and has massacred Christians deeper in Syria."[3]
Israel, the Mail reported, has been doing this for the past three years! Lieutenant Colonel Itzik Malka, commander of the medical branch of the Golan Brigade, declared:
"I am proud of what we are doing here, but it is a great burden. For every Syrian in hospital, there is one less bed for an Israeli. One day we will have to make a choice between an Israeli life and a Syrian one. When that happens it will be hard, but I have to say my first duty will be to Israelis."[4]

So, when Jewish writer Shmuel Rosner said that the United States needs to "let Israel fight ISIS,"[5] I simply could not hold my laughter. Rosner is either ignorant of the fact that both Israel and the United States are accomplices in funding the terrorist organization or he is lying.
If Rosner is actually ignorant, then he needs to "psycho-analyze" himself and ask the deeper question: why is it that ISIS has never attacked Israel for the past three years? Certainly Rosner cannot be ignorant of the fact that the so-called Syrian rebels, as USA Today itself put it, "pledge loyalty to al-Qaeda."[6] Surely Rosner knows that the West has been supporting those terrorist groups since the past three years.[7] So, for him to say that we have to "let Israel fight ISIS" is simply not a funny joke. He knows better.
We Americans have to grapple with a number issues as well. We have been sending at least three billion dollars to Israel every year. What do they do with that money? They build hospitals in order to take care of terrorists. In other words, the Israeli regime thinks that the Goyim are blind and therefore cannot see that there is a complete perversion here.
If the Goyim are simply donkeys, as the late rabbi Ovadia Yosef put it, then they do not have the cognitive faculties which allow them to look at a situation from a rational point of view. They cannot think and therefore need the Dreadful Few to do the thinking for them.
That is why the Dreadful Few think that they can get away with just about anything. That is why their puppets can invent some of the most ridiculous assertions and think that they will persuade the American people. For example, listen to this new lie:
"Islamic State militants have made more than $500 million trading oil with significant volumes sold to the government of Syrian President Bashar al-Assad and some finding its way to Turkey, a senior U.S. Treasury official said on Thursday."
Assad has been fighting ISIS for the past three years or so, and now we are being told by geniuses at the U.S. Treasury that Assad has been buying oil from ISIS. Who do these people think they are kidding? Do they really think that Assad is that stupid? NWO agents seem to be running out of ideas, and their only resort is to invent more lies and fabrications.
But because our young people have been bamboozled by so-called entertainers like Selena Gomez, Justin Bieber, Lady Gaga, Rihanna, Meghan Trainor, Beyonce, Katy Perry, Taylor Swift, Demi Lovato, Fifth Harmony, Iggy Azalea, Hilary Duff, Ariana Grande, Adele, etc., can make neither heads nor tails of what's going on in the Middle East.[8]
Do you want a challenge? Take the statement by the U.S. Treasury, quote it to as many young people you can find in America, and ask them what they think or whether the U.S. Treasury is telling the truth. The answer may surprise you.
---
[1] See for example Johnlee Varghese, "UN Report: Israel in Regular Contact with Syrian Rebels including ISIS," International Business Times, December 7, 2014.
[2] "Saving their sworn enemy: Heartstopping footage shows Israeli commandos rescuing wounded men from Syrian warzone – but WHY are they risking their lives for Islamic militants?," Daily Mail, December 9 2015.
[3] Ibid.
[4] Ibid.
[5] Shmuel Rosner, "Let Israel Fight ISIS," NY Times, December 10, 2015.
[6] Mona Alami, "Syrian rebels pledge loyalty to al-Qaeda," USA Today, June 14, 2013.
[7] See for example Michael R. Gordon and Mark Landler, "Move to Widen Help for Syrian Rebels Gains Speed in West," NY Times, April 10, 2013; Ian Black, "UK policy of supporting Syrian rebels against Bashar al-Assad 'stupid,'" Guardian, July 14, 2014; Rory Jones and Mohammad Nour Alakraa, "Moderate Syrian Rebels Plead for More Western Help," Wall Street Journal, October 27, 2014.
[8] Fifth Harmony's new song ("Worth It") has already been seen by at least four hundred million viewers on YouTube alone. Adele's "Hello" has been seen by over six hundred million viewers! Seems like these people are building an army of young people devoid of reason.
Jonas E. Alexis has degrees in mathematics and philosophy. He studied education at the graduate level. His main interests include U.S. foreign policy, the history of the Israel/Palestine conflict, and the history of ideas. He is the author of the new book Zionism vs. the West: How Talmudic Ideology is Undermining Western Culture. He teaches mathematics in South Korea.
ATTENTION READERS
Due to the nature of independent content, VT cannot guarantee content validity.
We ask you to
Read Our Content Policy
so a clear comprehension of VT's independent non-censored media is understood and given its proper place in the world of news, opinion and media.
All content is owned by author exclusively. Expressed opinions are NOT necessarily the views of VT, other authors, affiliates, advertisers, sponsors, partners or technicians. Some content may be satirical in nature. All images within are full responsibility of author and NOT VT.
About VT
-
Read Full Policy Notice
-
Comment Policy