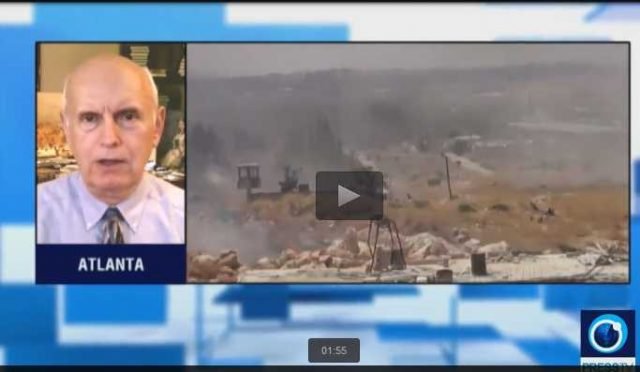 … Jim W. Dean, … with Press TV, Tehran
– First aired …  December 2, 2015 –
Press TV has interviewed Jim W. Dean, managing editor of Veterans Today in Atlanta, to discuss the remarks made by Syrian President Bashar al-Assad about fighting terrorism.
You can view the 3.5 minute interview here.
____________
The following is a rough transcription of the interview.
Press TV: What do you think about the Syrian President's remarks regarding the complicity of the United States and its allies in the rise of terrorists? Can the US and its allies under any doctrine and international law support rebels?
Dean: Well they have been doing it, using terrorism for controlling things on the ground. This has been going on five years now.
Over the last couple of years new stories started coming out of the behind the scenes support that the western allies have been giving these various terrorist groups and in the last year there has been a tremendous amount of publicity on it.
But there has been no real political push back in any of the countries, not here in the US other than alternative media. There is no marching in the streets, the veterans are not marching, the academic associations are doing nothing.
There is none of the Vietnam War peace movement, the anti-Vietnam war thing going on here whatsoever. And none of the political candidates are making it an issue. They are all anti-Russia. They are all on board the military industrial complex thing here.
So it is a little scary what we are seeing. We did not expect this Russian offensives and teaming up with the Syrian army, and Iranians helping. Nobody really saw this coming. So it was a good surprise to all of us and we now have to do what we can politically to try to see that those who have been supporting the terrorists, using that as a tool, have to pay a political price for that.
Press TV: Well how much do you think the propaganda machine of the West has a role in all of this – Russia being seen as a boogeyman and a force to be reckoned with?
Dean: Well Erdogan unfortunately is bleeding now. He has been exposed but he is kind of prepared for this because he has been eliminating his opposition very methodically over the last couple of years.
The Turkish army had always been the guardian of its secular constitution to make sure one group would not take over and of course Erdogan basically wants to build a Muslim caliphate. He figures that is really the game he wants to play, the great Muslim leader.
He does not want a secular government, so he has weeded those former generals out. He has basically muzzled the press. It is a type of situation people using religion twisted in a way where they feel they can get power from it.
But the sanctions now are going to be hurting and I think the Russians are going to be dropping more bombs in terms of what they know about Mr. Erdogan and his family and also more about how western governments are involved in supporting the terrorists.
I think they are just dropping a little bit at a time to let them know that we have our own intelligence, we have our own intercept capability, and we know a lot about what you people have been doing.
__________
Author Details
Jim W. Dean is Managing Editor of Veterans Today involved in operations, development, and writing, plus an active schedule of TV and radio interviews. He broke into television work doing Atlanta Public TV programs for variety of American heritage, historical,military, veterans and Intel topics and organizations since 2000. Jim's only film appearance was in the PBS Looking for Lincoln documentary with Prof. Henry Lewis Gates, and he has guest lectured at the Army Command and General Staff School at Fort Gordon, GA.
He is working to find time now to database his extensive video archive of Americana and interviews filmed during his public TV days so individual topic segments can be key word searched to quickly use in future multi-media projects.
Read Full Complete Bio >>>
Jim's Latest Posts
ATTENTION READERS
Due to the nature of independent content, VT cannot guarantee content validity.
We ask you to
Read Our Content Policy
so a clear comprehension of VT's independent non-censored media is understood and given its proper place in the world of news, opinion and media.
All content is owned by author exclusively. Expressed opinions are NOT necessarily the views of VT, other authors, affiliates, advertisers, sponsors, partners or technicians. Some content may be satirical in nature. All images within are full responsibility of author and NOT VT.
About VT
-
Read Full Policy Notice
-
Comment Policy