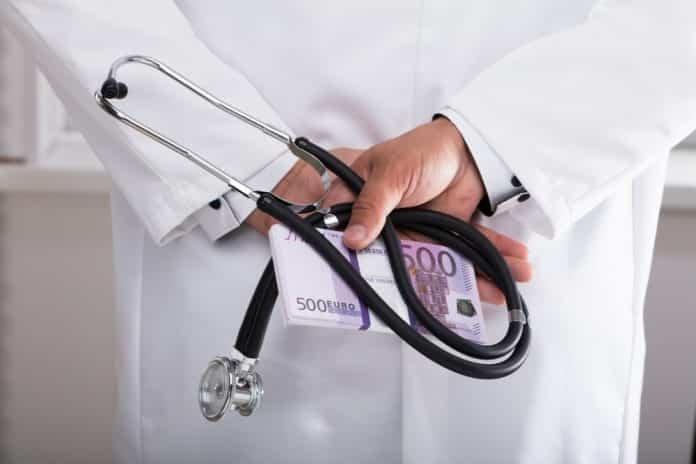 Hospitals are known to be vulnerable to fraud and abuse. It's not that hard to identify these things since there are various warning signs that can indicate that these situations are happening. Understanding these signs and knowing how to look out for them can help prevent further medical errors caused by fraud and abuse.
In this article, we'll talk about hospital fraud and abuse, including their most common types and telltale signs.
What is Hospital Fraud and Abuse?
Hospital fraud refers to the schemes used by hospitals to increase reimbursements from healthcare programs such as Tricare, Medicaid, and Medicare. Hospital Tricare fraud, for example, can take several forms, such as improper patient admission, charging for unnecessary medical services, improperly asking for reimbursement for their services, charging a patient for more expensive services than what was provided, or bribing a patient just to induce a referral.
There are various forms of hospital fraud but they usually fall into one of these main categories:
Hospital Inpatient Fraud – Hospital inpatient fraud refers to various fraudulent schemes used by hospitals when a patient is admitted for one or more nights. You see, health care programs cover more reimbursement for inpatient services than outpatient services because the costs of keeping a patient are higher. Hospitals can use this fact to their advantage and find improper reasons just to keep a patient overnight even though it is unnecessary.
Hospital Outpatient Fraud – Hospital outpatient fraud, on the other hand, refers to the fraudulent schemes used by hospitals during outpatient treatments and discharge. Since the costs of outpatient services are smaller than inpatient services, hospitals are tempted to use fraud just to get more reimbursement for their medical services. They end up violating the outpatient guidelines stated in the False Claims Act.
Cost Report Fraud – Cost report fraud refers to various fraudulent schemes used by hospitals to increase the costs of medical services to their patients.
Luckily, patients are able to fight against hospital fraud thanks to the False Claims Act. The act aims to prevent fraud against federal or state healthcare programs by allowing citizens to report and sue hospitals and other similar institutions if they violate the law.
Hospital abuse, also referred to as patient abuse, is completely different from hospital fraud. Hospital abuse refers to practices that fail to meet professionally-recognized healthcare standards. It also refers to medical practices that result in reimbursement for medical services that are really not necessary.
Everyone expects the best medical services when you go to a hospital or any other healthcare center. You feel reassured because you know that the medical staff will always abide by professionally recognized healthcare standards. But sometimes, medical providers and establishments fail to abide by these standards, which can result to abuse. All patients, male or female, young or old, can be at risk of hospital abuse. This can happen in a variety of ways and in different kinds of situations, regardless of the location.
Signs of Hospital Fraud and Abuse
Hospitals, like all other institutions, may engage in fraudulent schemes at the expense of their patients just to get larger reimbursements from healthcare insurance programs.
There are indications that will tell you if you are a victim of hospital fraud or not. By being aware of these signs, you'll be able to save yourself from hospital fraud. That said, here are the most common signs of fraudulent schemes used by hospitals:
Shady coding of medical procedures.
Paying kickbacks with the sole purpose of inducing patient referrals.
Performing unnecessary medical procedures or services.
Billing you for unnecessary medical procedures and services.
Charging you for medical services that are not actually rendered or performed.
Reporting higher medical bills than the actual costs.
Having financial relationships with other existing healthcare providers for patient referrals.
Paying recruiters to deliver any healthcare insurance program beneficiaries to the hospital for unnecessary medical treatments just to bilk money.
Hospital abuse does not only take place inside a hospital. A healthcare professional can carry it out whether the treatment is done at home, in a clinic, or during surgery.
Put simply, hospital abuse can be defined as any action or medical error that causes a patient to endure misery, suffering, or harm.
Here are the most common signs of hospital or patient abuse:
The patient has unexplained injuries, wounds, burns, bruises, or bleeding resulting from physical abuse.
The patient suffers from bleeding from the vagina or bruises around the genitals or breasts resulting from sexual abuse.
The patient suddenly becomes afraid of the doctor or nurse.
The patient loses weight significantly because the medical professionals are not giving enough them enough food and water.
The patient is messy or unclean because the caregiver is neglecting them.
What To Do If You Become A Victim Of Hospital Fraud and Abuse?
Healthcare providers and institutions such as doctors, nurses, hospitals, hospices, and other similar organizations are expected to provide the best medical care services. But they can also use this to take advantage of healthcare insurance programs by inflating the billing reimbursements and bilking money from the government.
As such, if you are a victim of a hospital fraud or if you noticed that your healthcare providers have done something suspicious, particularly with the way they are billing you, you can report them to the Centers for Medicare and Medicaid Services or CMS. CMS is an institution that regulates healthcare insurance programs and civil redress. The government also rewards citizens who report healthcare organizations and providers that are in violation of the False Claims Act.
All healthcare institutions are responsible for the actions of their medical staff. This means that if they are found to fail in their "duty of care" or have committed an act of abuse on their patient, they will be liable.
The relationship between a patient and a healthcare provider is hugely based on trust. So, in the eyes of the law, any kind of sexual act or contact is considered to be illegal since the patient is vulnerable during this time.
If you are a victim of hospital abuse, you have the right to pursue your claims if you know there is a clear breach of this. Whether it's physical, emotional, or sexual abuse, you can pursue legal action against your healthcare provider and claim compensation for the damages.
How To Protect Yourself From Hospital Fraud and Abuse?
There are several ways to protect yourself from hospital fraud and abuse to help keep your healthcare costs down:
Be sure to protect your health insurance ID card. You should protect your health insurance ID card the same way as you do with your credit card because in the wrong hands, it can be used to steal from you. Never give out your policy numbers to strangers such as insurance agents, telephone solicitors, or on the internet. Be careful not to disclose any insurance information. If you somehow lose your healthcare insurance ID card, be sure to report it to your insurance company immediately.
Report the fraud or abuse. If you become a victim of hospital fraud or abuse, be sure to report it to your insurance company immediately. You can also report it online by using your insurance company's website. Do not wait for an extended period of time to pass as this will make it harder to prove your claims or pursue the perpetrators of the fraud or abuse. The sooner you report the incident, the faster the authorities can act and perhaps even save other patients as well.
Stay aware and informed. You must be aware of the healthcare services that you receive. If possible, make a record of the medical services you've undergone, including the bills you have received.
Read your policy and benefits statements. Be sure to read the policy of your healthcare insurance as well as the benefits statements. Make sure that you receive the treatments stated on your medical bill and question anything that seems suspicious to you.
Be aware of suspicious offers from the hospital or healthcare provider. Free healthcare services seem too good to be true and they are always a sign of fraudulent schemes. They are designed to legally charge you and your health insurance company for medical treatments that you never received. Be vigilant and don't immediately fall for these offers.
Conclusion
Hospital fraud and abuse are serious violations of the law. Victims of hospital fraud and abuse are exploited and subjected to unnecessary medical procedures that might be unsafe to them.
It's completely wrong to take advantage of a citizen who is already suffering from sickness or disease. Hospitals and healthcare providers who take advantage of their patients by billing them improperly or by violating their rights must not be overlooked. It's a good thing that governments are now willing to bring in more claims of hospital fraud and abuse into light, which is great news as more people will now become aware of these incidents so that they or their family members can avoid experiencing any of these injustices.
About Us
VT is our General Posting account whereby we share posts from other sources along with general information with our readers.
EDITORIAL DISCLOSURE
All content herein is owned by author exclusively.  Expressed opinions are NOT necessarily the views of VT, authors, affiliates, advertisers, sponsors, partners, technicians or Veterans Today Network (VT).  Some content may be satirical in nature. 
All images within are full responsibility of author and NOT VT.
About VT
-
Read Full Policy Notice
-
Comment Policy