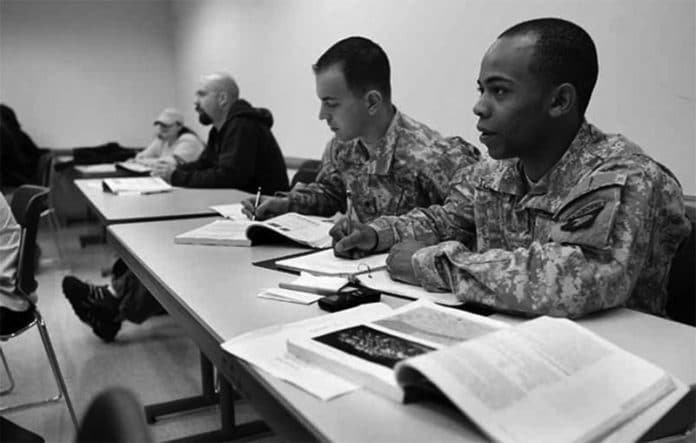 If you've completed military service and are looking for a secure and fulfilling civilian career path, there are many reasons to get into teaching. Teaching offers fantastic career prospects and the power to inspire an entire next generation, making it one of the very few careers in the world that offers this level of personal satisfaction, pride, and reward. Many veterans have already developed a lot of the essential skills to become a great teacher.
They are often dedicated, dependable, and willing to get stuck in and do the hard work that is often required to effectively teach others. If you are looking for a meaningful career that provides you with a strong sense of pride in yourself and rewards every single day, we've put together some of the top reasons to consider getting into teaching.
Make a Real Difference:
Teachers really can make a huge difference in the lives of the kids that they teach and their families. The effect of good teachers really is very inspiring; teachers can sometimes be the difference between children falling through the cracks or getting the support that they need and are not getting from the other aspects of their lives to follow their passions, learn about themselves, and eventually blossom.
As a teacher, you're going to be sharing your knowledge with the next generation of entrepreneurs, scientists, innovators, and even future teachers of tomorrow. Teachers are front and center when it comes to having a profound impact on society and inspiring and supporting the next generation. There are very few professions that offer a sense of pride and achievement as teaching does. If you enjoy helping and supporting others to bring out the best in them, teaching could be the perfect civilian career option for you.
Share Your Own Passions:
If you are passionate about a certain subject, teaching can help you get into a career that allows you to follow your own passions as well. Perhaps in the military, you had a passion that you found difficult to spend a lot of time doing, and now that you have ended military service, you want to get into a career that allows you to place a heavier focus on your own interests.
If you want to change the direction of your career into something that aligns with your desire to support others and make a difference, this kind of passion and knowledge is what makes going to school interesting for kids. People who are both knowledgeable and passionate about their subject make the best teachers since their energy inspires others to become more curious about the subject and get on board. After all, passion for something can be very infectious.
High Demand:
The need for teachers is greater than ever thanks to a constantly growing and expanding population. Despite the wide range of technological advances and AI that have posed a threat to certain job markets, teaching is a career that is still in very high demand and there's no sign that this is going to change any time soon.
And, this isn't just an issue in the US, but also around the world. You can find various countries worldwide where good teachers are certainly needed, so training in this profession means that you're likely to find work wherever you go, whether you want to teach Science or Math at a local school that you attended yourself as a child or move halfway across the country to teach kids or adults English as a foreign language. The truth is that no matter where you go, you are likely to find some great teaching opportunities that you can go for.
Career Progression:
When you're teaching a subject that you love, it also provides you with a unique opportunity to never stop learning about it. And, teachers have many great opportunities for career progression, whether you want to end up as the head of a certain department within a school or work as a guidance counselor or even the headteacher or principal.
There are several different routes and pathways that you can take in order to meet your career goals as a teacher, whether you'd like to do this within a school or get in touch with your entrepreneurial spirit and start your own business as a private tutor. The opportunities are endless when it comes to teaching career progression, and there are so many options that you can choose from when it comes to getting more responsibility and authority in your career while improving your earning potential. If you're looking for a career that offers you some seriously good growth prospects, becoming a teacher will definitely work well for you.
You Never Stop Learning:
During your career as a teacher, not only will you be facilitating the learning experience for others, but you'll also be able to continue learning new things yourself. If you are the type of person who is always hungry to learn more and never wants to settle for your current level of knowledge, becoming a teacher could be the perfect opportunity for you to feed this desire and increase your own knowledge. Along with the need to regularly stay up to date with the subject that you teach so that you can be assured you are providing the best learning experience to your students, you might also have to master new subjects, gain new knowledge and learn best practices in education.
You will be exposed to a number of interesting fields such as child and educational psychology that can be extremely interesting, and there's always going to be something around the corner for you to learn. Teaching is also a career that offers you plenty of opportunities for your personal development with a range of areas where you can improve your skills such as public speaking, organization skills and time management skills. If you want to continue learning something new for the rest of your life, becoming a teacher with an education degree from Marymount University will ensure that you continue learning just as much as you teach.
Keep Your Skills Sharp:
Working as a teacher gives you the chance to look at things from the perspective of people who are often much younger than yourself. As a teacher, you will spend a lot of your time working with children and young people who will see the world differently to yourself. Today's youth tend to be individuals who are highly visual, tech-savvy, and trend-conscious, and as a teacher, you're going to have to adapt to this in order to ensure that you are providing them with lessons and learning experiences that are relevant and interesting to them.
Kids tend to have shorter attention spans, more curiosity, and much more energy than adults, and keeping this in mind will ensure that you are constantly innovating and coming up with new, interesting, and different ways to ensure that the information you share is received in the way that you would like it to be. As a result, teachers are able to continuously work on keeping their own skills sharp; keeping an active mind can actually help you age well and improve your own creative, critical thinking, and innovative skills as you use them every day on the job.
An Interesting Experience:
Working as a teacher can be a very interesting experience where no two days are the same. Many people mistakenly expect teaching to involve sitting behind a desk doing paperwork and marking exams a lot of the time, and while there's no denying that this can be a big part of this profession, it's also worth remembering that there's a lot of interactivity involved as well.
No two of your students will ever be the same, and when you're teaching students who work and learn at different paces while being introduced to new students every year, this can certainly make for a very interesting experience where you will end up seeing the world in a very different way. Teaching is certainly not a job for somebody who is never up for a challenge, but if you like working in a field where you don't get much chance to be bored, there's always a new challenge around the corner, and you're constantly being asked questions that test your knowledge and inspire you to learn more, teaching could be the perfect career for you.
Be There for Important Moments:
Teachers are often one of the biggest constants in the lives of their students, and they will be there for some of the most important moments in their lives. Primary school teachers are there as kids start to make their first friends and find their little personalities while high school students watch their students celebrate as they get their exam results back or get accepted into college.
Most people have a memory of a teacher who was really there for them through those big moments in their childhood, offering support and guidance while it was needed and sharing in their joy, happiness, and excitement when they met their goals or got the results that they had been working so hard for. While teaching requires a lot of hard work, planning, and dedication, knowing that you hold such an important position in the lives of the kids that you teach every day is something that makes all the extra marking worth it for many teachers and fills them with a sense of pride that is second to none.
Help Others:
Teachers do not only help the children that they teach with improving their education and gaining more academic knowledge. Teachers are at the forefront of spotting anything that could be a problem and intervening as early as possible. Teachers need to spot and report anything that they notice in their students like mental health issues, bad home environments, or learning disabilities in order to ensure that the student gets the help and support that they need as early as possible.
A good teacher can often be the difference between a student being stuck in an abusive home environment or getting the help and support that they need to help that situation change for them. Students who do not have a happy, supportive home life often rely on their teachers to provide them with some security, safety, and support in their lives, and this can often make a huge difference in how these children grow up and thrive. As a teacher, the level of responsibility that you can feel for your students can be huge, but knowing that you're able to make that difference and be that hero in the lives of certain students can be extremely fulfilling.
Competitive Pay:
Last but not least, while most teachers will agree that they got into this career to teach and be there for kids when they need somebody the most, there's no denying that teaching can also be a very financially rewarding career, particularly when you move through the ranks. STEM subject teachers in particular can be paid very well, and the higher the level of teaching you offer, the more you can learn.
If you would rather work with young adults or older people, you can often make a very generous salary teaching as a college lecturer or professor. Those who want to have more control over their own earnings and earn an unlimited amount could consider starting a business as a private tutor, which can be a very lucrative opportunity since many parents are committed to helping their children achieve the best and are willing to pay generous amounts for private tuition. When it comes to how much money you can make, the opportunities are certainly endless when you get into teaching.
As you look for a new career after coming out of military service, there are plenty of reasons to consider teaching. Many veterans would like a position where they can inspire others to be their best and share the things that they are passionate about, and teaching is an excellent way to do this.
ATTENTION READERS
We See The World From All Sides and Want YOU To Be Fully Informed
In fact, intentional disinformation is a disgraceful scourge in media today. So to assuage any possible errant incorrect information posted herein, we strongly encourage you to seek corroboration from other non-VT sources before forming an educated opinion.
About VT
-
Policies & Disclosures
-
Comment Policy
Due to the nature of uncensored content posted by VT's fully independent international writers, VT cannot guarantee absolute validity. All content is owned by the author exclusively. Expressed opinions are NOT necessarily the views of VT, other authors, affiliates, advertisers, sponsors, partners, or technicians. Some content may be satirical in nature. All images are the full responsibility of the article author and NOT VT.