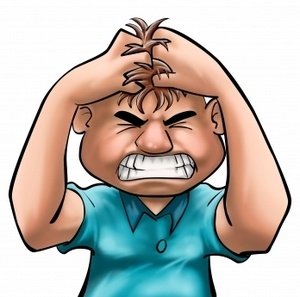 HOME CAREGIVER TIPS FOR LOVED ONES WITH DEMENTIA
DEALING WITH ANGER AND AGGRESSION
By Carol Duff RN, BA, MSN
(FOR OPEN USE DISTRIBUTION)
Sometimes people with dementia become angry and will lash out at caregivers who are trying to help them.  Their anger can range from slamming doors, yelling, throwing food, and making accusations to actual hitting.  This behavior may upset you, the caregiver, and create problems in the home.
Anger and aggression may be signs of a person feeling a loss of control, feeling worthless, forgotten, or insecure.  Going from parent, veteran, family head, valued employee, or employer to "care recipient" can seem devastating to a loved one's pride and self worth.  You are trying your best to care for your loved one, but may feel like you are the target of hostility shown by him or her.
An explanation of the term catastrophic reaction:
If you are reading information on dementia, you may see references in the literature mentioning "catastrophic reaction".  This term is used to describe the care recipient's reactions, such as arguing and refusal to cooperate, as a response to the feeling of being overwhelmed.
The person with dementia often cannot control his or her feelings of helplessness, which may lead to anger and nastiness. Negative reactions are exhausting and upsetting to you and your loved one.  Learning ways to avoid these reactions is the key to care management.
What are some triggers for anger and aggression? ·
People with brain diseases often become excessively upset and may show rapidly changing moods.     He or she may then strike out, accuse others, and use denial, just as anyone else may do.
Certain situations may cause the person with dementia to feel out of control and overwhelmed.
Sensory overloads such as strange situations, sudden and loud noises or movements, and being exposed to groups of people may cause these responses.·
Disruption of sleep patterns may decrease your loved one's ability to deal with his or her emotions.
Physical discomfort, such as arthritis pain, will increase the chances of lashing out at you, the caregiver.
Your loved one's impaired vision or hearing may cause a misinterpretation of sound or your actions.
Adverse effects of medications can lead to confusion, anger, aggression, and even to seeing or hearing things that are not there.
Your loved one may feel pressured at requests to do tasks that are difficult and may respond with anger, aggression, and crying.
What can you do to decrease triggers for anger or aggression?·
Approach your loved one slowly, from the front.
Maintain a normal tone of voice.
Do not get into a power struggle with your loved one.·
Reduce feelings of helplessness by not hurrying during care and dealing with one task at a time.
As the caregiver, do not respond with impatience, appear upset or irritable, or scold your loved on.
Leave a task that is causing cooperation difficulties and come back to it later.o
Do not pressure for an answer or action if your loved one does not quickly respond.  Allow enough time for a response.
Break the task into small steps and give clearly stated directions for each step of the activity.
You and your loved one can develop routines and schedules which will limit stresses.  ·        Limit choices for him or her to make, as this will decrease frustration.
REMEMBER!!!
Do not interpret anger as you would from a well person.  Anger is exaggerated in a confused person, who may not be angry at all.  Anger is probably a result of a misunderstanding of what is happening and can be the only response remembered when under stress.
What are ways to diffuse anger?·
Simplify his or her environment by reducing noise, number of people, and clutter.
Try music, quiet reading, or massage to relax the person.
Try to gently distract the person.
He or she will usually quickly forget the episode and can be distracted by something he or she likes to do, such as a walk, favorite activity, or a treat.
Keep furniture and objects in the same place because familiar surroundings will help to offer a feeling of comfort.
Make sure the person is protected from hurting him or herself by putting harmful objects out or reach or sight.
Keep a log to see what causes anger and aggression and consult this to avoid future troubles.
WHAT CAN YOU DO IF YOU FEEL YOU MAY BE HARMED?
Ask others to leave the room or situation as more people could increase the aggression.
Maintain your normal tone of voice.
Stand out of reach.
Leave the scene to prevent injury.
Call for help from neighbors, family members, or friends.  Talk with the healthcare provider who may recommend medications or other treatments and follow up on any big change in behavior.
Dial 911 as a last resort.  Carefully explain you are dealing with a loved one with a health related behavior and memory problem.  Remember, an unfamiliar person, wearing a uniform, can appear threatening.
Once the incident has passed, do not remind the person of what happened.
The following are some websites to provide you with more information about anger and aggression.
AlzOnline: Caregiver Compass Reading Room: Caregiving challenges, Difficult behavior. http://alzonline.phhp.ufl.edu/en/topics
Helpguide. Alzheimer's behavior management: Learn to manage  Common behavior problems. http://www.helpguide.org/elder/alzheimers_behavior_problems.htm
---
References: Boyd, M. (2002). Psychiatric nursing: Contemporary practice (2nd edition). Philadelphia, PA: Lippincott.
Burnham, H., & Hogervorst, E. (2004). Recognition of facial expressions of emotional by patients with dementia of the Alzheimer type.  Dementia and Geriatric Cognitive Disorders  18(1), 75-79.
Ignatavicius, D., & Workman, M. (2006).  Medical-surgical nursing:Critical thinking for collaborative care (5th edition).  St.Louis, MO: Elsevier Saunders.
Lewis, S., Heitkemper, M., & Dirksen, S. (2004). Medical-surgical nursing: Assessment and management of clinical problems (6th edition).  St. Louis, MO: Mosby.
Mace, N., & Rabins, P. (2006). The 36-hour day: A family guide to caring for people with Alzheimer disease, other dementias, and memory loss in later life (4th edition).  Baltimore, MD: The Johns Hopkins University Press.
Potkins, D., Myint, P., Bannister, C., Tadros, G., Chithramohan, R. Swann, A. et al. (2003) Language impairement in dementia: Impact on symptoms and care needs in residendial homes. International Journal of Geriatric Psychiatry, 18(11), 1002-1006.
Robinson, A., Spencer, B., & White, L. (2007). Understanding  difficult  behaviors: Some practical suggestions for coping with  Alzheimer's disease and related illnesses. Ypsilanti, MI: Eastern         Michigan University.
Romano, Donna M. (2004). Making the paradigm shift: Enhancing  communication for clients with Alzheimer's disease using a client-centered approach.  Journal of the American Psychiatric Nurses Association 10(2), 81-85.
---
Developed in 2008 by Carol Ware Duff, RN at the University of Toledo for the Caregiver Consultation Center.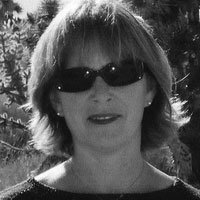 Carol graduated from Riverside White Cross School of Nursing in Columbus, Ohio and received her diploma as a registered nurse. She attended Bowling Green State University where she received a Bachelor of Arts Degree in History and Literature. She attended the University of Toledo, College of Nursing, and received a Master's of Nursing Science Degree as an Educator.
She has traveled extensively, is a photographer, and writes on medical issues. Carol has three children RJ, Katherine, and Stephen – one daughter-in-law; Katie – two granddaughters; Isabella Marianna and Zoe Olivia – and one grandson, Alexander Paul. She also shares her life with her husband Gordon Duff, many cats, and two rescues.
ATTENTION READERS
Due to the nature of independent content, VT cannot guarantee content validity.
We ask you to
Read Our Content Policy
so a clear comprehension of VT's independent non-censored media is understood and given its proper place in the world of news, opinion and media.
All content is owned by author exclusively. Expressed opinions are NOT necessarily the views of VT, other authors, affiliates, advertisers, sponsors, partners or technicians. Some content may be satirical in nature. All images within are full responsibility of author and NOT VT.
About VT
-
Read Full Policy Notice
-
Comment Policy