How the Pentagon Counts Coups in Washington
By Tom Engelhardt TomDispatch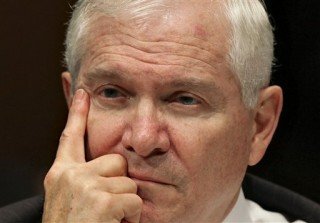 Sometimes it pays to read a news story to the last paragraph where a reporter can slip in that little gem for the news jockeys, or maybe just for the hell of it. You know, the irresistible bit that doesn't fit comfortably into the larger news frame, but that can be packed away in the place most of your readers will never get near, where your editor is likely to give you a free pass.
So it was, undoubtedly, with New York Times reporter Elisabeth Bumiller, who accompanied Secretary of Defense Robert Gates as he stumbled through a challenge-filled, error-prone two-day trip to Pakistan. Gates must have felt a little like a punching bag by the time he boarded his plane for home having, as Juan Cole pointed out, managed to signal "that the U.S. is now increasingly tilting to India and wants to put it in charge of Afghanistan security; that Pakistan is isolated… and that Pakistani conspiracy theories about Blackwater were perfectly correct and he had admitted it. In baseball terms, Gates struck out."
In any case, here are the last two paragraphs of Bumiller's parting January 23rd piece on the trip:
Mr. Gates, who repeatedly told the Pakistanis that he regretted their country's 'trust deficit' with the United States and that Americans had made a grave mistake in abandoning Pakistan after the Russians left Afghanistan, promised the military officers that the United States would do better.
His final message delivered, he relaxed on the 14-hour trip home by watching 'Seven Days in May,' the cold war-era film about an attempted military coup in the United States."
Just in case you've forgotten, three major cautionary political films came out in the anxiety-ridden year of 1964, not so long after the Cuban Missile crisis — of which only Dr. Strangelove, Stanley Kubrick's classic vision of the end of the world, American-style, is much remembered today. ("I don't say we wouldn't get our hair mussed, but I do say no more than ten to twenty million people killed.")
All three concerned nuclear politics, "oops" moments, and Washington. The second was Fail Safe, in which a computerized nuclear response system too fast for human intervention malfunctions and fails to stop an erroneous nuclear attack on Moscow, forcing an American president to save the world by nuking New York City. It was basically Dr. Strangelove done straight (though it's worth pointing out that Americans loved to stomp New York City in their fantasies long before 9/11).
Read more at TomDispatch.
ATTENTION READERS
Due to the nature of independent content, VT cannot guarantee content validity.
We ask you to
Read Our Content Policy
so a clear comprehension of VT's independent non-censored media is understood and given its proper place in the world of news, opinion and media.
All content is owned by author exclusively. Expressed opinions are NOT necessarily the views of VT, other authors, affiliates, advertisers, sponsors, partners or technicians. Some content may be satirical in nature. All images within are full responsibility of author and NOT VT.
About VT
-
Read Full Policy Notice
-
Comment Policy