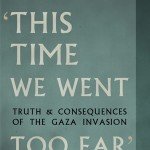 Reposting this to rebuke those who would call the slaughter of Gazans a people's simply getting the raw end of the deal. Kill, starve and imprison Palestinians with your eyes wide-open if you believe in what our government supports in the Middle-East. But do not say you do not know.
If anyone wishes to acquaint himself with a recent massacre in Gaza, I suggest the rigorous analyses of a man, Norman Finkelstein, whose parents were concentration camp survivors. Finkelstein's latest is This Time We Went Too Far on the willful destruction of Gaza and its alltogether human beings living there, 1.5-million of them. After reading the book, you can call Finkelstein a "Jew Baiter," an "anti-Semite," or a "self-hating Jew," if you must. He's heard the slander before. But again, do not say you do not know.
Norman Rufus Colin Cohn (January 12, 1915 – July 31, 2007) and Raul Hilberg (June 2, 1926 – August 4, 2007) died within a week of each other this summer.
I intend no meaning in noting the proximity of their deaths, other than to state that these men shared a common disdain for the power of the state aligned with the indifference of its citizens to inflict genocidal catastrophes upon humanity.
And their lives and work ought to live on as a furious reproach to contemporary Americans who passively watch the destruction of over one million Iraqis [Gazans, Palestinians, people] as demagogic figures in American popular culture vilify anyone (achieving a certain level of celebrity) daring to point out the crimes against humanity that war inflicts.
Cohn's most influential works are The Pursuit of the Millennium: Revolutionary Millenarians and Mystical Anarchists of the Middle Ages (1957) and Warrant for Genocide: The Myth of the Jewish World Conspiracy and the Protocols of the Elders of Zion (1970).
Hilberg wrote The Destruction of the European Jews (1961), regarded as the seminal study of the Holocaust killing of millions of Jews and millions of other victims.
Both men were historians believing in precision free of ideology in depicting the facts of past occurrence without apology to contemporary political motivations.
Cohn and Hilberg's eloquence and precision inspired generations of humanists.

Reading Noam Chomsky's The Culture of Terrorism (1988), Cohn's words ring out.
All the NAZIs required of the population is a "mood of passive compliance" as Hitler's Holocaust coursed through Europe as he promised a return to "traditional values" and security for good German families, cites Chomsky.
Passive compliance; that phrase should become an imprecation, a curse reserved for the most despicable of acts.
Norman Finkelstein, a child of concentration camp survivors and a furious critic of violence, writes of Hilberg after his death:
Hilberg famously used the triad Perpetrators-Victims-Bystanders to catalogue the main protagonists in the Nazi holocaust. It is notable that he didn't include a category for givers of succor, presumably because they were so few in number. Judging by the life he lived, my guess is that, had the tables been turned, Hilberg would have been among those few.
I can't help but think that Hilberg and Cohn went to their deaths disappointed and saddened as the idiocies of the Bushes, Cheneys, Powells, and Rices go unchallenged by far too many Americans.
However, millions of Americans have come to the conclusion that halting and reversing the obscenity that we as a country inflict upon the people of Iraq ought to become the deciding factor in whom we elect as the next president.
And that conclusion owes nothing to Hilberg and Cohn, but rather is the result of independent, free thinking.
Hilberg and Cohn, as great intellects, would have smiled and saluted that.
ATTENTION READERS
Due to the nature of independent content, VT cannot guarantee content validity.
We ask you to
Read Our Content Policy
so a clear comprehension of VT's independent non-censored media is understood and given its proper place in the world of news, opinion and media.
All content is owned by author exclusively. Expressed opinions are NOT necessarily the views of VT, other authors, affiliates, advertisers, sponsors, partners or technicians. Some content may be satirical in nature. All images within are full responsibility of author and NOT VT.
About VT
-
Read Full Policy Notice
-
Comment Policy