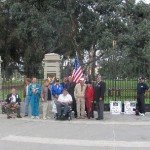 BIGGEST WAR OF VETS AGAINST "VET HATING" SPECIAL INTEREST AND VA CORRUPTION IN THE COUNTRY
WHERE ARE THE SERVICE ORGANIZATIONS?
By Gordon Duff STAFF WRITER/Senior Editor
Robert Rosebrock and a group of aging WW2, Korea and Vietnam vets have spent two years protesting the misuse of billions of dollars of veteran land.  Eventually, when they received no support from the major service organizations, AMVETS, the American Legion and the VFW, they began displaying the American flag in the "distress mode," meaning upside down as indicate in our flag code.  This is the way a military unit would communicate that they were surrounded and about to be overrun.  Rosebrock and his group had no idea how accurate their appraisal was.
Soon afterward, the VA security police got huge budget increases, a new building and new Hemi powered cruisers.  They began, illegally, cruising the Los Angeles streets, following protesting vets, issuing threats, harassing homeless vets and, as a last straw, ticketing Robert Rosebrock illegally for what the called an "unlawful protest."
The officers themselves tell us they feel sick about it.  They work for Donna Beiter and Ralph Tillman who have been giving veteran land away for "dog parks" or to wealthy prep schools or for gay theatre groups or Jewish homeowners associations, everyone gets a piece but the thousands, estimated to be as many as 20,000 in the area, of homeless veterans.  Vets sleep outside the million dollar fence our Beiter/Tillman gang had built with VA funds, a fence meant to beautify the Brentwood neighborhood made famous by OJ Simpson. 
With billions allocated by the Department of Veterans Affairs to serve homeless vets, one of America's biggest scandals, it isn't just Beiter and Tillman who have another agenda.  It's the service organizations, the ones whose members, when asked time and time again by Rosebrock, a former Legion member himself, to help, were "too busy" or had other priorities.  One of the biggest priorities the American Legion has had in years is the Mojave Cross.  This is two pieces of pipe held together by a coat hanger, way out in the desert, on federal land.  The government wants it taken down and the Legion wants it up.  Nobody sees it, nobody cares or should care except, well, the Legion, a Legion too busy to get involved in helping Rosebrock find a solution to the problem of thousands of homeless veterans.
This is wartime.  Soldiers are dying but more vets are dying, ten to one, a thousand to one over the rate troops are dying in combat.  We kill more at home than any enemy could, kill them through neglect, abuse and bureaucracy.  We also do it through massive and endemic corruption, a disease that has been at the heart, not only of the DVA but the service organizations as well. 
I can't call all VFW, Legion and AMVET posts bad.  Some are highly supportive of many progressive and pro-veteran causes and, from time to time, their massive political power is used to help vets.  Often, however, it is not.  In reality, they are extremely ineffective and highly political organizations that pander to the basest instincts, hatred, fear and greed.  I can't call them "neo-con" because they lack the political savvy and sophistication of this pack of con men.  The shame is not that men have organized into groups proven outdated and useless, its that they have so much power and influence, all tragically misused.
Los Angeles is where their faults are laid bare most of all.  The VFW and Legion members, almost universally, are abusive and derisive of the American Civil Liberties Union.  The ACLU supports free speech, gay rights and minorities, especially when groups seem to be singled out as part of an attack on the Constitution.  We lose our rights when "the least of us," the most vulnerable are attacked.  Once one group loses their rights, everyone is at risk.  This is why the ACLU exists.  It is, perhaps, the most genuinely patriotic group in America.  It does what is right, what is American at the cost of what is popular.  They have even defended the tub of lard "blowhard" Rush Limbaugh, someone who had bashed them for years on the radio, until he needed legal help.
Then he "ran home to mama."
Service groups, who spend much of their time fighting anti-smoking laws, love "flag" issues.  When it comes to veterans issues and standing up to corruption, and this is about corruption, not rules, not money, it is simple fraud, malfeasance and abuse of authority.  Political power, the massive Waxman/Zionist Democratic political machine of West Los Angeles with its big money supporters, the insurance industry execs, crooked bankers and the liberal Hollywood crowd, don't want a facility for homeless veterans in their neighborhood.  They seem to have found allies in the regional DVA leadership, Donna Beiter and Ralph Tillman, found them "somehow."
Found.
An army of Legion, AMVET and VFW members should be demanding that these bureaucrats be trashed, that Waxman's group be crushed at the polls and that the heroes that are defending America get what America has promised.  Instead, Robert Rosebrock and a dozen or so of his associates are all that we see.  The sign outside the stolen veteran land says, Beauty, Honor, Country.  What could be more beautiful than an American hero sleeping on concrete?
Gordon Duff posted articles on VT from 2008 to 2022. He is a Marine combat veteran of the Vietnam War. A disabled veteran, he worked on veterans and POW issues for decades.
Gordon is an accredited diplomat and is generally accepted as one of the top global intelligence specialists. He manages the world's largest private intelligence organization and regularly consults with governments challenged by security issues.
Duff has traveled extensively, is published around the world, and is a regular guest on TV and radio in more than "several" countries. He is also a trained chef, wine enthusiast, avid motorcyclist, and gunsmith specializing in historical weapons and restoration. Business experience and interests are in energy and defense technology.
ATTENTION READERS
Due to the nature of independent content, VT cannot guarantee content validity.
We ask you to
Read Our Content Policy
so a clear comprehension of VT's independent non-censored media is understood and given its proper place in the world of news, opinion and media.
All content is owned by author exclusively. Expressed opinions are NOT necessarily the views of VT, other authors, affiliates, advertisers, sponsors, partners or technicians. Some content may be satirical in nature. All images within are full responsibility of author and NOT VT.
About VT
-
Read Full Policy Notice
-
Comment Policy