– Massacre at Sea –  ABC News Report: White House 'Working to Understand' Israeli Attack; scheduled meeting with Israeli Prime Minister Benjamin Netanyahu cancelled.
For continuing updates, see Witness Gaza and Al Jazeera.
Turkey, Spain, Greece, Denmark and Sweden have all summoned the Israeli ambassador's in their respective countries to protest against the deadly assault.
As news Sunday reached the world that "participants in the international flotilla carrying humanitarian aid to the Gaza Strip held a memorial service at sea to commemorate the 34 Americans killed and 174 injured in Israel's 1967 attack on the U.S.S. Liberty," the Israeli navy hours later this morning attacked the six-ship convey, killing at least 16 unarmed people in international waters and injuring 30 as Americans celebrated Memorial Day weekend honoring fallen American troops and Marines.
Israeli troops reportedly killed several people as they lay asleep aboard the Turkish-registered Mavi Marmara, according to eye witensses.
Journalist Scott Lucas reports:
The Turkish Government has condemned the Israeli attack. A crowd of demonstrators have surrounded the house of the Israeli Ambassador and asked him to leave the country.

The ship attacked this morning, the Mavi Marmara, is Turkish-registered.

Turks rally against Israeli attack
Gaza has been under an Israeli-led blockade since 2006. Amnesty International, in its latest Annual Human Rights Report (May 26, 2010) stated that Israel's siege on Gaza has "deepened the ongoing humanitarian crisis. Mass unemployment, extreme poverty, food insecurity and food price rises caused by shortages have left four out of five Gazans dependent on humanitarian aid. The scope of the blockade and statements made by Israeli officials about its purpose showed that it was being imposed as a form of collective punishment of Gazans, a flagrant violation of international law."
– Protests are being called for across the country and the world as shock and outrage at what is being blasted a rogue state spreads. In New York, according to several sources, a protest has been called for 3 PM Eastern today in Times Square. –
Greta Berlin, an organizer with the Free Gaza Movement, informed  Al Jazeera English that their lawyer in Israel has told them that 16 people have been killed as a result of the Israeli attack on the "Freedom Flotilla" aiming to break the Gaza blockade.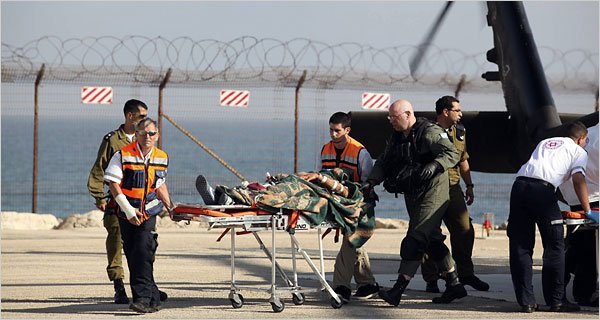 Gideon Levy of Haaretz, writes, "The Israeli propaganda machine has reached new highs its hopeless frenzy," as Israel now claims the unarmed human rights activists shot at raiding Israeli commandos, a charge ridiculed by WitnessGaza.
Lubna Marsawa, Free Gaza's organizer on the Turkish passenger boat said in outrage, "Very few times in history has a flotilla delivering humanitarian goods been welcomed by military war ships."
There has been no immediate comment from the White House or U.S. Dept of State.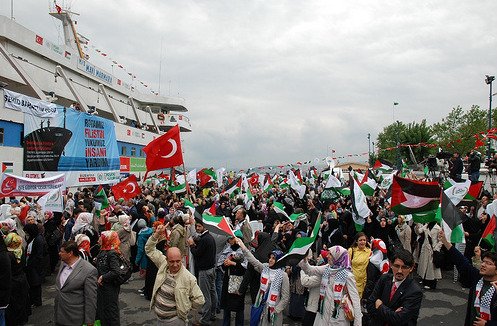 The freedom fleet is the "largest aid convoy ever – nine vessels, 10,000 tons of humanitarian cargo, 800 people from 50 countries, to attempt to break the illegal Israeli siege o.f Gaza
The Israeli Navy has reportedly attacked the Turkish boat that is part of the "Freedom Flotilla" loaded with humanitarian aid and 600 Palestine solidarity activists. The flotilla was heading towards Gaza in an attempt to break Israel's blockade.

A "tweet" from the Free Gaza movement, one of the organizations that headed the flotilla, reports, "At about 4:30 am, Israeli commandos dropped from helicopter onto deck of Turkish ship, immediately opened fire on unarmed civilians."

According to Turkish television, at least two people have been killed and dozens, perhaps up to 50, have been injured. Those injured may include European parliamentarians who were traveling with the boat.

(These are reports that are coming from Twitter, so keep that in mind, but the English version of Al Jazeera has an article up titled "Israel 'attacks' Gaza aid fleet." See here for live reports on Twitter from the topic #flotilla).

Protests are being called for across the country and the world. In New York, according to several sources, a protest has been called for 3 PM tomorrow in Times Square.

The six boats were reportedly in international waters at the time of the Israeli attack.

For a live stream of what appears to be Turkish news television broadcasting reports and images from the Turkish boat, click here.

Turkey has also reportedly summoned Israel's ambassador based in Ankara, the Turkish capital, according to Electronic Intifada co-founder Ali Abunimah. Iara Lee, who is on one of the boats, is reporting that thousands of people in Turkey are protesting outside the Israeli consulate, and there are also reports of thousands of people in Turkey storming the consulate.
From the New York Times:
By ISABEL KERSHNER

JERUSALEM — The Israeli Navy attacked a flotilla carrying hundreds of pro-Palestinian activists and thousands of tons of supplies for Gaza on Monday morning, news agencies reported, killing at least 10 people and wounding at least 30.

The warships first intercepted the aid flotilla shortly before midnight on Sunday, surprising the boats in international waters, according to activists on one vessel. Israel had vowed not to let the flotilla reach the shores of Gaza, where the Islamic militant group Hamas holds sway.

Named the Freedom Flotilla, and led by the pro-Palestinian Free Gaza Movement and a Turkish organization, Insani Yardim Vakfi, the convoy of six cargo and passenger boats is the most ambitious attempt yet to break Israel's three-year blockade of Gaza.

"Two people have been killed on board the Turkish boat and 30 or more were wounded," said Mary Hughes Thompson, a spokeswoman for the Free Gaza Movement, speaking to the Reuters news agency. She said Israeli commandos had apparently "descended on the boat from helicopters and took it over."

An Israeli television station reported the 10 deaths, according to Reuters, an account that was confirmed on Israeli Army Radio, according to Bloomberg News.

Three Israeli Navy missile boats left the Haifa naval base in northern Israel a few minutes after 9 p.m. local time on Sunday, planning to intercept the flotilla. Israeli Radio reported three Israeli commandos had been lightly injured.

After asking the captains of the boats to identify themselves, the navy told them they were approaching a blockaded area and asked them either to proceed to the Israeli port of Ashdod, north of Gaza, or to return to their countries of origin.

The activists responded that they would continue toward their destination, Gaza.

Speaking by satellite phone from the Challenger 1 boat, which has foreign legislators and other high-profile figures on board, a Free Gaza Movement leader, Huwaida Arraf, said: "We communicated to them clearly that we are unarmed civilians. We asked them not to use violence."

Earlier Sunday, Ms. Arraf said the boats would keep trying to move forward "until they either disable our boats or jump on board."

The Israeli Defense Forces said in a statement that if the flotilla members ignored warnings to stop and continued toward Gaza "they will be arrested, brought to Israel's shores and transferred to the Ministry of Interior and the immigration authorities so they can be sent back to their country of origin."

"The security forces will take possession of the aid expected to be on board the flotilla," the statement said, "and following a security check of the goods, the items will be transferred into the Gaza Strip."

In Ankara, the Turkish capital, local TV stations showed angry protesters confronting police officers outside the Israeli consulate on Monday morning.
ATTENTION READERS
We See The World From All Sides and Want YOU To Be Fully Informed
In fact, intentional disinformation is a disgraceful scourge in media today. So to assuage any possible errant incorrect information posted herein, we strongly encourage you to seek corroboration from other non-VT sources before forming educated opinion. In addition, to get a clear comprehension of VT's independent non-censored media, please read our
Policies and Disclosures
.
Due to the nature of uncensored content posted by VT's fully independent international writers, VT cannot guarantee absolute validity. All content is owned by the author exclusively. Expressed opinions are NOT necessarily the views of VT, other authors, affiliates, advertisers, sponsors, partners, or technicians. Some content may be satirical in nature. All images are the full responsibility of the article author and NOT VT.
About VT
-
Comment Policy