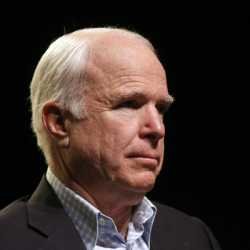 Few Americans know better than John McCain how to displace facts with what "the mark" can be deceived to believe. When defrauding an entire nation to wage war on false pretenses, it's essential to have on-the-ground operatives who lie reliably.
The transformation of the provocation of 911 into an invasion of Iraq will go down in history as one of the greatest cons of all time. This was way beyond Big Foot, the Loch Ness Monster or the hucksters who sold schmucks a deed to the Brooklyn Bridge.
We're the schmucks. McCain and his handlers are the hucksters. Everyone knows this war was a con job. Well, maybe not everyone, just those with access to the facts. That access includes McCain as a senior member of the Senate Armed Services Committee.
He knows. The only question is this: when did he know?
Did he knowingly lie or was he induced to lie for others?
That distinction makes all the difference. If he knew he was lying, that's treason and he should be indicted, prosecuted, convicted and executed.
If he was misled, then he is "only" incompetent and a fool who has no place in national politics. And certainly no place setting policy on the Armed Services Committee.
If he was duped, that should be his campaign theme: I won't be fooled again.
But he has been duped time and time again which suggests we're the ones being duped. Remember the $150 billion savings and loan fraud of the 1980s? Was he also duped then?

What about the subprime mortgage fraud? Was he duped again? How many more frauds can we afford? How many more fools can our national security survive?
The Easy Way Out
History will not be kind to this Arizona senator. His fealty to Israel will merit him a gravesite on the Mount of Olives alongside other Likud Party stalwarts to whom he was reliably loyal.
His role as an enemy collaborator persuaded Colonel Ted Guy, his commanding officer, to urge his indictment for treason. When Richard Nixon granted a blanket pardon to all returning prisoners of war, that flawed president ensured a political future for this flawed senator.
Though a critic might easily dismiss his obvious lack of intelligence, what shines through most clearly is his lack of character. He is not merely flawed in some fundamental sense, John McCain sees himself as the present-day embodiment of the legacy of Abraham Lincoln.
I saw him say just that—with conviction—in a town hall meeting in Tempe, Arizona. What's most unsettling is the sincerity of his belief. When performing his John McCain Act, he can even get an audience to buy into that political branding.
As Americans, how do we free our government from the influence of such flawed personalities? The consistency of his conduct over decades confirms he should long ago have been indicted.
Yet even now he is campaigning for a fifth term as a U.S. Senator. If elected, America will be subjected to a full three decades of a Senate in which John McCain is a member.
If he chooses not to resign, how do we protect national security from an agenda set by the syndicate that produced his political career?
McCain may preclude an easy way out. Short of resignation or prosecution, how do we protect ourselves from this perilous political phenomenon?
Restoration of the Rule of Law
The consistency of his conduct is testimony to how the fact-based rule of law continues to be eroded by those skilled at displacing facts with what "the mark" can be induced to believe.
We are the mark—i.e., We the People. We were conned into destroying Iraq by the same syndicate that destroyed our savings and loan industry. The S&L con was a prelude to the securitization of mortgages as pre-staging for the far larger subprime mortgage fraud.
As a POW, John McCain mastered the art of conning himself. He convinced himself that he gave only useless information to the enemy. Yet his collaboration increased by 60% the casualty rate of our airmen when that classified data was used by North Vietnamese anti-aircraft gunners.
He may sincerely believe that his collaboration with S&L banksters did not increase by 50% the taxpayer cost of the S&L bailout. He may even believe his claim that the Israeli murder of 34 Americans aboard the USS Liberty was a case of mistaken identity. He could even believe that the subprime fraud was an accident.
He may also believe that the moon is made of green cheese and that he is liked by his oft-abused staff. Yet the facts remain the facts. Behind the scenes, he is much reviled and often ridiculed.
When he departs (please let it be soon), his epitaph is already written: good riddance.
ATTENTION READERS
Due to the nature of independent content, VT cannot guarantee content validity.
We ask you to
Read Our Content Policy
so a clear comprehension of VT's independent non-censored media is understood and given its proper place in the world of news, opinion and media.
All content is owned by author exclusively. Expressed opinions are NOT necessarily the views of VT, other authors, affiliates, advertisers, sponsors, partners or technicians. Some content may be satirical in nature. All images within are full responsibility of author and NOT VT.
About VT
-
Read Full Policy Notice
-
Comment Policy