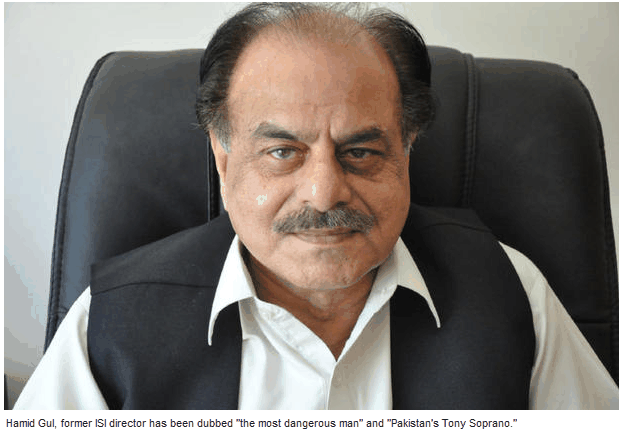 Pakistan's Most Dangerous Man?
By Michelle Shephard National Security Reporter Toronto Star
RAWALPINDI, PAKISTAN—The former spy chief once dubbed the "most dangerous man" and more recently, "Pakistan's Tony Soprano," ends the interview with a fatherly pat on the cheek. "When the war in Afghanistan is over, you'll have to come back and meet the most dangerous man again," says Hamid Gul with a chuckle, then offers a more formal handshake.
Gul, a former head of Pakistan's Directorate for Inter-Services Intelligence agency, or ISI, has loomed large in the debate about ISI's double dealings since this summer's WikiLeaks of U.S. intelligence reports.
Most titillating in the release of more than 90,000 raw data tidbits was the report that the retired general who led the ISI nearly two decades ago met Al Qaeda operatives in Pakistan in 2006 and told them to "make the snow warm in Kabul . . . set Kabul aflame." That inspired the Soprano reference in a Washington Post column about Gul.
The comparison, however, was lost on Gul. He had never heard of the television series. "This Tony Soprano. Is he a hero or villain?" he asked in an interview with the Toronto Star this week. How to explain the complicated mob boss who cries and visits a shrink?
"Perhaps a sympathetic villain?"
"Ah," Gul retorts quickly. "Or perhaps an unsympathetic hero."
Not quite. But perhaps the lesson here is to not affix labels to those who are tough to nail down — not a bad thing keep in mind when trying to classify Gul or the murky organization he once led.
The ISI has long been the government and military's powerbroker and key to U.S. cooperation in the war in Afghanistan. It was the union between the ISI and CIA that helped push out the Soviets out in the 1980s, and now it's the lack of cooperation between the two that is being faulted for undermining NATO's attempts to oust the Taliban.
Bob Woodward's recently released book, quoting U.S. President Barack Obama saying "the cancer is Pakistan" when it comes to war efforts, has prompted fresh scrutiny of the uneasy alliance.
"It's nonsense," Gul said of the allegations about his own recent dealings with the Taliban. "If that is the quality of the intelligence on which this war is being fought I can only lament the paucity of wisdom, as well as expertise."
As he sat in his office, behind a large desk that held only an Economist article about Pakistan's floods, Gul did not mince words in describing his support of Afghanistan's Taliban, which he has praised since 2001. He also says he is not convinced Al Qaeda was responsible for the 9/11 attacks and can cite the litany of conspiracy theories that blame the U.S., Israel, or India for masterminding the attacks.
His comments make him unpopular in the West, but most here doubt Gul's influence, arguing he is too long out of the game (almost two decades since he was chief) and his prominence makes it hard to imagine a double-dealing spy (he has his own website).
"I would describe him as a dapper jihadi. You see him on TV in his grey suits, his military mustache, that sort of thing," said Amil Khan, a popular blogger and author of The Long Struggle.
"Hamid Gul has done a good job keeping himself in the picture," Khan said, then keeping in the theme of pop culture references, added, "He's kind of like a contestant on a Big Brother reality show. He had that period of notoriety and then he just keeps trying to use it."
Imtiaz Gul, who has covered Afghanistan and the tribal areas in Pakistan for more than two decades, said he was at Kabul University in April and amazed at how students spoke of Gul. "It was as if he were an active part of the ISI," the author of The Most Dangerous Place said in an interview Monday.
"He has an image there that is larger than life because he had good relations with Taliban."
Whether the claims against Hamid Gul have merit, or are based on faulty intelligence from Afghan sources, there is little doubt of the ISI's duplicity.
The ISI is an integral part of Pakistan's army and its head reports directly to Army Chief Gen. Ashfaq Kayani. Domestically, the ISI has been blamed for rigging elections, torturing political opponents, journalists, and profiting handsomely from the American bounties paid after 9/11 to snatch terrorism suspects.
But even though the extrajudicial dealings of the establishment are loathed here, the discussion today when it comes to Afghanistan has moved beyond finger-pointing or denials, to a rare defence of the ISI's dealings. Gul's comments, while once extreme, are now considered more mainstream.
"If there is any ISI head who has his professional acumen tucked in his belt, you will never sever your relationship with the opposition of the country," offered Gul.
"It's not in your interest, especially since day one it was known that the Americans would go away. Now at a time when the Americans are losing the war, the Taliban are the future resistance of Afghanistan . . . . Would you not continue to engage in the future?"
The prevailing sentiment seems to be that Pakistan's cooperation with the U.S.-led "war on terror," has brought only domestic woes and prompted the rise of the Pakistan Taliban, responsible for devastating suicide attacks within the country.
Even if there is not widespread support for the Taliban in Afghanistan, known as the Quetta Shura, most also believe Pakistan cannot afford to have a hostile neighbour — especially if India's interests are secured in Afghanistan — and support negotiations to bring an end to the war.
It seems, according to a Wednesday Washington Post article, that negotiations may be exactly where the Afghan government is headed. The newspaper reported that "secret, high-level" talks have begun between Afghan President Hamid Karzai and Quetta Shura representatives. Unnamed sources also said the Obama administration may be undergoing "a distinct change of heart" toward backing these talks.
But it appears Pakistan may not be at the table. One Afghan source was quoted as saying that Pakistan's insistence on a central role in any negotiations complicated the effort to bring the sides together.
Gul scoffed at the notion that Pakistan would be left out of any final settlement in Afghanistan.
"If America wants to quit Afghanistan, then Pakistan needs to be brought on board," he said.
"Listen. I have all my sympathies for the American people, for the Western people. They want to live in peace," he continued. "But the policy makers? They do the wrong things at the wrong times. The Afghanistan war? Wrong war, for the wrong cause, at the wrong time, with the wrong people, at the wrong place."
"Everything," he concluded, "is wrong."
Gordon Duff posted articles on VT from 2008 to 2022. He is a Marine combat veteran of the Vietnam War. A disabled veteran, he worked on veterans and POW issues for decades.
Gordon is an accredited diplomat and is generally accepted as one of the top global intelligence specialists. He manages the world's largest private intelligence organization and regularly consults with governments challenged by security issues.
Duff has traveled extensively, is published around the world, and is a regular guest on TV and radio in more than "several" countries. He is also a trained chef, wine enthusiast, avid motorcyclist, and gunsmith specializing in historical weapons and restoration. Business experience and interests are in energy and defense technology.
ATTENTION READERS
We See The World From All Sides and Want YOU To Be Fully Informed
In fact, intentional disinformation is a disgraceful scourge in media today. So to assuage any possible errant incorrect information posted herein, we strongly encourage you to seek corroboration from other non-VT sources before forming an educated opinion.
About VT
-
Policies & Disclosures
-
Comment Policy
Due to the nature of uncensored content posted by VT's fully independent international writers, VT cannot guarantee absolute validity. All content is owned by the author exclusively. Expressed opinions are NOT necessarily the views of VT, other authors, affiliates, advertisers, sponsors, partners, or technicians. Some content may be satirical in nature. All images are the full responsibility of the article author and NOT VT.