Conspiracy of silence: American and European silence towards these atrocious Israeli crimes, even their absolute support of the racist government in Israel gave Israeli soldiers and settlers a free hand to kill, torture and run over unarmed Palestinian civilians.
By Dr. Bouthaina Shaaban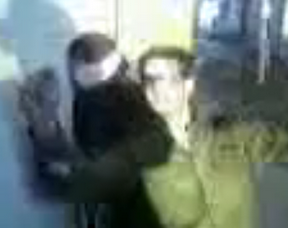 Seconds passed like eternity for a heart beating for freedom, a soul which fought against occupation and its humiliation and a body shrinking into itself trying to avoid 21st century brutality in a prison cell without door or windows. The body is thin and delicate, the head is covered with a scarf and the eyes are blindfolded in absolute absence of human conscience; while the monsters of the Western age in the land of Jesus Christ dance around their victim. Are these monsters dancing in celebration of kidnapping an Arab girl whose only sin is that she has fought for herself and her people's freedom? Or are they dancing in celebration of the death of world conscience which drawls human rights and freedom while turning its back on the most sacred cause of freedom in the 21st century – the freedom of the Palestinian people and its fight for salvation from Israeli terrorism perpetrated through Western support for over sixty years.
New chapter of the conspiracy of silence
Released prisoner, Ihsan Dababseh (24), tells the story of the video in which Israeli soldier Avi Yakobov, who abused her by performing a belly-dance and rubbing against her bound and blind-folded body in December, 2007 at the Gush Etzion military base. She says, "Another soldier brought a bottle of wine and asked me to drink". Minutes later, soldiers attacked her like frenzied wolves with gun butts. "One soldier kept hitting my head against an iron bar until I blacked out".
Ihsan Dababseh's story is only one of numerous daily stories in the lives of the eleven thousand Palestinian prisoners in the last apartheid regime in the world. Nevertheless, the 'civilized' world hardly remembers them, except when seconds of the suffering of one of them is leaked out. These are mere seconds of long years of torture and humiliation, without any protest on the part of the 'free' Western media, human rights organizations or the UN Human Rights Council, maybe fearing the fate of American anchor, Rick Sanchez, who was fired by CNN simply for saying that "Jews are not oppressed".
As a result of Western governments and media collusion with Israeli government terrorism, Israeli soldiers have arrested more than 90 Palestinian children in one month. The youngest, aged 13, was taken out of his family home by court order.
Human rights groups have revealed more than once that Israeli soldiers attack female prisoner inside their cells and force them to take off their clothes, subject them to humiliating inspections and force them to raise their hands from 9 in the morning to 3 in the afternoon.
Do Western politicians, who flatter Israeli war criminals like Benjamin Netanyahu, by calling Israel 'and oasis of democracy' know this? Why don't the Americans spread freedom and human rights in Palestine instead of supporting and funding torture, murder and settlement? Or do they view Palestinians as they viewed red Indians in America and the aborigines in Australia as people without human rights and whose life is not equal to human life?
American and European conspiracy of silence
American and European silence towards these atrocious Israeli crimes, even their absolute support of the racist government in Israel gave Israeli soldiers and settlers a free hand to kill, torture and run over unarmed Palestinian civilians. Their crimes have exceeded manifold those committed by the Apartheid in South Africa. They even exceeded Nazi brutality. This was the testimony of holocaust survivor on boat Irene which tried to break the Gaza blockade. He said, "what I suffered in the holocaust is largely similar to the suffering of Palestinian children today". This was also expressed by Amira Hass (Haaretz, 7 October 2010). She wrote, "Evidence? Explanations? Common sense? No need. They, after all, are paid a salary by the Israeli taxpayer in order to invent new kinds of punishment and torture. She adds, "today, the sense of shame has disappeared. Society's backing is assured".
On my part, I add that the sense of shame has disappeared because the silence of the 'international community' is assured, because none of the world leaders is 'free' any longer. They have become captive to the Israeli lobby which controls the Congress, the media and the election money. That is why no American or European leader, not even the United Nations, will ever condemn any crime against the Palestinians as long as the perpetrators are Israelis. Even when the victim of such aggression is the Nobel peace prize laureate, Mairead Corrigan-Maguire. The peace activist arrived in Gaza on board the ship Rachel Corrie (named after the young woman run over by Israeli bulldozers). When she returned to Bein-Gurion Airport days ago, she was detained by Israeli authorities in the same way they detained American thinkers Noam Chomsky and Norman Gary Finkelstein and Spanish artist Ivan Prado, secure in the knowledge that no one will dare criticize the Israeli apartheid regime for fear of being accused of anti-Semitism. Her crime was that several months ago she took part in a demonstration organized by the Bili'in villagers against the racist segregation wall and was twice on board ships to break the Gaza blockade.

The crimes committed with impunity by this racist entity against prisoners and peace, freedom, justice and human rights activists have gone so far largely because of the 'silence' of 'democratic' countries. It is true that Palestinian prisoners and activists are fighting for the freedom and dignity of the Palestinian people, but they actually embody the conscience of free people all over the world. Should we leave them in Israeli jails, as we have left Nelson Mandela in the Apartheid prisons for decades, and wait for their release and turning them into icons of freedom and dignity? Or should we start immediately to work for releasing all prisoners and for enabling them to live in freedom and dignity with their families in their homeland?
No human rights organization, or regime claiming concern for human rights and freedom will have any credibility as long as eleven thousand Palestinians suffer the scourge of a hateful criminal occupation, and as long as the world keeps silence regarding the atrocious crimes committed against them in Israel's Nazi prisons.
About the author of " conspiracy of silence"

* Prof. Bouthaina Shaaban is Political and Media Advisor at the Syrian Presidency, and former Minister of Expatriates. She is also a writer and professor at Damascus University since 1985. She's got Ph.D. in English Literature from Warwick University, London. She was the spokesperson for Syria. She was nominated for Nobel Peace Prize in 2005.
Until when will this conspiracy of silence go on?
[youtube pxFlmXbzY3I&feature=player_embedded Until when will this conspiracy of silence go on?]
Ashraf Ezzat is an Egyptian born in Cairo and based in Alexandria. He graduated from the faculty of Medicine at Alexandria University.
Keen not to be entirely consumed by the medical profession, Dr. Ezzat invests a lot of his time in research and writing. History of the ancient Near East and of Ancient Egypt has long been an area of special interest to him.
In his writings, he approaches ancient history not as some tales from the remote times but as a causative factor in our existing life; and to him, it's as relevant and vibrant as the current moment.
In his research and writings, Dr. Ezzat is always on a quest trying to find out why the ancient wisdom had been obstructed and ancient spirituality diminished whereas the Judeo-Christian teachings and faith took hold and prospered.
Dr. Ezzat has written extensively in Arabic tackling many issues and topics in the field of Egyptology and comparative religion. He is the author of Egypt knew no Pharaohs nor Israelites.
He writes regularly at many well-known online websites such as Dissident Voice and What Really Happened.
Dr. Ezzat is also an independent filmmaker. His debut film was back in 2011 The Annals of Egypt Revolution and in 2012 he made Tale of Osiris a short animation for children.
In 2013 his short The Pyramids: story of creation was screened at many international film festivals in Europe. And he is working now on his first documentary "Egypt knew no Pharaohs nor Israelites".
ATTENTION READERS
Due to the nature of independent content, VT cannot guarantee content validity.
We ask you to
Read Our Content Policy
so a clear comprehension of VT's independent non-censored media is understood and given its proper place in the world of news, opinion and media.
All content is owned by author exclusively. Expressed opinions are NOT necessarily the views of VT, other authors, affiliates, advertisers, sponsors, partners or technicians. Some content may be satirical in nature. All images within are full responsibility of author and NOT VT.
About VT
-
Read Full Policy Notice
-
Comment Policy