By Air Commodore ® Khalid Iqbal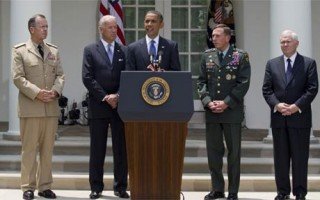 The NATO nations and their coalition allies agreed to the December 2014 date for ending military mission in Afghanistan, during the alliance's summit in Lisbon, held during the last month. Summit had laid down the broader frame work for ending the war. Hence, Presidential review was little more than a formality, just tweaking the strategy around the margins, filling flesh into the skeleton etc. The review comes at a time when civilian casualties are at their highest since 2001. This year has been the bloodiest for foreign troops, the US taking the brunt of casualties.
To coincide with the release of the review, in an apparent expansion of drone operations in Pakistan, a US drone killed seven persons in Tirah valley of Khyber Agency. This drone attack, the first one in the agency was carried out in Spin Drand village of Sipah area.
Aides to the president called the assessment a "diagnostic" one, meant to assess the trajectory and progress of the Afghanistan mission two years into Obama's management of the war. This review focused more on tenor than content. Basic assumption has been that the surge strategy has produced results; however the outcome is neither decisive nor durable. Accomplishments are inconsistent, potholed, and sluggish than what had been anticipated. "The momentum achieved by the Taliban in recent years has been arrested in much of the country and reversed in some key areas, although these gains remain fragile and reversible," the review maintains.
To time it with the Obama administration's Review of US war in Afghanistan, the 'Afghan Youth Peace Volunteers', along with 'Afghans for Peace', issued a review of their experiences titled: 'We Want You Out; We Want Peace'.
Obama's review is a compromise report balancing pressures from the military for more time to allow the troop surge to work and the pressure to show that administration is serious about closing down the war. Republicans have been urging to not to withdraw troops on an arbitrary timeline; whereas many anti-war Democrats have been calling for a more rapid withdrawal of American troops. Obama administration is aware of diminishing tolerance among Democrats for the Afghanistan war.
Though review described the gains tentative and uneven, it reiterates may what come, the drawdown will begin in July 2011. The review says President Obama's military strategy is "setting the conditions" for a reduction of US forces beginning in July 2011, but how many soldiers will actually come home next July remains an open question; it is likely to be only a symbolic number; and withdrawal will be "conditions" based.
Review describes both progress and challenges only in general and restrained terms, avoiding outright criticism of Pakistan and the Afghan governments. It points to a handful of areas where the influx of American troops has had an impact. For instance, night raids by Special Forces operatives and increased security measures in local villages are projected as having reduced the overall Taliban influences in the Taliban heartland of Kandahar and Helmand provinces.
Obama wants to continue with broad counter insurgency strategy, focused on protecting the population, while intensifying military pressure on insurgents. However, trouble persists, and may even snowball.
Review said that the United States continues to kill leaders of Al Qaeda and diminish its capacity to launch terrorist attacks from the region, it has halted or reversed inroads by the Taliban in Afghanistan and strengthened the ability of Afghan forces to secure their country, but acknowledged that the gains are fragile and could be easily undone unless more progress is made towards hunting down insurgents operating from havens in Pakistan. Report did not mention names of Al Qaeda leaders captured or killed.
"There has been significant progress in disrupting and dismantling the Pakistan-based leadership and cadre of Al Qaeda over the past year," the report said. "Al Qaeda's senior leadership has been depleted, the group's safe haven is smaller and less secure, and its ability to prepare and conduct terrorist operations has been degraded in several ways." But those gains appear dwarfed by the challenges that remain, particularly in Pakistan, where "the denial of extremist safe havens will require greater cooperation with Pakistan along the border with Afghanistan," the review said. "Furthermore, the denial of extremist safe havens cannot be achieved with military means alone, but must continue to be advanced by effective development strategies."
Report says that American counterterrorism operations, including unmanned drone strikes, have been particularly effective in targeting Al Qaeda and Taliban insurgents in the border regions. No mention has however been made of loss of innocent lives and infrastructural damages resulting from disproportionate use of force by drones against indiscreetly selected targets. Nor an offer has been made for compensating the non-combatant effectees of the drone menace.
While the overview appeared to take pains not to specifically criticize the Pakistani government, frustration has been expressed over Pakistan's willingness to hunt down insurgents operating from havens on its Afghan border. Just as it did not single out the Pakistani government for criticism, the overview does not overtly criticize the Karzai government, reflecting the administration's realization that its previous tactic of overt public pressure had often backfired.
Though administration officials privately say that corruption in the Afghan government has continued to flourish, the report appears to skirt the issue. "Emphasis must continue to be placed on the development of Afghan led security and governance within areas that have been a focus of military operations". The review warns that the strategy's success will hinge on the ability of the Afghan government to take over responsibility. "A major challenge will be demonstrating that the Afghan government has the capacity to consolidate in areas cleared by ISAF and Afghan Security Forces."
Report indicates that the Afghan army has exceeded growth targets set by NATO and American military officials, and training of the Afghan forces who are expected to take over the lead from American and NATO troops. However, it ignores the facts that despite the growing numbers, quality of a typical Afghan soldier is poor; composition of the security forces is not a mirror reflection of national demographic profile. Motivation of individual soldiers as well as public acceptance and performance of the Afghan forces, as an institution, is in quandary. However, review mildly acknowledges that Afghanistan's army and police will not be able to take over responsibility for security until at least 2014. It may take even longer before the government ministries are capable of providing even basic services.
Two recent classified intelligence reports offer a negative assessment, saying that although there have been gains for the United States and NATO in the war, the unwillingness of Pakistan to shut down militant sanctuaries in its lawless tribal region remains a serious obstacle. American military commanders say insurgents freely cross from Pakistan into Afghanistan to plant bombs and fight American troops and then return to Pakistan for rest and re-supply.
Toll of nine years of war has eroded the Afghan and American public support for the ongoing counterinsurgency effort. Latest polls by western news outlets find that around 55% of Afghans want occupation forces to leave the country as soon as possible. Nearly 75% respondents wanted to immediately end the war by negotiating with the insurgents.  Likewise, a record 60 percent of Americans say the war in Afghanistan has not been worth fighting, according to a new poll which coincides with the Obama administration's review of its strategy. Only 34 percent in the latest ABC News/Washington Post poll say the war's been worth fighting,
A common Afghan thinks that the focus on security needs and the needs to field local forces to fight the Taliban has come at the expense of focusing on corruption. Sanjar Sohail, the editor of a daily newspaper in Kabul, points out that although documents released by WikiLeaks reveal a deep concern over graft and foul play within Karzai administration, that hasn't resulted in decisive action to confront the problem. He further opined that "People here think that international troops have brought this government to power and support it, and at the same time close their eyes to the bad activities of their Afghan partners."
In a significant departure from the military manuals spelling out the counterinsurgency strategy, Americans have been spending around 3% on civilians sectors of nation building against the laid down scale of 80%. This has translated into serious inadequacies of infrastructure and glaring shortfall in institutional capacities.
As regards conduct of military operations in Afghanistan, recent American intelligence appreciations offer dim prospects of American success. These reports say that although there has been progress in the war, Pakistan's unwillingness to shut down militant sanctuaries in its lawless tribal region remains a serious obstacle.
US military commanders and senior Pentagon officials have criticized these reports as dated and written by Washington based analysts who have spent little time in the war zone. While US military officials boast of significant gains in the militants' southern strongholds in recent months, they caution that it won't be possible to fully gauge the impact until fighting picks up again in the spring. And even in the best-case scenario, it will still take at least four more years to complete a full handover to Afghan security forces.
David Swanson has reported that when late Holbrooke was asked at a US Senate hearing earlier this year that what in the world he was doing and toward what end in Afghanistan, he repeatedly failed to produce an answer. That could explain his deathbed conversion and his final words to his surgeon: "You've got to stop this war in Afghanistan."
WikiLeaks have further enhanced the political baggage of drone attacks for Pakistan's political and military leadership. These attacks have pushed Pakistan into a very difficult situation.  Suicide bombing incidents are a direct military reaction to drone attacks. Pakistan government can curtail suicide attacks if CIA stops these drone attacks, which are anyway extra- legal, touching the boundaries of war crimes. Drone attacks have dramatically eroded the public support for American war effort; dissenting voices even from within America are snowballing at a pretty fast pace.
The review examines the progress in the US relationship with Pakistan, which is called "substantial, but also uneven." It says the two countries targeted al Qaeda in six of Pakistan's seven agencies of the Federally Administered Tribal Areas, the region that borders Afghanistan. It also notes that the gains came at a great cost to Pakistan, which endured military and civilian casualties from terrorist attacks. "Better balance and integration of the various components of our strategy will be required to reach our objectives. For instance, the denial of extremist safe havens will require greater cooperation with Pakistan along the border with Afghanistan."
Although the review points to combat gains, TX Hammes, a retired Marine colonel and senior research fellow at the National Defense University says, "Tactical success doesn't have any impact if you have strategic failure." "What do we think is going to change at the strategic level between now and 2014 that will translate this tactical success into some kind of strategic success," he asks. "You go back to the two major questions — will Pakistan change in a major way by 2014 and will the [Afghan] government change the way it operates before 2014?" If the answer to those questions is no, Hammes says, it's not time for another progress report. It's time for a new strategy.
Hammes indeed offers a food for though. A dual track approach by the occupation forces focused at decimating the Taliban while at the same time wooing them for political dialogue is not likely to bring any change the way Pakistan and Afghanistan would operate in 2014.
While America is losing the Afghan war, it is finding excuses to blame Pakistan on one pretext or another. It is time for Pakistan to carry out its own review of Afghan policy, and distance itself from the US on those points where it does not have convergence of interests. With the expanded public knowledge due to Wikileaks saga, people of Pakistan are better informed on Afghan war affairs.  It may no longer be tenable to continue with the existing policy that is largely viewed as an instrument of appeasing America at the cost of mid-to-long term national interests. A handle on drone operations should be the top priority item for the military and political leadership of Pakistan.
Air Cdre Khalid is Masters in Political Science along with War and Strategic Studies. He has also done Air War Course, Fellow of Air
War College. Instructor's Course. Senior Command & Staff course. Combat Commander's Course. He has been a Directing Staff at various institutions of Pakistan Air Force. Presently he is a visitng faculty at:
PAF air War College (Staff Wing &War Wing).
School of Army Air Defence.
Naval War College, Lahore.
Quaid-i- Azam University (DSS Department).
He is a regular contibutor to Opinion Maker and Member Board Of Advisors
ATTENTION READERS
Due to the nature of independent content, VT cannot guarantee content validity.
We ask you to
Read Our Content Policy
so a clear comprehension of VT's independent non-censored media is understood and given its proper place in the world of news, opinion and media.
All content is owned by author exclusively. Expressed opinions are NOT necessarily the views of VT, other authors, affiliates, advertisers, sponsors, partners or technicians. Some content may be satirical in nature. All images within are full responsibility of author and NOT VT.
About VT
-
Read Full Policy Notice
-
Comment Policy