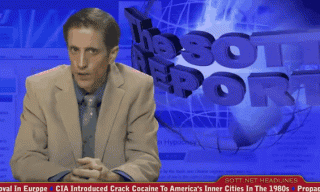 FBI RECRUITS TERRORISTS, PLANS ATTACKS
Introduction by Gordon Duff, Senior Editor
Joe Quinn of www.sott.net sticks to the facts.  His video report on FBI complicity in terrorism is dead on.  Video's like his or Tony Lawson's are some of the best tools we have for demonstrating the numbing effect of the incessant fabrications, lies and propagandizing the press in the United States has sunk to dishing out.  There is no lower position in American society, no more criminal act one can perform than to be a paid journalist.  There is no more ignorant and cowardly group than the press with a few, very very few exceptions.
[youtube lgFBj-epzdo&feature=player_embedded]
Joe Quinn, Helen Thomas, Phil Giraldi, the crew at VT, Salem News, Jeff Rense, these are pretty much all that is left for America.  With 4/5ths of Americans now getting their news from the internet, the work done there is vital.  The corrupt media, corruption is an understatement, let's admit it, the "criminal media" gets billions each year.  Their masters, the thinly veiled military dictatorships of the United States, Israel, Britain, Germany.
Their job?  They sell lies and have fed a destructive machine that has led to the murder of millions of innocent people at the hands of the American military.  By military, we mean our own troops, the ones we support, the ones that become the veterans that we protect and fight for.  For decades, the world has pointed a finger at Israel as a murderous dictatorship, continually voting sanctions that are blocked by an American veto in the UN Security Council.  American citizens have been told that "communists" or "terrorists" control the countries voting against Israel, countries making up 70% of the earth's population.
If we would believe that we would go further, and we have.
Everything Israel was ever accused of, America has now done more, under the guise of the "war on terror."
The facts are simple, once you become free of the disease that decades of lies have drummed into your subconscious.  Osama bin Laden worked for the CIA and died in 2001.  He was never involved in 9/11. There is no such thing as Al Qaeda.  There are no terrorists in Afghanistan, never were.  There was no bunker complex at Tora Bora and no training camps in Afghanistan.  Has anyone seen a photo of one?  Google.  See what comes up.
It is the duty of every American, every free person to learn a simple and clear lesson.   Learn about the USS Liberty, an American ship attacked, slated to be sunk and the crew murdered, part of a deal between Israel and America in 1967.  The facts are there.  The lies are all in the open.  The Medal of Honor winning captain "rats out" the whole thing.
Then you will be able to understand 9/11, why Jesse Ventura was able to pull witnesses and science together to debunk the Pentagon attack and how Geraldo Rivera was able to debunk the WTC  Building 7 attack.
We now hear that the 7/7 attack in London is also debunked, more governments killing their own people because "terror war" is big bucks.
All the proof,all the hard science is always on the other side, never with the government, never with the "criminal media."
The American public has been conditioned just as Goebbel's conditioned the Germans.  Jews in America now vote for candidates that have always been anti-Semites and closet Nazis.  Working people vote for candidates that send their jobs overseas.  Gun owners vote for candidates that overturn their own rights to own guns.  Americans have voted themselves into endless war, a police state they all hate and a corrupt political system they despise.
They voted this way because the criminal media told them to.  They never asked.
Gordon Duff posted articles on VT from 2008 to 2022. He is a Marine combat veteran of the Vietnam War. A disabled veteran, he worked on veterans and POW issues for decades.
Gordon is an accredited diplomat and is generally accepted as one of the top global intelligence specialists. He manages the world's largest private intelligence organization and regularly consults with governments challenged by security issues.
Duff has traveled extensively, is published around the world, and is a regular guest on TV and radio in more than "several" countries. He is also a trained chef, wine enthusiast, avid motorcyclist, and gunsmith specializing in historical weapons and restoration. Business experience and interests are in energy and defense technology.
ATTENTION READERS
Due to the nature of independent content, VT cannot guarantee content validity.
We ask you to
Read Our Content Policy
so a clear comprehension of VT's independent non-censored media is understood and given its proper place in the world of news, opinion and media.
All content is owned by author exclusively. Expressed opinions are NOT necessarily the views of VT, other authors, affiliates, advertisers, sponsors, partners or technicians. Some content may be satirical in nature. All images within are full responsibility of author and NOT VT.
About VT
-
Read Full Policy Notice
-
Comment Policy