WOW: Israel Shamir Works for Wikileaks – And He Did Not Tell Us About This When He Called Us 'Denier'!
By Zahir Ebrahim | Project Humanbeingsfirst.org
My response to the unexpected confirmation that ASSANGE & SHAMIR – DISINFORMATION AGENTS?, is reproduced below. This case once again underscores the fact that the beleaguered public, wildly searching for leaders and guidance among the alternate media and the various dissent-chiefs who dominate it, simply cannot trust anyone to be who they claim they are just because they play dissent. See my report Manufacturing Dissent. As also my recent discovery concerning the famous rebel-author on banking reform, Ellen Brown, J.D.!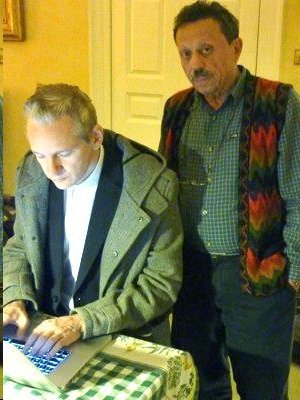 While dissent-chief extraordinaire, recovering former Israeli Military Occupation Forces Russian-Jewish soldier for Zion, turned Swedish-Christian pacifist-soldier for Jesus, a favorite of many beleaguered Muslims, speaker to many an audience worldwide, Israel Shamir's bizarredom is cogently explained by this new revelation of his association with Julian Assange, Ellen Brown's bizarre statements: "Of course the oligarchy is the problem, but that doesn't mean we can't steer the Fed. Bernanke drives a Ford Falcon. I think he's one of us!", and "the U.S. is the last holdout, and the Fed is what's holding us out. Bernanke is standing up to the Gnomes of Zurich and Basel", still remain inexplicable. Are these two secretly friends too?
This explains much to me. Thanks [to blogger writing under the nom de plume aangirfan] for discovering the references that Israel Shamir actually works for Wikileaks!
I was initially very surprised when Israel Shamir, with whom I had corresponded a few times over the years, mentioned my name in one of his articles along with others, and wrote:
'Theirs are familiar and respected names of the free web: F. William Engdahl, Gordon Duff, Zahir Ebrahim.'
'They are not to be accused of collaboration with Pentagon and the CIA.'
And then he went on to strangely label me a "denier":
'A second denier, young Pakistani intellectual cum American Ivy League graduate Zahir Ebrahim, writes: "The core-lies retained in the Wikileaks' disclosure is to once again reaffirm that there is a real nemesis called "Osama Bin Laden", that the "war on terror" is real, that it is being inflicted upon the West from the Pakistan-Iran nexus, in order to re-substantiate the handoff of former President George W. Bush's clairvoyance to the Obama Administration that "If another September 11 style attack is being planned, it probably is being plotted in Pakistan, and not Afghanistan"!

Zahir makes the same mistake. The files are the reports of what US officials believe or claim to believe. I'd ask Zahir: if you were to get hold of all reports sent from and to Afghanistan, would you censor them to remove ideas and names that are not to your liking? Remember, these are not files from God Almighty, this is the kind of stuff that spooks and soldiers write, and it naturally reflects their view of the world. So it is not "core-lies", but "core-truth": US officials express under the stamp of "top secret" the very same views they openly espouse.'
I couldn't believe this load of crap – he first published it in the article titled "Wikileaks: The Real Stuff" (subsequently also published under other titles I believe), and then forwarded it to me and others mentioned for comment without disclosing that he actually worked for Wikileaks (!!)
While I had him pegged as a disinfo artist immediately, I couldn't really grasp his motivation.
Why would a stellar dissent-chief coasting on his reputation with a loyal following of sycophant (like all other dissent-chiefs) be so stupid as to believe any of that Wikileaks business when it was all so transparent, and he was supposedly a very learned person with command of this and that, and all that? But Chomsky and Ellsberg believed it too – and I already knew them to be controlled dissent. So, since a man is known by the mantras he echoes, was Israel Shamir too one of them? How did that transpire – for it wasn't at all obvious from what little I knew of his background. I had in fact met him at Stanford University many years ago when he came there to give a talk, and I had come away rather impressed by the metanoia of this fellow, even mentioning his metanoia in one of my essays.
The fog is lifted here, just by looking at the photograph above!
Zahir Ebrahim | Project Humanbeingsfirst.org
January 19, 2011 Comment for: http://aangirfan.blogspot.com/2010/12/assange-shamir-disinformation-agents.html
ATTENTION READERS
Due to the nature of independent content, VT cannot guarantee content validity.
We ask you to
Read Our Content Policy
so a clear comprehension of VT's independent non-censored media is understood and given its proper place in the world of news, opinion and media.
All content is owned by author exclusively. Expressed opinions are NOT necessarily the views of VT, other authors, affiliates, advertisers, sponsors, partners or technicians. Some content may be satirical in nature. All images within are full responsibility of author and NOT VT.
About VT
-
Read Full Policy Notice
-
Comment Policy