Could this be the beginning of the monsoons I've heard so much about or just one of those sporadic downpours? Our barracks were constructed a little like corn cribs. The exterior walls had open slated wood siding backed with screen on the inside. The corrugated tin roofs had large overhanging eaves and midway between the first and second floor was another eave extension to protect the lower level from the downpours. But the large overhanging eaves did nothing to protect your "stuff" from the horizontal rains. The rain came through one side of the barracks and out the other side. Trying to stay dry was not an option.
May 10, 1970 Danang, VN
Dear Mom and Dad,
Today was my day off and the BX was closed so I went to the library and some then got a haircut. I later went to the China Beach USO with some of the guys and messed around there for awhile. It really poured rain. I've never seen any rain come down that bad. The rain blew through the barracks and soaked my bed on the other side. Now everything is wet and humid. I was supposed to get $224 for the month but only got $155. I found out I won't start drawing my Sgt's pay until August. They'll owe me $1,000 in back pay. I can't stand this service every time you turn around you have to fight them. My checks also aren't going to the bank like they are supposed to either.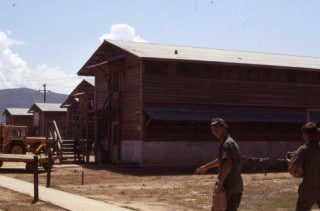 Again I find myself longing to return to the "World". Maybe it's the boredom of the constant rain that puts me into this state of mind. Also I'm gaining a thorough mistrust of the service between the lies we were told about creating a diversion to save POWs all while we were invading Cambodia and the incapability of getting my pay right.
May 11, 1970 Danang, VN
Dear Mom and Dad,
I listen to the radio every night when I get back to the barracks. When they play the songs from '65 through '68 it really makes me homesick for the old times. I'm sending away to PACEX to order my reel to reel tape deck. I also ordered an 8-track recorder to send home. Boy, are they sneaky about setting the time bombs we load. At Cam Ranh they set all the bombs for the same time delay. Here at Danang all twelve bombs are set to go off at different times with one bomb set to explode right away as a spotter bomb. Well it's 2:00 am and I have to get up early to go argue with the guys at finance.
At some point in time the war started to create a kind of numbness in my mind. The distant rockets were no longer a threat and I find I can even sleep through the sound of the sirens.
May 13, 1970 Danang, VN
Dear Mom and Dad,
I read in the Stars and Stripes that Danang got hit pretty hard last Friday night by rockets. They must have hit downtown or the other side of the base because I slept right through it. It's hard to believe it, but you start getting used to hearing the rockets going off and if they don't have that crack sound you know they are far away enough that you are safe.
The rain and the heat continue to fuel the boredom and the longing for home. The boredom wears on my mind and makes holding any kind of thought for any length of time difficult.
May 15, 1970 Danang, VN
Dear Mom and Dad,
I usually manage to get the Stars and Stripes every couple days or so. They are always behind what is happening in the States but usually cover just about everything that is happening. I've been watching the temperature in LA and it seems to jump around a lot. Here it always seems to stay the same hot and wet. When I get back home I would like to go out and just lay in the grass. All we have here is jungle foliage. No grass, anyway not like home. It's been raining here for the past week. You can get sun burned up to 3PM then the storm starts rolling in. A thousand thoughts run through my mind during the day but when it comes to writing a letter I seem to forget about all of them.
Getting packages from home always cheer up my spirit. And I found a place to listen to real stereo music. No matter how many transistors your radio might have it is still a transistor radio. I also started conversations with the pilots and found that we all have something to share.
May 18, 1970 Danang, VN
Dear Mom and Dad,
I received the care package yesterday. Thanks. I made an appointment to go tape some music at 6:00 tonight at the tape center. A lot of the tapes are in pretty bad shape but I managed to find a few good ones. It's nice to listen to stereo music instead of the transistor radio. I figured I could order my speakers and turntable this month. We were hit again last night and again this morning. But the explosions sounded faint because of the sound of the rain. I was talking to a pilot the other night and he was asking some questions about the bombs loaded on his plane. Then all of a sudden he asked me where I was from. He is from San Francisco but was stationed at San Bernardino. He said he figured I was from California.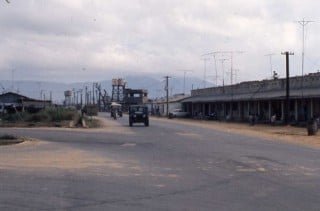 I was surprised how quickly I could move when the rockets started coming in but at the same time I felt like everything was moving in slow motion. Watching the rockets burse as they hit the ground reminded me of fireworks on the 4th. All while the danger is eminent there also seems to be a certain level of euphoria. I don't know how else to describe it.
May 21, 1970 Danang, VN
Dear Mom and Dad,
We were hit again tonight while I was working on the flightline. I saw the first rocket hit and jumped under the wing tank of a plane. From there I could see the other three rockets hit the runway and another hit in the area of the A-1 Skyraiders (prop jobs) and may have gotten one of them. When the rockets hit they send out a canopy of red sparks from the shrapnel. They were about 100 yards away from where I was. I thought you might hear something about the attack so I thought I would write to let you know I am ok.
I came close to being a victim of friendly fire but couldn't tell my parents about it. Rocket attacks are one thing but it's another when the VC actually make it on base. Everyone's senses are keyed up and we are all on full alert. It was pitch dark and I was running back to the shop to get more safety pins for a bomb load. I rounded a corner of one of the revetments and came face to face with a 12 gauge shotgun leveled at my chest. It was at that moment that, again time stood still. I can only say I was very lucky that the Air Policeman did not have a quick trigger finger.
May 23, 1970 Danang, VN
Dear Mom and Dad,
Sorry I haven't written more often in the last few weeks. It seems like I start a letter but can't finish it. I also try to read but find myself picking up the book and putting it down. I don't know what the problem is. They caught three VC on base last night, right in the area where we were loading bombs. They call them sappers because they set satchel charges in and around areas that will do the most damage. Already starting to think about R&R and where I'm going to go, thinking about Australia. The rash between my legs is finally going away but now it's breaking out under my arms. If we could just get some cool weather maybe we could stop sweating.  Nothing seems to help it go away. If you know of something better than baby powder could you send it?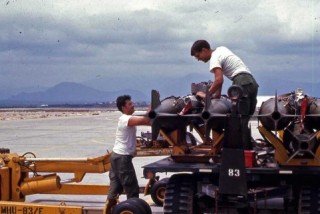 Will there ever be an end to this rain and heat? I'm tired of the constant sweating and rashes that come with it. I'm also tired of the lifers. Maybe it is that they, being lifers, become an object of my growing distaste for the military. Either way I'm not going to let them get the best of me.
May 27, 1970 Danang, VN
Dear Mom and Dad,
We had a pretty good rain storm here again today. It looked like tornado weather. A section of the sky is full of dirt, a brown color. It knocked trees over. The storms come up all of a sudden. It can be clear and sunny until the storm hits. I've changed my attitude towards lifers. They can't do or say anything that will bother me anymore. I just smile and keep on doing what I do. What can they do, send me to Vietnam? I'm doing fine.
ATTENTION READERS
We See The World From All Sides and Want YOU To Be Fully Informed
In fact, intentional disinformation is a disgraceful scourge in media today. So to assuage any possible errant incorrect information posted herein, we strongly encourage you to seek corroboration from other non-VT sources before forming an educated opinion.
About VT
-
Policies & Disclosures
-
Comment Policy
Due to the nature of uncensored content posted by VT's fully independent international writers, VT cannot guarantee absolute validity. All content is owned by the author exclusively. Expressed opinions are NOT necessarily the views of VT, other authors, affiliates, advertisers, sponsors, partners, or technicians. Some content may be satirical in nature. All images are the full responsibility of the article author and NOT VT.