British Brimestone anti-armor missiles well suited for task of destroying Gaddafi armor with minimal civilian risk.
This is a real war versus the propaganda war piece today. Since the No Fly Zone went into effect over Libya, Gaddafi has really only played three cards.  First has been the gracious sacrificing  of his besieging armor and troops along the coast road towns to coalition air attacks, the ole' rope-a-dope strategy.
And second, he has been calling in his markers with the African Union potentates  where he has spread around a lot of cash, and probably offering a lot more to anyone who can save his bacon. Looters of a feather, flock together.
The lastly, compliments of Putin, the Turks, and the double dealing Gulf despots, was the civilian casualties Hail Mary pass.  But Gaddafi forgot to hire Michael Moore to do the staging for for that.  His civilian casualty charades are the laughing stock of the international press corp. I will have  piece later this weekend to show you what real civilian casualties look like, and it will not be pretty.
To our anti-war, anti-imperialist, anti-America hater liberal friends who have also jumped on the Gaddafi  victim train, you are going to have to eat some crow. When the video crews get into places like Ajdibaya, Misarta, Zinwad, and eventually Zawiya, you are going to get a little formal education as to who the bad guys are. And your goodie goodie credibility is going to be down the tubes, by your own hand.
Gaddafi thought that he could work the bogus civilian casualty con to pull the ancient divide and conquer game on the coalition, NATO, Gulf States, and the African Union.
But time may not be on his side, and the make believe civilian casualties won't be either. And that will be compliments of the evil crusader and former colonialist power taxpayers. They are funding with borrowed money the precision guided weapons and platforms  to save civilian lives, where Gaddafi is is left to producing mainly theatrical victims.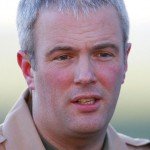 Wing Cmdr. Andy Turk put some nails in Gaddafi's coffin last night. They were special nails…Brimestone anti-armor missiles. These are roughly 120 pound fire and forget weapons, not requiring a laser beam fix to hit their target. Because they penetrate the armored vehicle before exploding they are very low collateral damage weapons. These were payback for the Gaddafi troops who felt that using tanks on civilians was a good fight.
Nicholas Cecil,  had the story up in the London Guardian today.
Hero pilot: Wing Commander Andy Turk
A hero airman today told how a British fighter jet destroyed several of Colonel Gaddafi's tanks to stop them massacring civilians
Wg Cdr Andy Turk, Tornado GR4 navigator, was in the first aircraft to fire Brimstone missiles last night at the regime's armoured vehicles near Ajdibaya.
He said: "An earlier sortie had identified armoured vehicles in an area near a town. We were tasked to go to the area and flew across and fairly quickly found a tank by the side of the main road away from any major built up areas."
"We targeted it with the dual-mode seeker Brimstone missile and identified it as a T72 tank. "It was stationary but warm with its barrel pointing towards a town. Having ensured there were no civilians in the vicinity we fired a missile and guided it using the Listening targeting pod on the Tornado.
"The missile hit and penetrated the armour. There were secondary explosions which I believe were fuel and ammunition on board the tank."
Soon afterwards the British planes identified another T72 tank nearby which threatened the town. "My wingman fired his missile with a direct hit again," said Wg Cmdr Turk.
"We then carried out some further investigations to make sure the rebels were not being out flanked by pro-regime forces and once we were confident with that we returned to scene of the first attacks where we found a third T72 tank. During this attack there were civilian vehicles driving in the vicinity so we aborted our attack until they were clear and then destroyed the tank. This was followed by the fourth and final attack which was again successful."
Rebel forces were then seen attacking the tanks which had been hit by British air strikes.****
Next up are some text firing videos of the Brimestones.
[youtube YeIdeZzuoEA]
[youtube q5uPsUCU7Nk]
And for those of you who think taking out enemy assets like this is a sport game, in this next short video you will watch two bomber crews die very quickly due to a mistake of a few feet. I knew right away what happened as soon as I saw it. To get them all in the camera shot for the promo film they were shooting, they took off much closer together than they were used to…and died for the mistake.
[youtube q4j1fmrgYg8]
With this last video Veterans Today salutes all the airmen who never came home. Dying in a tank is usually a quick death, but in a plane you can get it quick… or slow, by riding it all the way down if you are too wounded to jump.
[youtube 1oav6I0DcfY]
Jim W. Dean is Managing Editor of Veterans Today involved in operations, development, and writing, plus an active schedule of TV and radio interviews.
ATTENTION READERS
Due to the nature of independent content, VT cannot guarantee content validity.
We ask you to
Read Our Content Policy
so a clear comprehension of VT's independent non-censored media is understood and given its proper place in the world of news, opinion and media.
All content is owned by author exclusively. Expressed opinions are NOT necessarily the views of VT, other authors, affiliates, advertisers, sponsors, partners or technicians. Some content may be satirical in nature. All images within are full responsibility of author and NOT VT.
About VT
-
Read Full Policy Notice
-
Comment Policy