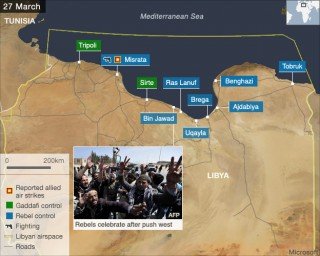 The Coalition and Gaddafi and Sons are holding their cards close to their vests.
The diplomatic process of bringing everyone on board the UN resolution dragged the process out to where France had to jump the gun on the initial airstrikes because Gaddafi had launched an armored attack on Bengahzi last Saturday morning.
The attack was thrown back and the retreating columns destroyed by the French planes. But we also observed that the defecting Benghazi brigade was nowhere to be seen on video clips of that fateful Saturday morning.
On Feb. 25 th VT staked our flag in the sand that Gaddafi and Sons required a decapitation strike on their command and control centers, and their Air Force neutralized. If they were allowed time to deploy their heavy weapons and imported mercenaries, thousands of civilian Libyans would be killed.  I followed up with a ' VT was right' article on  March 11th,  after Tripoli had launched it's counter attack and the diplomats dithered.
A stalemate then ensue where Gaddafi tested the resolve of the coalition to absorb his claims of high civilian casualties from the No Fly Zone strikes, and his Abjadiya troops fought off the advancing rebels for over a week with their heavy weapons, technically one armed force against another.
During this time Tripoli claimed to be under the cease fire while attacking Zinwad in the west and Misrata in the east, the big port city, while some of the UN and NATO parties reacted to Gaddafi's claims of civilian causalities. Of course the ones he was inflicting were of no concern to them.
But then on March 26th, my article on the British Tornado Brimestone missile anti-armor strikes on Abjabiya broke the stalemate by making the Tripoli attacking forces fair game for coalition air-strikes.
Gaddafi troops pulled out of Adjabiya when their heavy weapons were destroyed in one day of concentrated strikes.
During the next two days, Brega and Ras Lanuf were abandoned with Gaddafi's people leaving their weapons and ammo behind, along with their uniforms. They no longer wanted to deal with the Brimestones from the sky.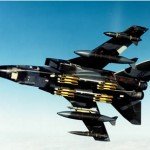 As I type Misrata is still under attack with Gaddafi forces inside the city with armor, betting that the Coalition planes will not attack them there. We have reports today that Gaddafi supporters from Sirte are already retreating toward Benghazi. Tripoli claims the Coalition has 'sided with the rebels by providing them air support'.  Somehow they cannot connect the dots that his forces still attacking civilians areas with heavy weapons puts his forces in a shooting gallery.
The next big fight will be for Misrata, which could turn into a big city street fighting mess. The rebels still have not anti-tank weapons that we know of.  With Monday night set up for the Obama speech, I had my suspicions that our brass told him they would have Gadaffi's forces pushed back to Tripoli pretty much by then, to set the stage for an American leadership withdrawal, and move the resolution into the Nato and political arena.
The rebels will control most of the oil production and export facilities, and hope-fulling Misrata which is the main container shipping port. Tripoli will be cut off…the kind of situation you want to encourage his own folks to do their own regime change. They will know the clock is ticking.
Gaddafi is a wild card though. He can bluff with a high civilian casualty fight for Tripoli, which he knows the Allies don't want. Defending himself on war crimes charges in the Hague is not on his to do list. We hear today that such proposals are already being floated.  Whether his entourage will want to be left holding the bag while he leaves remains to be seen.
Qatar, the only Arab country to put any planes into the No Fly Zone force, miraculously is going to be handling the marketing of the National Council oil exports. They claim these can increase from 100 to 300,000 barrels a day in a week or so. Cash they will have.  So they will be able to play a waiting game while Gaddafi tries to wiggle out. But they are on record that they will not negotiate with Gaddafi and Sons.
Tripoli under cover agents in Benghazi have been assassinating prominent rebels for weeks now so there is lots of bad blood. And when the media gets into cities like Misrata, Zinwad and eventually Zawiya, the horror stories that are going to come out of those besieged people are going to inflame passions even more.
The refugee pressure on Italy will have the Europeans wanting to avoid a million refugee fleeing north on anything that will float, including anyone from Africa that can make it to the coast. Tunisians are still taking advantage of the situation to leave, despite the successful and generally violence free revolution. But who knows, the rebels might offer them safe haven in their areas, and a cut of the oil revenues to blunt the expected exodus.
So I formally bet you all that Obama uses his speech as successful swan song for the American leadership up to this point where the heavy lifting was done….and turn resolution (and ownership) of the political or military outcome from this point to the other parties. It is their backyard. They buy most all of the Libyan oil. The refugees are their problem, etc.  Right now, after only a week of the No Fly Zone, it has been a cheap deal for the coalition.
Will Gaddafi play a game of chicken with them now, effectively holding the possible carnage of Tripoli as his ace in the hole, ie., "if I don't get out of here in one piece, neither will you politically."
He obviously is going to want an immunity pass for he and his sons. Or will his lieutenants trade them to the Allies for their own free pass?  Expect some heavy wheeling and dealing.  If I were a mercenary, I would be wanting to get paid at the end of each day.
ABOUT THE AUTHOR: Jim W. Dean is Managing Editor and Staff Writer at VT. Read Full Bio.

ralph lauren coupon
sears coupon code
paper mario 3ds
chase banking online
national labor relations act
boulder running company
spinal muscular atrophy
maple grove community center
art in the streets
test flash player
Jim W. Dean was an active editor on VT from 2010-2022.  He was involved in operations, development, and writing, plus an active schedule of TV and radio interviews.
ATTENTION READERS
We See The World From All Sides and Want YOU To Be Fully Informed
In fact, intentional disinformation is a disgraceful scourge in media today. So to assuage any possible errant incorrect information posted herein, we strongly encourage you to seek corroboration from other non-VT sources before forming an educated opinion.
About VT
-
Policies & Disclosures
-
Comment Policy
Due to the nature of uncensored content posted by VT's fully independent international writers, VT cannot guarantee absolute validity. All content is owned by the author exclusively. Expressed opinions are NOT necessarily the views of VT, other authors, affiliates, advertisers, sponsors, partners, or technicians. Some content may be satirical in nature. All images are the full responsibility of the article author and NOT VT.