By Jim W. Dean STAFF WRITER/Editor
The Guardian reports today that Italy's foreign minister is trying to broker a deal. It seems Italy's being left holding the bag by the EU on the refugee problem has encouraged them to go it's own way diplomatically with finding a retirement home for Mr. Gaddafi.
If a long struggled ensued between Tripoli and the rest of Libya, the refugees,  both the war ones and those riding it's coat tails would continue to flood out of the country. What I can't figure out though is where are they going to get all the boats.
"Gaddafi must understand that it would be an act of courage to say: 'I understand that I have to go'," said the Italian foreign minister, Franco Frattini. "We hope that the African Union can find a valid proposal."
Refugees are already being offered over $2000 by the Italians to go home.  It looks like the Italian taxpayers, despite their public debt being 118% of GNP,  are taking it in the neck. Hey, but what the heck…it's only money, right?
In my last piece I mentioned that this could turn into a game of chicken with Gaddafi and the Coalition. With Europe floundering under a huge debt load, having an American Oklahoma land rush scramble of African refugees pouring THROUGH  Libya to Europe's shores is not something they want to add onto the 'to do' list. Muslim immigration is already a huge socio-political problem.
Egpyt and Tunisia can't be too happy with the prospect of a long drawn out knock down fight for Tripoli. Tripoli's foreign minister Moussa  Koussa slipped across the Tunisian border through the Ras Jedir crossing on what was described 'a private visit'.  Ah….sure.
Libyan Refugees

The move came amid mounting diplomatic and military pressure on Gaddafi as Britain tries to assemble a global consensus demanding he surrender power while intensifying air strikes against his forces. An international conference in London – including the UN, Arab states, the African Union, and more than 40 foreign ministers – will focus on coordinating assistance in the face of a possible humanitarian disaster and building a unified international front in condemnation of the Gaddafi regime and in support of Nato-led military action in Libya.

On the eve of the conference, Italy offered to broker a ceasefire deal in Libya, involving asylum for Gaddafi in an African country. "Gaddafi must understand that it would be an act of courage to say: 'I understand that I have to go'," said the Italian foreign minister, Franco Frattini. "We hope that the African Union can find a valid proposal."

A senior American official signaled that a solution in which Gaddafi flees to a country beyond the reach of the international criminal court (ICC), which is investigating war crimes charges against him, would be acceptable to Washington, pointing out that Barack Obama had repeatedly called on Gaddafi to leave.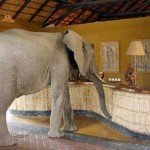 I smell the Allies running a cool game here to offer a back door to Gaddafi and Sons  while leaving their lieutenants to face the music of the band named Retribution Justice. If the Gaddafi clan heads south for a permanent safari, the B team will have nothing to negotiate with.
The bombing pressure on all of their Tripoli bases is also a double game. It not only weakens them militarily, but it also gives them the moving around flexibility needed to work on a coup.
British officials said they would rather see Gaddafi face trial, but if his escape was the price of a peaceful settlement they would be able to live with that.

David Cameron and Nicolas Sarkozy tried to ratchet up the pressure on Gaddafi, issuing a joint statement on the eve of the conference declaring his era over, and indicating that his lieutenants might escape prosecution if they abandoned him immediately. "We call on all his followers to leave him before it is too late," they said.
That sounds like a very organized hint to me. Gaddafi and his henchmen have to know they are all reading this. It looks to me like those gorgeous athletic bodyguards of his might see some action. I know I would hesitate before shooting, those big smiles…which is probably all the time they would need to put a bullet in my head.
So far the Coalition has done this on the cheap…as long as it does not get drawn out.  As the rebels take over most of the country there will be less area for the planes to keep an eye over. And when it comes to aid, there is all of that frozen money sitting there to pay for it, on top of the oil revenues that will start getting back to normal in the next month.
And that is what everybody wants here…to wrap this up. Tripoli is already getting cut off.  And being a large city with a big population, when things run low, running out is not far behind…particularly if they run out of gas.
Tripoli garrisons in places like Zawiya are going to start feeling lonely when Gaddafi's forces lose their mobility.  No deliveries of food will start a clock ticking. They will start thinking maybe about the Tunisian border.
And don't forget the National Council folks are still a 'work in progress, also. Some discussions will be going on about that.
The [British] shadow defense secretary, Jim Murphy, will warn today: "The bravery of the Libyan opposition is not in doubt. What is unclear is the motives of some, other than the removal of Gaddafi. As the opposition move westwards across Libya it is crucial that we better understand who they are and their wider ambitions."
It will be the ultimate irony if Gaddafi gets away. The lead photo at the top is his wearing a photo of Omar Mukthar, the famous rebel in chains with Italian officers. Gaddafi actually wore this when he went to Rome….Mr. Showboat.
So we historically have Mussolini hanging (below) from from a gas station structure at the end of the war. He had earlier killed and persecuted thousands of Arabs, including the hanging of Omar Mukthar (right).
And then many years later, Gaddafi was doing the same thing, when people would wake up in the mornings in Tripoli to find Libyans hanging from street lights to be the new civic decoration.
Maybe we really do need a third photo to end this story.
Maybe we need one last street light party for Gaddafi and Sons. And then maybe we can say to the Libyan people…finally…it is over.
Jim W. Dean was an active editor on VT from 2010-2022.  He was involved in operations, development, and writing, plus an active schedule of TV and radio interviews.
ATTENTION READERS
We See The World From All Sides and Want YOU To Be Fully Informed
In fact, intentional disinformation is a disgraceful scourge in media today. So to assuage any possible errant incorrect information posted herein, we strongly encourage you to seek corroboration from other non-VT sources before forming educated opinion. In addition, to get a clear comprehension of VT's independent non-censored media, please read our
Policies and Disclosures
.
Due to the nature of uncensored content posted by VT's fully independent international writers, VT cannot guarantee absolute validity. All content is owned by the author exclusively. Expressed opinions are NOT necessarily the views of VT, other authors, affiliates, advertisers, sponsors, partners, or technicians. Some content may be satirical in nature. All images are the full responsibility of the article author and NOT VT.
About VT
-
Comment Policy