Of course Netanyahu knows he is the Boss in the American Knesset and he wants Barack Obama to know that very well. When it comes to the American Knesset, it is Bibi, the Israeli Prime Minister and not the President of the United States that has a say so.
SAMI JAMIL JADALLAH / STAFF WRITER
Note: True we are a Republic with elected president and members of both houses, Senate and House of Representatives ( not House of Lords). However when it comes to the "people's houses" there is no president, there is only a King, and the King is always the Israeli Prime Minister. Welcome to America's Knesset. So far Israel costs the US tax payers over $ Trillion ($1,000,000,000,000,) just imagine what this $ Trillion could do for our country, in North Carolina, South Carolina, Tennessee, Georgia, Wisconsin, Wyoming, Montana, Michigan, Vermont and New Hampshire not to mention all other states.
In two separate statements coming out of Tel-Aviv and Tel-Aviv West (Washington-DC) both the Israeli Prime Minister Bibi Netanyahu and House Speaker John Boehner announced that Bibi Netanyahu is invited to speak before a Joint Session of Congress an honor that is afforded to very few heads of state. For Netanyahu this will not be the first but his second time before a Joint Session, the first was on July 10, 1996. Bibi is the fourth Israeli prime minister invited to speak at the Join Session of the American Knesset.
John Boehner who represents a poor and "working class district" much run down, can only hear the "cash register" as he announced through his spokesman "America and Israel are the closest of friends and allies, and we look forward to hearing the Prime Minister's views on how we can continue working together for peace, freedom and security".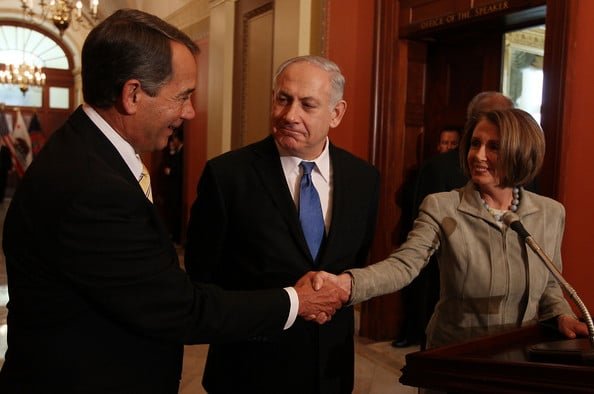 Nancy Pelosi also an ardent and loyal Zionists seconded the statement of John Boehner as she "Looks forward to the Prime Minister's address to the Joint Session during this critical time in history for the Middle East".
For his part Bibi Netanyahu announced to his Likud members that his speech before the Joint Session of Congress will cover two fundamental issues and priorities for Israel stating "The two most important are, first of all, Palestinians recognition of Israel as the state of the Jewish people and the second principle is real security arrangements on the ground".  Of course Netanyahu said nothing and will say nothing about ending the Jewish Occupation that began in 1967, will say nothing about the eviction and ethnic cleansing of Palestinians from East Jerusalem, will say nothing about house eviction and house demolitions to make room for "Jewish Settlers" and will say nothing about the 600 "security checkpoints" with daily humiliations of Palestinians choking their freedom and economy. Only Israel can ask for things (Chosen People) but not the Palestinians, they can only accept what the Jews give them.
Of course Netanyahu knows he is at home in the American Knesset, with political support far more than he has in the Israeli Knesset where he is often hounded by the opposition, as opposed to the American Knesset where members of both houses will wait in line to kiss his ring if not his behind.  In the words of Aluf Benn "they love him there or at least scared of the lobby that supports him". Of course we all know that AIPAC, the American Jewish Party is the majority party in the American Knesset that counts on 90 Senators among its members and counting on some 300 members of the House as members also. The American Jewish Party is the true majority party in the American Congress with no apposition, and if there is an opposition, no one dares to speak up.
Netanyahu's invitation to the Joint Session is orchestrated to thwart international efforts by the Palestinians to gain official recognition in the UN for a Palestinian State within 67 borders and with East Jerusalem as its capital, an effort that will for sure be apposed by the American Knesset if not by the White House.
To preempt this effort, Netanyahu will most likely announce a limited deployment of the Occupation Army from the West Bank, a deployment similar to the one that took place in Gaza making sure the areas evacuated by the Jewish Army put under siege increasing the number of security checkpoints. Of course there is never any talks of evacuating the settlements (Israel for sure will ask the American Knesset compensation exceeding $2 million dollars for each person evacuated and at least $5 million for each "trailer caravan" evacuated, making sure Israel milk the American tax payers as it expand settlements and as it evacuate "illegal settlements" and with the American Knesset more than happy to foot the bill for and on behalf of poor American tax payers who are held hostage by the American Jewish Party and its members in Congress.
Of course Netanyahu knows he is the Boss in the American Knesset and he wants Barack Obama to know that very well. When it comes to the American Knesset, it is Bibi, the Israeli Prime Minister and not the President of the United States that has a say so.
Obama who is often being accused by Israelis and their partners in the US and among Zionist and Christian Evangelical circles as Anti-Israeli and Anti-Semite and lacking birth credential to become the president of the United State, notwithstanding that his entire Middle East team is made up of Israeli loyalists if not agents. And as president has the most "Zionists" in his cabinet and his inner circles of advisors.
It is this close circle of Zionists that made it impossible for Barack Obama to deliver on his promise in Cairo to bring about peace, and it is this close circle of Israel loyalists that has backtracked on the issue of settlements, offering Israel tens of billions to stop moving few trailer caravans with one F-35 for each Israeli caravan removed from the West Bank.
Don't worry about Barack Obama, he does not have what it takes to bring about peace in the Middle East based on a two state solution one is Israel and the other is Palestine within 1967 borders and with East Jerusalem as its capital. No one sitting in the White House dares to announce such principle and continues to remain president of the United States for 24 hours, and President Obama knows that too.
That is why the Palestinian leadership must and could not count on the US supporting their demands to the UN General Assembly and for sure the US will not dare even abstain and will for sure "Veto" such a resolution. It vetoed the UN Security Council Resolution calling for an end to the Israeli settlements, and does Ramallah really think that Washington with its American Knesset could support an independent free state in Palestine? We all must remember, the US was never a fair and honest broker, and the US was never fully committed to the Israeli ending its Occupation that began in 1967, and the US not only gives political support to Israel at the UN it also gives it money and weapons to keep its occupation and to use such weapons to kill and murder innocent Palestinians as it did in its War on Gaza and as it continues to use American weapons and planes to bomb Palestinians on a daily basis. As long as there is an American Knesset in Washington forget about the US being a partner in any peace in the Middle East. The US must first be free from Israel before it can bring freedom to the Palestinians.
ABOUT THE AUTHOR: Sami Jamil Jadallah is born in the Palestinian city of El-Bireh (presently under Israeli Military and Settlers Occupation). Immigrated to the US in 62. After graduating from high school in Gary, Indiana was drafted into the US Army (66-68) received the Leadership Award from the US 6th Army NCO Academy in Ft. Lewis, Washington. Five of us brothers were in US military service about the same time (Nabil-Army), (Lutfi-Marines), (Sam-Army) and (Taiseer-Marines) with two nephews presently with US Army. Graduated from …Read Full Bio
Related articles:

Netanyahu Invited To Speak to His DC Friends at a Joint Session of Congress
Sami, a Palestinian-American and a US Army Veteran (66-68), recipient of the "soldier of the month award and leadership award from the 6th Army NCO Academy, is an international legal and business consultant with over 40 years of international experience, in construction, hospitality services, conservation, and defense, in the Middle East, Europe, and North Africa. Sami is a holder of BA, MPA in Public and Environmental Affairs, Jurist Doctor from Indiana University. While at IU he was elected class president, student government president and chairman of the Indiana Students Association,
Active in peace movement as a co-author of the pre-amble for the One State for All of its people and voluntary service program SalamNation. A frequent contributor on national and international affairs. He resides in the United States.
ATTENTION READERS
We See The World From All Sides and Want YOU To Be Fully Informed
In fact, intentional disinformation is a disgraceful scourge in media today. So to assuage any possible errant incorrect information posted herein, we strongly encourage you to seek corroboration from other non-VT sources before forming an educated opinion.
About VT
-
Policies & Disclosures
-
Comment Policy
Due to the nature of uncensored content posted by VT's fully independent international writers, VT cannot guarantee absolute validity. All content is owned by the author exclusively. Expressed opinions are NOT necessarily the views of VT, other authors, affiliates, advertisers, sponsors, partners, or technicians. Some content may be satirical in nature. All images are the full responsibility of the article author and NOT VT.