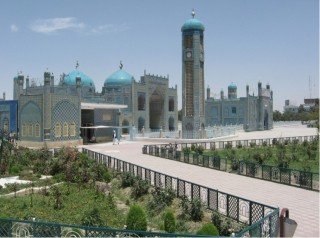 UN staff terrorized over the control of Mazar-e-Sharif
By Hanan Habibzai
Veterans Today Afghan Bureau
UN mission in Afghanistan post ponded its office in Mazar -e -Sharif after a violent mob of protesters killed At least seven UN staff earlier this month in a quiet city of the war shattered country. A delegation investigating the case, indicated last week that some of neighboring countries including Iran were behind the attack on UNAMA office. Here, Hanan Habibzai analyzes the political situation in the Mazar-e- Sharif.
Balkh is a strategic province of Afghanistan, located across the border with Uzbekistan, a door for the highway which connects central Asian states to the South Asian ones. Hiratan, a small town, is an only way which links the province to the region under direct Russian influence, the central Asian states.
Its capital, Mazar -e -Sahrif, is a city of business and trade that considers a significant economical resource for those who control the province.
Since 2004, Northern Alliance's popular warlord Atta Mohammad Noor controls the city of Mazar- e- Sharif, and despite profound crashes with president Karzai, he governs the province.
Afghan constitution imposes an obstruct on participation of state officials to have a view about either presidential election or parliamentary election however as serving governor he opposed the candidacy of Karzai for 2009 presidential election and launched campaign to support his rival Abdullah Abdullah.
Meanwhile, though Karzai dislikes his position and has accused him of corruption, Noor has remained untouchable.  In surrounding himself with supporters from the non-Pashtun of the north, Karzai has become dependent on those more loyal to Noor than himself.
Vice President Qasim Fahim and most of the members of the cabinet are aligned with the same political party and same ethnic which Atta Mohmmad Noor belongs to.
In order to control the strategic city of Mazar- e- Sharif warlord, Atta Mohammad Noor's armed men continuously fought against his Uzbek and Shiite allies in 2002-2004.  Hundreds of civilians died during these clashes.
Noor used the power of his political friends in Kabul to suppress the Uzbek Warlord Rashid Dustam and Shiite warlord Mohammad Mohaqiq, at the result forcing them out of Mazar e Sharif.
In the immediate aftermath, he dismissed the members of Uzbek and Shiite minorities from official posts of Balkh province. Noor is an ethnic Tajik and member of Islamic Jamiat party lead by another Tajik cleric Burhanudin Rabani who has close ties with Russians, according to Tehran Times.  They also say that Noor is getting financial support from Russia.
During the Soviet invasion of Afghanistan in 1980s his party, under Ahmad Shah Masoud, signed a ceasefire with Russian army.  He then  used Soviet arms and financial support to jointly  suppress other anti-Soviet groups, a kind of civil war which later generated in 1990s in aftermath of collapse of communist regime under Najibullah. From that time the Jamiat Party remained close with Russians.
Russia supports Burhanodin Rabani's blockade of the influence of Taliban style – Sunni brand of Islam to Central Asian states.
Now, Mazar- e -Sharif, under Atta Mohammad Noor, turned on intelligence base of Russian-Jamiat relationship and a city of Masco's agenda, which might pose a major threat to American interests in the region.
When, in late 2001, American military removed the Taliban regime,Mr. Noor entered Mazar- e- Sharif in a military uniform, the only property he owned; ten years later his coloured buildings and economic wealth has shocked his critics.
The people around him, who had nothing, today own hundreds of thousand of dollars of businesses or cash and invoked the criticism by the local population.
Ordinary people complained that such a big finance is impossible through official salary, where they earned it from?
Iranian influence in Mazar e Sharif
Iran has particular interest in Mazar- e- Sharif, using it as a base to spread its agenda to Central Asian states. Tehran is also looking to destabilize US strategies and interests in Afghanistan.
Iranian agents in the city pay out cash as they do in Kabul.  This pushes forward Iran's agenda, giving them a place "at the table" in the political gamesmanship between Mazar- e- Sharif and Kabul.
Tehran wants to decrease American influence in the strategic province of Afghanistan at any cost.
The transition of security is scheduled which will handover local control to Afghan forces which may tighten central governments influence on the provincial affairs.
Mr. Noor fears that the people president Karzai is preparing to deploy in Mazar-e-Sharif city might be Pashtuns who may be able to put his authority at risk.
The chief of security service, the commander of 209 Shaheen Military Corps and the Chief of Police are Pashtun who are not in favor of Mr. Noor.
Through destabilizing the province, Noor means he wants everything to be controlled by himself. Russians and Iranians are concern if the security responsibility is held by Pashtuns in Mazar- e -Sharif, their interests may face challenges.
Since couple of months, Atta Mohammad Noor is criticizing UNAMA for not coordinating affairs with him, Previously, Mr. Noor criticized the international aid agencies stationed in Mazar e Sharif for not doing enough but UNAMA always defends the position of those aid agencies.
ATTENTION READERS
Due to the nature of independent content, VT cannot guarantee content validity.
We ask you to
Read Our Content Policy
so a clear comprehension of VT's independent non-censored media is understood and given its proper place in the world of news, opinion and media.
All content is owned by author exclusively. Expressed opinions are NOT necessarily the views of VT, other authors, affiliates, advertisers, sponsors, partners or technicians. Some content may be satirical in nature. All images within are full responsibility of author and NOT VT.
About VT
-
Read Full Policy Notice
-
Comment Policy