A critique of "Hanan Habibzai:  Afghanistan – The Struggle for Power in Mazar-e-Sharif"
By: Sulaiman Qeyamat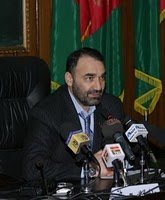 Mr. Habibzai's selective treatment of the facts as well as ignoring important contextual information have resulted in delivering an unprofessionally distorted, defective and deceptive account of the events discussed in the article. This is not compatible with professional journalism. He has written his article in a less investigative and evidence-based approach. His heavily subjective manner of offering ideas on the table is quite surprising. He has barely offered evidence to most of his claims made across the article. Unless backed by evidence, most of the claims resemble nothing but mere flaws.  Here comes a critique of these claims.
Mr. Habibzai doesn't scratch behind the surface of Atta's clashes with Mr. Dostum and Mr. Mohaqeq in 2002-2004. He remains silent on providing the context and a brief background of the events as well as the role of Mr. Karzai in stirring those clashes. Why?  Well it is yet to be found out.
When he claims that Mr. Atta supported Mr. Abdullah against Mr. Karzai in Presidential election 2009, he again doesn't provide enough context and background for an international reader. He remains silent to just comment on how 'fair and free' an election it was? How did other stakeholders, including Mr. Karzai and his side play in that election, whose over a million votes were proved to be fraudulent and as a result the election's legitimacy was seriously damaged.  A global reader of VT needs to have that background to be able and well-positioned to test the very claim made in connection with Mr. Atta's involvement vis-à-vis other stakeholders' including Mr. Karzai in the fraudulent Presidential Election in 2009.
The article portraits Mr. Karzai as unhappy, apparently due to allegations of corruption with Mr. Atta as the governor of the northern province of Balkh. But it does not comment on the very context in which Mr. Karzai has made every effort to keep on appointing governors from Kabul and prevent provincial elections of governors across the country. This point is important because it helps us understand how Mr. Karzai, based on his personal interests and preferences, plays with those governors he doesn't like while at the same time appoints further corrupt governors? This challenges the statement as if only corruption allegations have made Mr. Karzai attempt to oust Mr. Atta.
Has Karzai really surrounded himself by non-Pashtuns of the north? Is his narrow and closest decision-making circle made up of non-Pashtuns of the north? Is there any evidence to support this claim? Again Mr. Habibzai falls short to provide any backing source.
Likewise, the main claim of the article that Mazar-e-Sharif has turned as an intelligence base of Russian-Jamiat relationship remains up in the air with no solid evidence offered to support it.

On the other hand, the opinions and judgments offered on Massoud's ceasefire with Soviet army is not backed by any source, thus like for many other points, one cannot understand where has he drawn such a judgment from. It is not clear what source Mr. Habibzai has used to make the claim that through this ceasefire, Massoud received soviet arms and used it against other anti-Soviet groups. This is a very fat claim with even no slim evidence offered to back it up.
In the only case, when Mr. Habibzai tries to back up one of his many unsupported claims, he comes up with such an unpopular source where it relies on "Tehran Times" to support the claim that Jamiat Party has had relations with Soviets and later with Russians. The question is that how much reliable a source it is to be cited on "Afghanistan issues"?
Now, is it Mr. Habibzai's professional deficiency that caused him to  make such a wealth of unsupported claims, or he deliberately tries to influence US public opinion on Afghanistan issues through distorting facts and playing with unsupported claims?
ABOUT THE AUTHOR: Sulaiman Qeyamat is an MPA Student at Indiana University – Bloomington. He can be reached at: [email protected]
ATTENTION READERS
Due to the nature of independent content, VT cannot guarantee content validity.
We ask you to
Read Our Content Policy
so a clear comprehension of VT's independent non-censored media is understood and given its proper place in the world of news, opinion and media.
All content is owned by author exclusively. Expressed opinions are NOT necessarily the views of VT, other authors, affiliates, advertisers, sponsors, partners or technicians. Some content may be satirical in nature. All images within are full responsibility of author and NOT VT.
About VT
-
Read Full Policy Notice
-
Comment Policy