by Robert O'Dowd
HEALTH SURVEY COMPARES TWO SUPERFUND SITES TO EACH OTHER.  (UPDATED 5/27/2011)
(JACKSONVILLE, NC) – It doesn't take a doctoral degree in science to know that a survey of two Superfund sites thousands of miles from each other may show higher incidence of cancer and other diseases than found in the general population. Yet, that is exactly what the Agency for Toxic Substances Disease Registry, aka ATSDR, plans in a health survey of a group from Camp Lejeune and a comparison group from Camp Pendleton.
The Camp Lejeune wells were contaminated with organic solvents and other toxic chemicals over a 30 year period from 1957 until 1987. As much as 500,000 to 1,000,000 people may have been exposed to contaminated water on the base.
During June to December 2011, ATSDR will conduct a health survey of persons who resided or worked at Marine Corps Base Camp Lejeune, North Carolina before 1986 who may have been exposed to contaminated drinking water.
The purpose of the survey is to learn more about participants' health. Health surveys also will be mailed to a comparison group of former active duty Marines, sailors, and civilian employees, sampled from those who lived or worked at Marine Corps Base Camp Pendleton, California.
It seems that Camp Pendleton was selected for the health survey because it met the requirements for an external, unexposed comparison group, similar in all respects to the Marines and civilian workers at Camp Lejeune except for exposure to VOC-contaminated drinking water.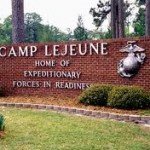 The Marine Corps denies responsibility for illnesses, injuries and deaths from the contaminated water at Camp Lejeune. Major General Payne, Jr., former Marine Corps Assistant Deputy Commandment for Installations and Logistics (Facilities), in Congressional testimony before the Investigations and Oversight Committee of the House's Science and Technology Committee on September 16, 2010, stated that compensation could not be provided to veterans for "claims for illness, disease, or injury without a demonstration of causation [my emphasis] and we do not have that…"
The Marine Corps is not involved in the VA disability and compensation claim process. However, a staffer forgot to tell General Payne that the VA has approved disability compensation for a number of Camp Lejeune Marine veterans who met the causation criteria for a VA compensation and disability claim.
By law, a veteran must provide evidence to the VA that a current disability is at least as likely as not due to military service. In simply terms, this means that evidence supporting a current disability must at least be equally balanced for and against a service connection.
Camp Lejeune veterans who file a VA disability claim for diseases that occurred after military service would need a medical nexus opinion from a medical care provider stating the veteran's current disability is "at least as likely as not" due to military service. This is only part of the evidence required by the VA. Obtaining military service and medical records, civilian medical records, and searching for a doctor who will sign-off on a nexus opinion can be an exhausting process, even for a healthy person. For a veteran with stage 3 or 4 cancer in pain, the process can be tortuous.
The health survey is apparently intended to answer the basic question whether rates of cancer, birth defects, and other health problems are higher among Lejeune residents than they should be. Put another way – are they high enough to justify giving them medical benefits and disability when they are too sick to work as a result of exposure to toxic chemicals.
The question isn't hard to answer. In fact it's pretty easy. A toxicologist told me off the record that medical scientists do these studies all the time. They simply compare disease rates across the US to the rates in whatever location people are concerned about. National rates are available online at the National Cancer Institute, the National Center for Health Statistics, and in many other places.
To include Camp Pendleton as a comparison group only makes sense if your purpose is to deny that there's statistical evidence of injuries and deaths from Lejeune's wells.
WHO'S FUNDING THE HEALTH SURVEY? THE USUAL PRACTICE IS THAT ATSDR OBTAINS APPROVAL FROM THE NAVY FOR ITS ANNUAL WORK PLAN WITH THE FUNDING COMING DIRECTLY FROM THE NAVY. IT'S NOT INCONCEIVABLE THAT THE NAVY IS FUNDING THE LEJEUNE/PENDLETON HEALTH SURVEY AND COULD HAVE PRESSURED ATSDR TO INCLUDE PENDLETON AS THE COMPARISON GROUP. IN ANY CASE, THE INCLUSION OF SUPERFUND PENDLETON IS QUESTIONABLE AT BEST.
Lejeune veterans and their families could have answers fairly quickly – once their own information is collected. The bad news is that ATSDR doesn't want to do things the way they are usually done. They want to write their own story.
COOKING THE BOOKS
What would happen if ATSDR compared the Lejeune health profile to the general population? We already have the answer for some severe health problems. Lejeune rates are much higher than they should be.
Take male breast cancer as an example. In early 2011, the latest count was 70 Lejeune veterans with male breast cancer. Don't applaud the government for finding these men.
Mike Partain, a dependent born on the base, tracks down male breast cancer victims, an extremely rare form of cancer.  Partain discovered he had breast cancer at the very early age of 39. Mike searches for any residents of Camp Lejeune who lived on base between 1957 and 1987 — a time when the water supply was contaminated with carcinogenic chemicals.
A CNN story in 2009 on Lejeune's male breast cancer helped identify more Lejeune veterans with this rare disease.
Using national rates would prove that being at Lejeune was hazardous. That would cost the feds hundreds of millions in medical benefits and disability coverage. There isn't much question that drinking toxic chemicals and working with them without protective gear is going to ratchet up the cancer rates, birth defects, and other health problems.
The alternative – call in ATSDR – the agency famous for finding nothing is wrong. Just ask Congress.
ATSDR will use rates from another military base that is a Superfund site, too   When they make the comparison to Camp Pendleton, Lejeune probably won't look much better or much worse. As long as no one compares the rates to what SHOULD have happened, DOD won't be embarrassed, the medical bills will remain unpaid, and the truth will remain buried.
When comparing a group from Pendleton to a group from Lejeune, don't be surprised if the results show no statistical differences between the two groups.
ATSDR says they selected Pendleton because the water wells were not contaminated with organic solvents like Lejeune's.
Lenny Siegel, the executive director of the Center for Public Environmental Oversight and a nationally recognized expert on environmental contamination, told the San Diego Union-Tribune in November 2005, "If you look at Camp Pendleton in terms of risks to people, it is one of the more seriously contaminated military sites in the country."
Camp Pendleton has been an EPA Superfund site since 1989. The number of toxic sites in 2004 was 208, according to the EPA. The San Diego Union-Tribune reported in a November 2005 new story, "Toxic woes fester at Camp Pendleton" that "there were more than 500 monitoring wells throughout Camp Pendleton [to] track the movement of contaminants and serve as the front lines for state, federal and Marine Corps agencies working to protect the 60,000 people who live and work on the base."
If you're getting the sense that ATSDR should look at the available national statistics and drop the idea of comparing a Camp Lejeune group to a comparable one at Camp Pendleton, you're got the idea.
One national known toxicologist, who asked not to be identified, told me that the study can only find out if the people who spent time at Lejeune have worse health problems in some specific areas of health than people who were at other contaminated bases. Sounds to me like it's designed to say, "Hey, you're no worse off than others in the service, so stop complaining."
WHERE DO WE GO FROM HERE?
The public wants people who served to finally get the truth. Some in Congress do. We all know that Lejeune residents signed on for military service, even to die for their country. They deserve at least the truth, and medical care for hazards they endured is the only just way to go.
They didn't sign on to drink cancer-causing water, or work without standard protective gear, or be given no warning about hazards. They didn't expect foolish actions, wasteful of health and lives. They didn't expect one bogus study after another to keep the brass happy and bureaucratic scientists employed.
A scam on the public by ATSDR or any federal agency requires a response and there are usually some journalists ready to provide one. The intentionally flawed path this study is on will further victimize Lejeune residents, and cover up a truth the public has a right to know.
I hope the public will find this unacceptable – that they will stand up and fight for veterans and their families. The tables are turned now and they need our help. It's the right thing to do. We will get a government no better than the one we demand.
The good news is that while ATSDR is processing their health survey, two bills (one in the House and the other in the Senate) are working their way through the legislative process. S. 277: Caring for Camp Lejeune Veterans Act of 2011, is sponsored by Senator Richard Burr (R, NC) while HR 1742, The Janey Ensminger Act, is sponsored by Representative Brad Miller (D, NC). Both bills would provide medical care through the VA for veterans and their dependents (but not civilian employees).
Robert O'Dowd served in the 1st, 3rd and 4th Marine Aircraft Wings during 52 months of active duty in the 1960s. While at MCAS El Toro for two years, O'Dowd worked and slept in a Radium 226 contaminated work space in Hangar 296 in MWSG-37, the most industrialized and contaminated acreage on the base.
Robert is a two time cancer survivor and disabled veteran. Robert graduated from Temple University in 1973 with a bachelor's of business administration, majoring in accounting, and worked with a number of federal agencies, including the EPA Office of Inspector General and the Defense Logistics Agency.
After retiring from the Department of Defense, he teamed up with Tim King of Salem-News.com to write about the environmental contamination at two Marine Corps bases (MCAS El Toro and MCB Camp Lejeune), the use of El Toro to ship weapons to the Contras and cocaine into the US on CIA proprietary aircraft, and the murder of Marine Colonel James E. Sabow and others who were a threat to blow the whistle on the illegal narcotrafficking activity. O'Dowd and King co-authored BETRAYAL: Toxic Exposure of U.S. Marines, Murder and Government Cover-Up. The book is available as a soft cover copy and eBook from Amazon.com. See: http://www.amazon.com/Betrayal-Exposure-Marines-Government-Cover-Up/dp/1502340003.
ATTENTION READERS
We See The World From All Sides and Want YOU To Be Fully Informed
In fact, intentional disinformation is a disgraceful scourge in media today. So to assuage any possible errant incorrect information posted herein, we strongly encourage you to seek corroboration from other non-VT sources before forming an educated opinion.
About VT
-
Policies & Disclosures
-
Comment Policy
Due to the nature of uncensored content posted by VT's fully independent international writers, VT cannot guarantee absolute validity. All content is owned by the author exclusively. Expressed opinions are NOT necessarily the views of VT, other authors, affiliates, advertisers, sponsors, partners, or technicians. Some content may be satirical in nature. All images are the full responsibility of the article author and NOT VT.