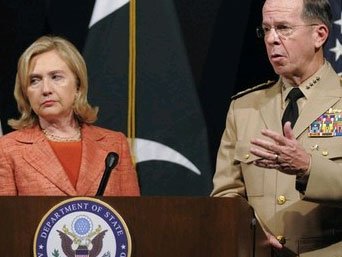 By Jim Garamone, American Forces Press Service
WASHINGTON – Secretary of State Hillary Rodham Clinton and Navy Adm. Mike Mullen met with Pakistani leaders today in an effort to shore up relations between the United States and Pakistan.
Clinton and the chairman of the Joint Chiefs of Staff met in the Pakistani capital of Islamabad with Pakistani President Asif Ali Zadari, Prime Minister Yousef Raza Gilani, Army Chief of Staff Gen. Ashfaq Kayani and Intelligence Chief Lt. Gen. Ahmad Pasha.
Clinton described the meetings as "very extensive, open, frank and constructive discussions." The relationship has been strained by the U.S. operation in Abbottabad, Pakistan, that killed al-Qaida leader Osama bin Laden on May 1.
Mullen stressed "the criticality" of the relationship between Pakistan and the United States, of the shared sense of urgency that leaders in both nations feel and of moving the relationship forward.
"I think we all realize the challenges under which this relationship now labors, but now is not the time for retreat or for recrimination," the chairman said during a news conference at the U.S. embassy. "Now is the time for action and closer coordination — for more cooperation, not less [and] for the friendship to get stronger, not weaker."
Clinton said the visit comes at an important time because bin Laden's death marks a turning point in the struggle against extremists.
"Osama bin Laden is dead, but al-Qaida and its syndicate of terror remain a serious threat to us both," she said. "There is momentum toward political reconciliation in Afghanistan, but the insurgency continues to operate from safe havens here in Pakistan."
The United States has been clear and consistent about its expectations in the relationship with Pakistan, the secretary said. She said both countries want to defeat violent extremism, end the conflict in Afghanistan and ensure a secure, stable, democratic, prosperous future for Pakistan. "We expect to work closely with the government and the people of Pakistan to achieve those ends," she said.
Many terrorists have sought refuge in Pakistan and have used the country as a planning center, the secretary noted. "From here, they have targeted innocent people all over the world — in Pakistan, Afghanistan and far beyond," Clinton said. "But no nation has sacrificed more lives in this struggle against violent extremism than Pakistan has. Extremists have killed women and children, blown up mosques and markets, and shown no regard for human life or dignity."
The United States and Pakistan have worked together to take on these terrorists, Clinton said, and the governments and militaries have cooperated and shared intelligence often.
"Today, we discussed in even greater detail cooperation to disrupt, dismantle and defeat al-Qaida, and to drive them from Pakistan and the region," the secretary said. "We will do our part and we look to the government of Pakistan to take decisive steps in the days ahead. Joint action against al-Qaida and its affiliates will make Pakistan, America and the world safer and more secure."
Clinton stressed there is absolutely no evidence that anyone at the highest levels of the Pakistani government knew Osama bin Laden was living in Abbottabad.
Pakistan has an interest in a safe, stable Afghanistan, and the United States and Pakistan must work together to achieve that goal, Clinton said, adding that the United States is working with Afghanistan to split the Taliban from al-Qaida and reconcile insurgents who meet certain criteria.
"Today, we discussed Pakistan's perspective on Afghanistan and how it can support the international community's efforts there," Clinton said. "We look forward to putting those words into action and seeing momentum toward a political resolution."
Bin Laden's death has caused terrorists to lash out in Pakistan, and the Afghan and Pakistani Taliban continue to collude with al-Qaida, the chairman said.
"To be sure, these groups are weaker — much weaker — and not just as a result of this raid, but as a result of the extraordinary efforts expended by both coalition forces and the Pakistani military over the last several years," Mullen said. "There is a much larger struggle afoot, and I would be remiss if I did not applaud the bravery and the skill with which Pakistani troops have engaged the enemy in that struggle, losing thousands of their number in the process."
The fight must continue, and Pakistani and American service members must continue to cooperate, Mullen said.
"For our part, my military took many risks going after bin Laden, risks to the lives of our men and women in uniform, risks to civilian causalities and to collateral damage," Mullen said. "We took the risk of being wrong about what we thought we knew of the killer's whereabouts. And yes, in our desire to preserve secrecy, we incurred a certain risk in our relationships with other nations in the region.
"But this particular relationship with Pakistan is too critical," he added, "and now is too critical a time to allow whatever differences we may still have with one another impede the progress we must still make together."
The chairman acknowledged that he realizes U.S. and Pakistani service members must continue to build trust — trust that has been tested by the bin Laden raid.
"But I do leave here with a sense that General Kayani and other Pakistani military leaders share my commitment to that task and share my desire to look for ways to advance the relationship," he said. "There's no better time for that sort of partnership than right now." 
 
 
Biographies:
Hillary Rodham Clinton
Navy Adm. Mike Mullen
ATTENTION READERS
We See The World From All Sides and Want YOU To Be Fully Informed
In fact, intentional disinformation is a disgraceful scourge in media today. So to assuage any possible errant incorrect information posted herein, we strongly encourage you to seek corroboration from other non-VT sources before forming an educated opinion.
About VT
-
Policies & Disclosures
-
Comment Policy
Due to the nature of uncensored content posted by VT's fully independent international writers, VT cannot guarantee absolute validity. All content is owned by the author exclusively. Expressed opinions are NOT necessarily the views of VT, other authors, affiliates, advertisers, sponsors, partners, or technicians. Some content may be satirical in nature. All images are the full responsibility of the article author and NOT VT.