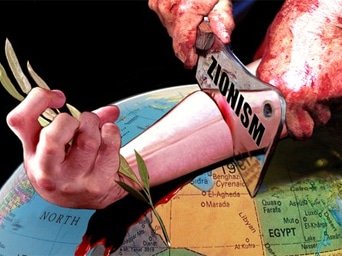 Zionism's Survival is upset with my reprint yesterday of an important editorial by W. Leon Smith, renowned publisher of The Lone Star Iconoclast. I posted his Captain May Witnessed Dr. Kelly Assassination in Veterans Today at around 2:00 a.m., and within half an hour found that ZS had already put VT in its daily screed against anti-Semitic conspiracy theory, the politically correct Zionist pejorative phrase for ever-threatening independent thought.
ZS may have its hindquarters in the USA, but its headquarters and its heart are in Israel which makes me wonder why is Israel intent on squelching inquiry into Dr. David Kelly's strange death?
Was the Mossad involved? Before dismissing the question as anti-Semitic conspiracy theory, consider that the Mossad intended to do this very thing in the United Kingdom in 2007, according to a shocking article in the Telegraph a month ago, Mossad carries out daring London raid on Syrian official:
"The original plan was apparently to assassinate the official and Israel only averted what would have been a huge diplomatic rift with Britain, when they decided the target was more valuable alive than dead."
Granted, the headline is obsequious. Foreign espionage is considered an act of war by sovereign nations but, in the post-9/11 world, some nations are more sovereign than others — and the apartheid self-proclaimed "Jewish Nation" is the most sovereign of all. Another Telegraph article has a more candid headline, Mossad's licence to kill:
"The killing bears the hallmarks of the ruthless Israeli intelligence service. The Mossad assassins could have felt only satisfaction when the news broke that they had succeeded in killing Mahmoud al-Mabhouh, a top Hamas military commander."
Granted, the article under the headline is obsequious, but that's a minor impediment to the millions of US/UK free-thinkers who are learning the art of reading between the lines. They are all labeled anti-Semitic conspiracy theorists, too, and are increasingly both the focus and target of police and military organizations — and Mossad, of course, which operates without borders or restrictions.
To end with whom I began, I encourage all my readers to peruse Zionazi websites like Zionism's Survival, or the sleeker and slicker Anti-Defamation League. One of the idiosyncrasies of a good military intelligence officer is that he knows as much about enemy forces as he knows about his own. Good commanders in my experience have been been emphatic on this point, as I am now.

It's a good concept, but not a new one. Sun Tzu spelled it out in his classic The Art of War some 2,500 years ago:
"It is said that if you know your enemies and know yourself, you will not be imperiled in a hundred battles; if you do not know your enemies but do know yourself, you will win one and lose one; if you do not know your enemies nor yourself, you will be imperiled in every single battle."

ATTENTION READERS
Due to the nature of independent content, VT cannot guarantee content validity.
We ask you to
Read Our Content Policy
so a clear comprehension of VT's independent non-censored media is understood and given its proper place in the world of news, opinion and media.
All content is owned by author exclusively. Expressed opinions are NOT necessarily the views of VT, other authors, affiliates, advertisers, sponsors, partners or technicians. Some content may be satirical in nature. All images within are full responsibility of author and NOT VT.
About VT
-
Read Full Policy Notice
-
Comment Policy