An Open Letter to Secretary Shinseki
General Eric K. Shinseki (US Army, Retired)
Secretary, Department of Veterans Affairs
Washington, D.C.
Dear Mr. Secretary:
For two-and-a-half years, fellow Veterans in Los Angeles and around the country have repeatedly written you and respectfully requested that you make major changes at the Los Angeles National Veterans Home.
You have completely ignored us and matters continue to get worse on your "watch."
Lest you've forgotten, President Obama was elected on a campaign pledge of "change." It was presumed that he meant for the betterment and not the worst.
We have consistently and respectfully requested that you make a regime change at the largest VA in the nation and terminate the following government employees under your supervision:
Donna Beiter, executive director
Ralph Tillman, director of asset management and public affairs
Ronald Mathis, chief of police
William Daniels, chief of mental health and homeless Veterans
Jenelle Happy, director of the VA's Freedom of Information Act
Accordingly, we have respectfully requested that you bring in a retired Military Officer who had a successful career in running large Military Posts or Bases to be the executive director of the Los Angeles National Veterans Home. He or she shall appoint their own competent staff to professionally manage this sacred land and restore respect of our Military Veterans.
Last year you came to Los Angeles but refused to meet with us, or any Veterans that were not affiliated with Sue Young's bogus Veterans Park Conservancy homeowner group.
We also respectfully requested that the public park agreement the VA has with this wealthy and politically powerful homeowner group be terminated in its entirety.
You completely ignored us and refused to cooperate, and you continue to ignore us and refuse to cooperate.
While you were here, you met with Donna Beiter and her incompetent staff. We forewarned you over and over that this was a corrupt regime that did not have the best interests of Veterans in mind. But you listened to them instead of us.
What kind of General would listen to the enemy instead of his own soldiers?
Sir, you're a West Point graduate and had the envied privilege to personally listen to General MacArthur's famed "Duty, Honor, Country" speech in 1962.
Every time I read his speech, I am deeply moved. Thus, I cannot imagine what it must have been like for those present to have listened firsthand from the lips of this legendary warrior and recipient of the Congressional Medal of Honor.
Accordingly, it seems that there would be an enormous sense of pride and responsibility to make sure that the message of "those three hallowed words" remained revered and upheld to the fullest.
In brief, our nation's safety and defense of the U.S. Constitution rests upon the uncompromising execution of "Duty, Honor, Country" by the men and women of our United States Armed Forces.
Nonetheless, the VA bureaucrats and wealthy homeowners conspired and plagiarized the noble creed of "Duty, Honor, Country," then desecrated "those three hallowed words" by engraving "Beauty, Honor, Country" in stone on Veterans sacred property, because it was the mission of Sue Young's cabal to "beautify the entryway into Brentwood" and to take over Veterans property for a public park.
How incredibly insensitive and insulting to the men and women who courageously uphold this revered creed, regardless of the branch of Military they serve under. Shameful and criminal!
Sir, did you know there are 20,000 homeless and hungry Veterans in Los Angeles because they have been exiled from their rightful Home while Sue Young builds a rose garden for afternoon high teas?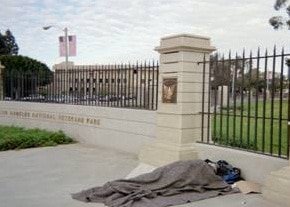 Apparently not, because some were sleeping outside the front gates and entryway to the VA when you were here, until the VA bureaucrats ordered them away so that you would not see them. Had you met with us, we would have introduced you to them and perhaps you would have been moved by compassion to get them inside where they belong.
But by your refusing to cancel Sue Young's rent-free agreement for a public park, you join Senator Dianne Feinstein, Congressman Henry Waxman, and others, as supporters of this egregious breach of public trust that has forced thousands of disabled and disadvantaged Veterans to live on the dangerous streets of Los Angeles … alone and hungry.
Let's cut to the chase Mr. Secretary: You are all supposed to be public servants of We the People and not private slaves to Sue Young and her wealthy homeowner group.
None of the aforementioned so-called VA civil servants have served our Military Veterans as required, but have irreverently served Sue Young and violated their fiduciary duty to the Congressional Act of 1887 and the Deed of 1888.
And you sir, have aided and abetted in this horrific land heist by kowtowing to them and remaining silent.
During your "watch," three more large parcels of Veterans property have been given away to special-interest, non-profit, organizations while the homeless Veteran population in Los Angeles continues to increase.
And one of those parcels was "MacArthur Field," named in honor of General Douglas MacArthur, the same General who delivered the message of reverence to "Duty, Honor, Country."
The foregoing notwithstanding, when elderly members of the Old Veterans Guard protested the mismanagement, malfeasance and misappropriation of Veterans land at the Los Angeles National Veterans Home, the VA bureaucrats ordered armed VA police to intervene and issued six trumped-up citations that included "unauthorized demonstration or service in a national cemetery or on other VA property."
The Old Veterans Guard holds their peaceful demonstration "outside" the VA property.
Moreover, these Veterans in their 60's, 70's and 80's were incredulously ordered to remove a "We Support Our Troops" banner while America was engaged in two brutal wars with thug terrorists.
They were also ordered to remove a "Vietnam War – Our Cause Was Just" banner, while over half of America's homeless Veterans are of the Vietnam War era.
The VA bureaucrats also ordered armed federal police to forcefully remove the American Flag when it was hanging Union down … a symbol of distress that life and property are in extreme danger … and in full compliance with the U.S. Flag Code … even though the VA police had already approved Veterans to hang this same American Flag with the Union up for nearly a year and-a-half without incident.
Mr. Secretary, your employees didn't just forcefully remove the American Flag. No, they forcefully removed our freedom of speech when they removed our distress message officially signaling that the lives of our fellow Veterans and our legal property are in extreme danger.
When the VA bureaucrats forcefully removed the American Flag from our peaceful demonstration, they also removed the U.S. Constitution from our Citizenship.
That's an unforgivable crime against the very men and women who pledge their lives to defend the U.S. Constitution.
Criminals Are Running the Largest VA in the Nation
Responding to a federal lawsuit filed by the ACLU of Southern California, U.S. District Judge S. James Otero has ruled that VA Defendants Donna Beiter and Ronald Mathis violated the free speech rights of a Veteran who protested the VA's failure to use part of its property for the benefit and care of Veterans, particularly those who are homeless.
Judge Otero ruled that Plaintiff Robert Rosebrock's "First Amendment right was violated as a matter of law when Defendants committed impermissible viewpoint discrimination. Therefore, Defendants' selective enforcement was an effort to suppress the Plaintiff's activity due to disagreement with his view."
"The VA has shown a basic misunderstanding of the meaning of the First Amendment of the Constitution, the very document that Mr. Rosebrock and other veterans have served in the military to protect" said Peter Eliasberg, managing attorney and Manheim Family Attorney for First Amendment Rights at the ACLU/SC.
"The VA has turned the U.S. Constitution upside down," Eliasberg further declared.
In summary, top-level federal VA employees under your supervision engaged in deliberate censorship that seriously violated a citizen's Constitutional Right to legally protest and exercise his Right to "Freedom of Speech."
Mr. Secretary, two of your top-level employees at the largest VA in the nation have been adjudicated in U.S. Court of committing a federal crime!
While in the process of committing this serious federal crime, your employees were attempting to cover up the very crimes, malfeasance and corruption that Veterans were protesting against.
A Full FBI Investigation is Needed
The United States Federal Bureau of Investigation (FBI) firmly declares: "It's a federal crime for anyone acting under "color of law" willfully to deprive or conspire to deprive a person of a right protected by the Constitution or U.S. law. "Color of law" simply means that the person is using authority given to him or her by a local, state, or federal government agency."
The FBI is the lead federal agency for investigating color of law abuses, which include acts carried out by government officials operating both within and beyond the limits of their lawful authority.
Accordingly, the FBI needs to fully investigate the criminal activities of the aforementioned Defendants, as well as into the mismanagement of the VA Greater West Los Angeles Healthcare System, including actions and dealings of manipulative and coercive neighborhood leaders and the politicians who have aided and abetted in the misappropriation of Veterans sacred land that has forced thousands of disabled and disadvantaged Veterans to be exiled from their rightful Home and thereby become homeless.
These are very serious crimes and they must be thoroughly investigated by the FBI, and the culprits need to be prosecuted to the fullest extent of the Law.
Department of Justice Needs to Investigate Its Own
It's important to note that the VA bureaucrats that criminally violated a Veteran's right to free speech are federal employees and were therefore defended by the Department of Justice's U.S. Attorney's Office in Los Angeles.
Thus, federal employees paid with our tax dollars committed a crime against a Citizen of the United States and they were defended with our tax dollars.
In a featured article in the "Los Angeles Times" on June 12, 2010, headlined "U.S. Attorney to Target Corruption," it declared: "U.S. Attorney Andrew Birotte, Jr., announced that he was creating a specialized unit to prosecute public corruption, such as those involving politicians or police officers accused of crimes. It's mission will be "to bring to justice those public officials and public employees who violate the public trust."
Well, Mr. Birotte's clients violated the public trust and committed a serious crime under the color of law as federal employees.
Mr. Birotte needs to "walk his talk" and fully prosecute Defendants and VA employees Donna Beiter and Ronald Mathis.
Let the Congressional Investigation Begin
The greatest land fraud in American history has taken place in U.S. Congressman Henry Waxman's 30th District, of which he has been the elected public servant for 36 years.
Along with being one of the most powerful members of Congress, he's also the entrusted steward to safeguard the largest National Veterans Home in the nation. Instead, he has allowed disabled and disadvantaged Veterans to be exiled and dispossessed from their legally deeded Home, while accommodating his wealthy constituents with sweetheart land deals and turning Los Angeles County into the homeless Veteran capital of the nation.
Under Congressman Waxman's failed stewardship, the lives of 20,000 homeless Veterans and their sacred property have been, and remain in extreme danger.
On behalf of America's 24 million Military Veterans, including the 1.5 million men and women who are presently on Active Duty, it is imperative that the U.S. Congress begin immediate investigations of Congressman Waxman and the VA Greater Los Angeles Healthcare System regarding the flagrant abuse and misappropriation of Veterans property.
Regime Change at the Largest VA in the Nation
The Old Veterans Guard has consistently called for the immediate resignation of the aforementioned VA bureaucrats who have facilitated the downfall and desecration of these sacred grounds, or for their immediate termination by you, their government boss.
The Old Veterans Guard has also called for the voluntary surrender of all leases and agreements by those who entered into these invalid contracts with the VA that violate the Congressional Act of 1887 and the Land Grant Deed of 1888. Otherwise, immediately evict each and every entity that has any kind of agreement to misuse Veterans property.
Over the past, the U.S. Government and local politicians have all failed miserably in their entrusted responsibility and fiduciary duty to protect and preserve this sacred land for Veterans use only, even though you have been warned repeatedly.
West Los Angeles VA executive director Donna Beiter and her chief of police Ronald Mathis were defendants in a Federal lawsuit filed by the ACLU of Southern California, and on May 26, 2011, U.S. Federal Judge S. James Ortero entered a Judgment against both for violating the Constitutional Rights of an individual, which is a federal crime.
This was nearly a month ago, yet you still have two federal criminals drawing full salary and benefits from U.S. taxpayers, while 20,000 of our fellow Veterans remain homeless and hungry here in Los Angeles. This is reprehensible!
In summary, you need to immediately terminate Ms. Bieter and Chief Mathis, et al, or immediately tender your own resignation for the greater good of America's Military Veterans.
Sincerely,
Robert L. Rosebrock
Director, Old Veterans Guard
Director, Veterans Revolution
www.VeteransRevolution.com
U.S. Army, 1965-67, Schofield Barracks, Hqs., U.S Army, Hawaii. Director, The Veterans Revolution, Captain, the Old Veterans Guard, and Director, We the Veterans.
ATTENTION READERS
Due to the nature of independent content, VT cannot guarantee content validity.
We ask you to
Read Our Content Policy
so a clear comprehension of VT's independent non-censored media is understood and given its proper place in the world of news, opinion and media.
All content is owned by author exclusively. Expressed opinions are NOT necessarily the views of VT, other authors, affiliates, advertisers, sponsors, partners or technicians. Some content may be satirical in nature. All images within are full responsibility of author and NOT VT.
About VT
-
Read Full Policy Notice
-
Comment Policy